Robin Hood (2010) - User Reviews
Thank you for rating this movie!
Read your review below. Ratings will be added after 24 hours.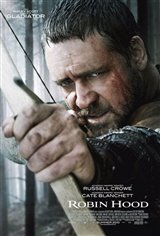 3.90 / 5
User Rating
Based on 881 votes and 254 reviews
---
Please rate movie 1 to 5 stars
Showing 151 to 200 of 254
June 29, 2010
Not a bad revisit to ye ol sherwood forrest
June 28, 2010
My Husband and I loved it! Russel was fantastic in it...
June 24, 2010
this movie is really good, i saw the prince of persia as well and this is as good as that movie. they're both my favorite movie for 2010
June 24, 2010
Great movie!
June 21, 2010
I enjoyed more Iron Men II
June 14, 2010
Infinitely better than the Kevin Costner version and it should not be compated with the Errol Flynn version as they are two completely different genres.
June 14, 2010
I liked this movie, more than I expected. It's similar to Gladiator in terms of actionand thrills. The spin they put on the Robin Hood story worked. It's surprisingly a lot funnier than I imagined.
June 12, 2010
Wasn't sure what to expect from this movie, but with Russell Crowe in it, has to be good. He was excellent!!! Really loved the movie and can't wait for the sequal to come.
June 11, 2010
Cant wait for the sequals.
June 11, 2010
Seen it twice, cant wait for the sequals. Great work by everyone concerned.Lots of extras on the dvd please.
June 11, 2010
When i heard they were making it did not want to get too excited and be dissapointed.Have seen it twice and my only gripe is i wish it was longer.Please make the sequals and well done to everyone involved.
June 09, 2010
Good.... Kept me interested. However too much violence
June 09, 2010
Very entertaining movie. I thought the movie had a smart script, with a "re-telling" of the traditional Robin Hood story. Ridly Scott and Russell Crowe again team up to make a solid, exciting movie. Cate Blanchette gives her typical strong performance.
June 08, 2010
I thought the movie was vry well done. Good action, well acted and a descent story. Much better than expected.
June 07, 2010
I quite enjoyed this Robin Hood.
June 06, 2010
very very good!!!
June 06, 2010
Really uninspired. The sea monster was the most interesting character in the film.
June 05, 2010
Great movie until they forced the ending. Seems like lot's of movie was left on the cutting room floor.
June 05, 2010
Loved this version of Robin Hood. Stands alone.
June 05, 2010
pretty bad. came close to leaving half way through, but was hoping it would get better. NOT. this one not even worth a rental.
June 04, 2010
Disappointing; the battle with the sea monster somewhat saves it.
June 03, 2010
I enjoyed this movie. I thought the storyline was descent - an interesting twist from the clasic Robin Hood stories. Crowe and the other actors were very good. THe action sequences were good and the movie was funnier than imagined. Overall, a descent, entertaining movie.
June 03, 2010
Enjoyable flick. Acting was great, story line was different and scenes were well done. It was more clever than I thought it would be. Perhaps just a bit too long. Good film to see on the big screen.
June 02, 2010
Baffled by the haters, especially those who were looking for a new story?? The story IS Robin Hood. And you cannot go wrong with Crowe and Blancehett, both are brilliant. I thoroughly enjoyed this film.
June 02, 2010
all the right elements for a great movie but falls flat. poor editing; too many story lines. too bad - had lots of potential.
May 31, 2010
Good entertainment though a mixed story line.
May 29, 2010
Best Russell Crowe movie ever!
May 29, 2010
Disappointing. But if you are a die-hard fan of Robin Hood: Prince of Thieves, this one just doesn't measure up. So much more could have been done with it. Cate Blanchet was good though.
May 29, 2010
This movie was boring! If you are going to remake a movie that has been remade over and over the storyline should have a new exciting twist, this movie brought nothing new to the adventures of Robin Hood. I thought Russsell was a bit mature for the role of Robin although he is a great actor and it didn't take away from the character very much. Cate Blanchette did a good job in her role as Marion but even her strong portrayal of her character did not make this movie interesting. The battle scenes seemed repetitive from so many other movies I have seen and if you aren't particularly a fan of Robin Hood you may fall asleep fairly early in this movie. I give it a generous two stars at best.~
May 28, 2010
This was so amazing! Great acting. It is the PERFECT prequel to the Robin Hood series. I hope they make more. Russell Crowe IS Robin Hood!
May 28, 2010
sooooo boring
May 28, 2010
Long and very boring
May 27, 2010
The movie was way to long and boring, I dozed off a couple of times. Bad acting. Don't wast your time and money.
May 26, 2010
it was a complete waste of time ,,,i was struggling to stay awake ......i think fell asleep couple of times
May 24, 2010
I don't see why this film has so many negative reviews. It was excellent. Russel Crowe is magnificent as always. I went into this movie with incredibly low expectations after reading all the negative reviews and it was great!
May 23, 2010
this was so bad, I dont know how to to put it into words...hollywood, you never do anything right...bunch of idiot americans
May 23, 2010
INTENSE. And an ASTOUNDING plot
May 23, 2010
Better than Ironman 2
May 23, 2010
good movie, great effects, amazing cast. The storyline is easy to follow if you listen to the dialog and there are laughs here and there which made the movie less serious than I expected. In general it is a decent movie. 3 stars
May 22, 2010
It's a must see !
May 22, 2010
Slow to the point, if you hadn't know the legeng you would have a hard time to relate to the story
May 22, 2010
This was a very good movie. The acting was very good even though Russell Crowe was a little hard to understand but Cate Blanchett made it all better. Mark Strong was a great villian, and it was good to see William Hurt and Max von Sydow in a movie. The visuals were very good the tower of London ws CGI but you couldn't even tell the action was great and teh battles were very well staged but the middle of the movie dragged a little. But on the whole superb entertainment. MOVIE LOVER
May 22, 2010
Insipid casting knocks this down a notch. For most people, Kevin Costner IS Robin Hood and Crowe mostly glowers through this reboot. Also, Maid Marian is supposed to actually be hot, and here she's homely and forlorn.
May 21, 2010
LOVED LOVED LOVED this movie!!! Cant wait to own it! If you loved Braveheart, you`ll love Robin Hood!!