Rock of Ages - User Reviews
Thank you for rating this movie!
Read your review below. Ratings will be added after 24 hours.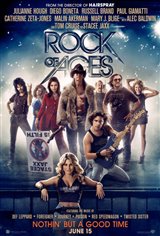 ---
Please rate movie 1 to 5 stars
Showing 1 to 50 of 79
August 05, 2014
I absolutely loved it. so many great songs from the time, and had some funny moments. and Tom Cruise an excellent singer in this. if you have not seen it don't see it if you don't love rock lots of rock and lots of fun in this amazing movie.
January 26, 2013
loved it was a fun trip back to the future of 1987 when i was 24. loved the music the actors and was more funny than most comedy;s was sceptical at first but surprised at the rocknroll ride i was taken on most fun i had at a movie and saw on vid only
December 10, 2012
There are good cheesy movies and bad ones, and this is bad! Boring! Very predictable, no imagination despite the costumes and sets. Bridesmaids was the last great cheesy Hollywood movie I saw.
October 11, 2012
I loved this movie, I can see how so many people wouldnt like it. I'm guessing they are the same people that didn't like the glam rock of the 80's, but to me, I knew all the words to all the songs. This is the stuff I grew up on, These are the songs that got me into music. The acters had a lot of fun making this movie and it shows. It was made to be fun and it is. This is the 80's I grew up in. If you do not like 80's glam rock DO NOT watch this, but if you do, it's an outragous walk down memory lane.
October 10, 2012
I thought it was better than I thought it would be lots of laughs, great movie.
August 22, 2012
singing was ok but it is waaaaay too cheesy. i love musicals but there is a fine line and they crossed it between class and cheesiness. do not want to see it again, hard to swallow.
August 21, 2012
this was, by far, the worst movie i saw in 2012.
August 20, 2012
you know it was actually really good surprised me i didnt think i would like it as much as i did. loved that girl from foot loose she did a great job in the movie.
August 14, 2012
fun movie with great music we all know. tom cruise gives a attention demading performance you will not regret seeing. rocking good movie!
August 14, 2012
horribe. super predicatable. it's your typical formula followed musical. very cheesy right from the beginning. sherrie's on a train ( the start of an adventure!), looks at her albums (oh, music, you're my everything!),looks at a photo (sentimental moment). then random singing starts and i'm like "this is weird". everything is so cheesy and forced. right from the first scene i could tell i would hate it. not to mention i'm kind of sick of julianne playing the same character over and over again. it thought tom cruise's acting fit his character a t first, but then towards the end it just didn't seem natural anymore.
August 14, 2012
i love this movie i saw it 7 times
August 14, 2012
good music but story only average
August 11, 2012
rockin' good flick! :)
August 09, 2012
what a waste of a movie!
August 06, 2012
good singing and dancing. why did this mnot do beteer at the box office?
August 01, 2012
the music was amazing and it was actually a better movie than i thought it would be.
July 31, 2012
it's no wonder this movie was wisked away from theatres so fast...it was terrible thanks mainly because of mr cruise.....yeck!
July 31, 2012
tom's done as far as i'm concerned and this movie proves it.
July 31, 2012
tom is as washed up as his character he plays....will never go another one of his movies.
July 31, 2012
terrible, terrible, terrible acting on tom's part...very unbelievable. i think he's a has been and should just stop trying to act. alec & russell were terrific and so was the music! if i could give it no stars i would because of tom's inability to act.
July 31, 2012
loved this movie; going back to see it for the third time; lots of fun and great music; all the actors did a great job; so entertaining
July 31, 2012
after seeing the play in toronto some years back i was really looking forward to the movie. the trailers looked good but the show was terrible like west side story to classic rock its a musical alec baldwin should be embarrassed. tom cruse did sing quite well but the whole story is lost in the constant singing of lines i was disappointed
July 31, 2012
a fun, feel-good movie! tom cruise did an amazing job as the eccentric stacee jaxx.
July 26, 2012
i loved this movie!! russel brand and alec baldwin was a shocker lol. the pipes these actors and actress are amazing. i cant wait till it comes out on video.
July 12, 2012
i think this movie so didn't get enough credit! yes, it's totally over the top but so was the 80's! i had so much fun seeing this! wanted to see it again but it's disappeared from all the theatres :(
July 05, 2012
what a pantload this movie is! and as for hough, it's pretty obvious how she got where she is in the biz...
July 05, 2012
just had a great time with this movie. julianne hough is a star!!!
July 04, 2012
it was an okay movie, somewhat like saturday night fever, but a rock'n'roll version with a 'go to la/hollywood' plot. i don't normally get much into head bangin' screamin' rock (as singing) so those songs were okay (some familiar), some of the softer rock songs were nicer. a bit weird to hear a slight country sound to the girl singer. i'm unfamiliar with the younger actor/singers. shows a side of 'wild rock parties' i've never gotten into, nor the pole-dance clubs. i didn't actually expected to be a 'musical'... until the bus driver started singing... hahahaha... ok, here it comes... [for me, the dubbing was fine]
July 02, 2012
this movie is a piece of crap ,not worth renting.i only gave it a star because you have to so you can make a comment.one word garbage
June 30, 2012
this is an awesome movie. for someone that grew up in the 80's it was great music. julianee hough really stole the show in this movie. her singing is awesome as well. run out and see this movie right now.
June 25, 2012
this movie stinks. bad acting, bad, overdubbed voices and it's a travesty how they rearranged so many great songs. i don't understand the accolades for tom cruise either. if you saw him play the drunk scene in a few good men you have seen what he does for this entire film. if you liked hairspray you will like this film, and you have poor taste.
June 25, 2012
awful, complete waste of time
June 24, 2012
Refreshing to see Tom cruise in a role like this. He blew me away. He's such a diverse actor. Fantastic job Tom !
June 24, 2012
omg!!! you all have to see this movie if you haven't already. i love this just as much as i loved hairspray & grease. so many great songs! p.s if you don't like musicals than don't see them
June 24, 2012
could have done without all the musical interludes; after awhile they were just annoying and really bogged down the story.
June 24, 2012
Great Movie brought me back in time I loved all of the songs!! The actors and actress do a great job. j
June 23, 2012
i normally do not go to musicals but did want to see this movie, after having seen the trailer. who knew so many actors and actresses could sing this well? tom cruise was absolutely fantastic in the role of the older rocker and is singing is amazing! i was so surprised to see him in a role that is totally different from his "usual" ones. i would go see this movie again just to hear him sing.
June 23, 2012
amazing movie! im going to see it with some other friends again! great soundtrack and costumes! tom cruise was amazing!
June 23, 2012
glitter was sooo much better than this.
June 23, 2012
the music was awesome and much funnier than i expected!!
June 23, 2012
i loved this movie! tom cruise is amazing as well as all the other actors! very entertaining! don't go by the critics, just go see it for yourself!!
June 22, 2012
this movie was good go see this movie .
June 21, 2012
were the 80's really this square?!?!
June 21, 2012
i felt like i'd been to the "theatre" on broadway. rude in a few places but entertaining. some songs i'll never look at the same way again for sure.
June 21, 2012
fantastic movie. unforgetable music and great acting. film created for the real roc lovers. tom cruise was smashing. this movie is perfect summer entartaining. i am going again to enjoy it.
June 19, 2012
the soundtrack sucked, and the film looked like it was shot for $1.95. one of the worst films of this or any other year.
June 19, 2012
just great. made for those 30 to 45 years who can actually appreciate the clothing, hair styles and music. just a good time out. rock on!!
June 18, 2012
this movie was a smile a minute. omg did it bring back memories. i rocked malin's character's hair for a decade!! if for noother reason than to giggle as you trip down memory lane go and see this movie
June 18, 2012
this movie is supposed to be a tribute to 80's rock and yet the score is typical broadway musical(nothing resembling rock).only good thing was tom cruise's performance and that's just not enough to save this movie.
June 18, 2012
excellent movie and tom cruise was amazing!!!!