Rock of Ages - User Reviews
Thank you for rating this movie!
Read your review below. Ratings will be added after 24 hours.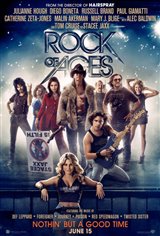 ---
Please rate movie 1 to 5 stars
Showing 51 to 79 of 79
June 17, 2012
outstanding...good music....lots of fun! it's entertainment...adaptation of a theater production....don't expect letter perfect performances...but like most things on the stage, that too is part of the fun!!!
June 17, 2012
This movie was amazing. Tom Cruise singing shocked me, as it was so amazing. Normally I find his acting pretty good and once again his acting skills where top notch.
June 17, 2012
excellent movie!!
June 17, 2012
if you grew up in the 80s, this movie is a must see. if you can't enjoy the rock music from the 80s, you shouldn't bother. this is the only musical i've ever enjoyed. the costumes are great, the acting is polished (over-acted, like all musicals and comedies) and the story flows at a comfortable rate. there's plenty of cliche plot to connect the terrific songs. if you're anywhere near 40 years old, get yourself to this movie.
June 17, 2012
i really liked this film, and i am not a fan of musicals. i was impressed by the performances and storyline, it has a lot of depth. not really a fan of juliana hough's vocals. too sweet. now go see it and judge for yourself!
June 16, 2012
it was great....i normally don't like tom cruise but i love him now : )
June 16, 2012
it was really good and tom cruise was amazing singer and i hope it does well.
June 16, 2012
i have not seen movie yet but based on some comments couldn't resist but to post. must agree most music from 80's sucked. but in my opinion was awesome for rock music! if you don't like 80's rock don't go see this movie....duh! giving it 4 stars just for the previews...lol
June 16, 2012
a very entertaining movie, acting was good and choice of songs were excellent. it was nice to see tom cruise in another type of role, his portrayal of the older rockstar was quite believable.
June 16, 2012
strictly for the geritol generation.
June 16, 2012
this movie earns half a star at least for not having any michael jackson tunes in it.
June 16, 2012
plug your ears!!!!
June 16, 2012
if only this was silent like the artist...
June 16, 2012
this is donald sutherland's best work.
June 16, 2012
a step down from the step up movies. shitty music, too.
June 16, 2012
at least the bieber movie had decent music...
June 16, 2012
if you can overlook the music there's a decent movie here.
June 16, 2012
people who don't like this movie are morons who know nothing about music
June 16, 2012
you will love this movie or hate it. outrageous scenes with tom cruise and russel brand and alec baldwin. best msuical ive seen in ages! no pun intended! and wayn more plot than the broadway show, thankfully.
June 16, 2012
a poor excuse for a musical that's almost as bad as this is it.
June 16, 2012
cruise hasn't been this good since mi:4!
June 16, 2012
should satisfy anyone raised on american idol -- everyone else, steer clear!
June 16, 2012
the music in this was really terrible, to say nothing of dated; the 80's were not a good time for music.
June 15, 2012
i gave it two stars to be kind. this movie is bad. first tom cruise movie i did not like. the music was disorganized, the acting was campy, the story-line was very predictable. wait for the dvd.i can't believe i went to the early showing and wasted my time. the power of hollywood advertising got me.
June 15, 2012
awesome, so much fun, great music!
June 13, 2012
i thought this was a great movie. such fabulous actors and actresses in it. the singing was marvelous.
June 13, 2012
really fun to watch. i am always amazed with tom cruise's performance ... he is always better than i expect. alec balwin and russell brand were a big surprise. i knew they had a talent for comedy, but they have good pipes too.
June 08, 2012
great movie. you wont't believe tom cruise. lots of comedy, russel brand and alec baldwin are hilarious.
April 07, 2012
the film looks great, but the music sucks, which is a pretty big obstacle for a musical to overcome.