Role Models (2008) - User Reviews
Thank you for rating this movie!
Read your review below. Ratings will be added after 24 hours.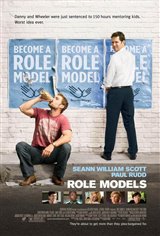 2.77 / 5
User Rating
Based on 866 votes and 133 reviews
---
Please rate movie 1 to 5 stars
Showing 101 to 133 of 133
October 18, 2008
Very funny, I am a fan of Paul Rudd and Seann William Scott. I will tell all my buddies to see it.
October 17, 2008
It's great!
October 17, 2008
Going in to see the movie Role Models, I had not seen the trailer nor had I heard much about it. I wasn't really sure what to expect. The result was a pleasant surprise; it turned out to be great! The characters were the kind that anyone can relate to, yet at the same time they were outstandingly hilarious. I enjoyed the fact that the comedy was focused on the dialogue between characters. Conversations were sharp, witty and energetic - elements that always make for a good film. The story was well paced and never felt rushed or as though it was dragging on. I felt the movie was a great success and would gladly see it again.
October 17, 2008
Wasn't sure what to expect but thought the movie was good and worth seeing.
October 17, 2008
It is a very funny and amusing movie,which in a very interesting way reflects human affairs on substituting druds by power drink. The main idea that kids come first. Let's do for them everything that possible to raise them properly.For sure, we enjoyed this movie. Thank you, Tribute .
October 17, 2008
I was at the first screening of this movie and I was so pleasantly surprised! I like both Paul Rudd and Stiffler but they were at their best in this. It's about time someone wrote a movie that allowed Rudd to be the sarcastic prick he can be and have him be more then the guy that steals all the scenes he's in. And Shawn William Scott is very funny playing a "stiffler" type of character with a soft spot. It was good to see McLovin in another movie but he was only OK playing the nerdy kid that knows he's nerdy. I loved him as the nerdy kid that thought he was cool. I'd rather laugh at him then feel sorry for him. Oh, And I agree this movie needs to be rated R. Nothing is funnier then kids curs
October 16, 2008
The movie is definitely funnier than the trailer. Lots of laughs!
October 16, 2008
Not bad. It made me laugh but do not expect it to win an Oscar out of it.
October 16, 2008
Overall a not bad film. Very crude and formulaic. It has some memorable moments (and many classic one liners), but the overall story was predictable and corny. Worth going to go watch if you're bored on a Friday night. Still many laughs to be found.
October 16, 2008
I liked it a lot and would recommend it to anyone
October 16, 2008
the movie had it's funny parts. I like the actors Paul Rudd and Sean William Scott!
October 16, 2008
The movie is great for teenagers. The characters are all disfunctional. The gothic fighting, whatever, seemed to be for lame brains; the language that the little black boy used was horrific. How could they give him lines to say like that. People in the theatre thought stuff was really funny. I thought stuff was crude and not funny.
October 16, 2008
The movie was pretty good... (it was funny) The acting was good and the storyline was awesome!! The people at the theater couldn't stop laughing!!
October 16, 2008
Unfortunately I am not an adolescent male so this movie was a total waste of my time. Thank god for small mercies - at least it was a freebie, otherwise I would have had to charge you for my time. (just joking)
October 16, 2008
This film was funny!
October 16, 2008
Funny movie. a good comedy to go see!
October 16, 2008
I thought it was cute. I expected it to be really silly because of Sean William Scott's previous movies but it was fun not stupid. So all and all a cute light entertaining flick. Thanks a bunch.
October 16, 2008
as a grandmother i really loved this movie. the older actors were real good role models for the smart, sassy, kids.i would see it again and recommend it to my family and friends.
October 16, 2008
awesome,perverted, dirty, very funny,enjoyable,blew my brain,almost pissed my pants,all actorsmagnificent. thx g.m.
October 16, 2008
Paul Rudd and Sean William Scott make a great combination for this comedic movie. You can't help but laugh out loud from the start. For sure you can tell they are perfectly the 'wrong' role models yet they make things happen…with a sarcastic, laid back, wait and see attitude. But that also added to the laughter amongst things like the ex-drug addict counselor, foul mouth 10 year old and the Minotaur! This movie won't likely win a Oscar but if you're looking for good laughs after a long day/week? This is the movie for you.
October 16, 2008
Alot better than I thought with a nice message at the end even though kids will not be able to see it as it has a couple of topless girls and really foul language, but you can't remove those things from the film. The 2 main leads are very funny together and the 2 main kids are quirky and entertaining.
October 16, 2008
Very funny movie that could have been even funnier without all the "vulgar language" used in scenes with children.
October 16, 2008
Seann William Scott and Paul Rudd were awesome!! Role Model may seem like a somewhat nerdy movie but it also has lots of hearts, meaningful essence of love. I have had many good laughs as well as some touching moments. I really admire this little pre-teen Bobbie J Thompson! He is amazingly cute and funny, very talented and his moves are natural, hip and funky!! Keep it up young Bobbie! You'll go a long way and all the best! Thank-you very much to Tribute for this fun entertaining movie!! Best wishes :D
October 16, 2008
This isn't a movie for someone who would be offended by crudeness or vulgar language. For those that don't mind the movie is a good laugh. While all the actors were great the 10 year old black kid was particularly hilarious. I think we will be seeing more of him in the future.
October 16, 2008
Was funny but im glad i won free tickets to this movie.
October 16, 2008
It was very funny, and it lifted my spirits. I will definitely buy the movie when it comes out.
October 16, 2008
Love Paul Rudd; always have, always will.
October 15, 2008
Loved this movie! So much funnier than Superbad. I laughed the whole way through. Thanks Tribute!
October 15, 2008
I found the movie very funny. It was an enjoyable time going to see it. Role models was a good idea for a funny film.
October 15, 2008
In a world where our future is so uncertain, these 2 guys make as good role models as anyone. Heaven help us. This movie had me laughing from the get go. One thing this movie can never be accused of...is being politically correct. It makes a point of offending everyone equally...and keeps you laughing in the process....I thoroughly enjoyed this movie....
October 15, 2008
Predictable storyline, but still dunny & entertaining.
October 15, 2008
I enjoyed this movie. It was really funny , well made. I think it delivers a very good message to young people out there. i give it 2 thumbs up!
October 15, 2008
It was a charming comedy about 2 men finally growing up with the help of 2 kids and vice versa.