Ruby Sparks - User Reviews
Thank you for rating this movie!
Read your review below. Ratings will be added after 24 hours.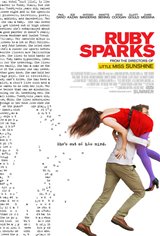 ---
Please rate movie 1 to 5 stars
Showing 1 to 10 of 10
November 10, 2012
good feel good story!
October 01, 2012
Kind of cute but mediocre
September 28, 2012
Very enjoyable small film. Funny too.
September 22, 2012
okay movie.
September 18, 2012
i can at least understand not wtnniag to know major plot points (though i still disagree with it), but i can't understand refusing to read a review, watching a trailer, or even knowing who stars in the film could possibly enhance your viewing experience. someone liking a movie isn't enough for me to want to see it i need to know why they liked it. even the people who's opinions i trust the most can occasionally recommend a terrible movie without reservations. we all have soft spots or blind spots that allow us to forgive otherwise terrible art. sometimes these can form predictable patterns that allow us to take certain recommendations with a grain of salt, but sometimes your otherwise
September 11, 2012
nicely done rom-com-fantasy.paul dano and zoe kazan (granddaughter of director elia kazan)generate good chemistry.
August 13, 2012
went to see an advanced screening of this film, not really expecting much. what can i say... this movie was an absolute gem. i don't think i can really put into words how suprisingly great this movie was. it is so unique, and almost all actors across the board give phenomenal performances. this film manages to envoke such powerful and such intense emotions, and does so in such a great way. don't know what else to say other than go see it!
August 08, 2012
enjoyed the screening last thursday evening. if you liked 'little miss sunshine', you will probably enjoy this film. aggregate ratings of 6 - 7 out of 10 are fairly reliable.e
August 05, 2012
young people may enjoy this movie, but found the story took too long to get off the ground and was somewhat silly. interesting story premise though.