Running the Bases - User Reviews
Thank you for rating this movie!
Read your review below. Ratings will be added after 24 hours.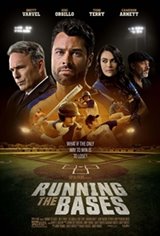 ---
Please rate movie 1 to 5 stars
Showing 1 to 23 of 23
April 28, 2023
The world need a lot more great movies like this!
November 11, 2022
Filmed in Harrison Arkansas for part of the movie!!! The town that was named the most racist in AMERICA!!! THIS IS UNACCEPTABLE AS THEY SHOULD BE BLACKLISTED FROM THE FILM COMMUNITY. As a motivational speaker of equality of race this hurts my heart to watch. Please DO BETTER!!!
October 18, 2022
The coach in the picture never lost his faith . He taught the team good character traits to become decent men and never once did he not trust the Lord . No bad language and no nudity His message at the end was a wonderful testimony to all And he even gave GOD the glory by using the words "my Lord Jesus Christ " which I have never heard in the movies before Please show more movies like this This movie was a witness to others and planted seeds for s0me people who never had faith in God. please see this when ever You can You will not regret going
October 17, 2022
Showing Depth of Character was superb! WE MUST HAVE MORE MOVIES LIKE THIS! This is the kind of movie you want the whole family to see!
October 07, 2022
Good family movie
October 05, 2022
one of the best quality movies for a long time, everything about is great, characters, theme just a great movie to enjoy
October 04, 2022
This is the best movie I've seen in a very long time. No foul language, no foul behavior, and not "B" quality. Story line was great, and the acting was superb. Message was perfect! I wish there were more movies like this one.
October 03, 2022
Great message! Do whatever He tells you! Even if it doesn't make sense. Yet. I love the God transformations. We need to return to God and (re)introduce Him to everyone! Everyone is hurting somehow, someway. Jesus is the cure!
October 02, 2022
I'm not going to lie I went to the theater expecting to see bad acting, possible unrelatable dialogue, with your typical story of redemption of Jesus. But I'm so glad I was totally wrong! The "Actors were phenomenal, the storyline & dialogue were on point & the tears & laughter coming from me came from reliving experiences in the movie. Which turned the movie to like a "God moment " for me... I absolutely love this movie & if they see this as well I can now see other baseball teams running the bases too.
October 02, 2022
Best Movie I have seen in a long time, we need more movies like this instead of the awful movies made today, and are not a good roll model for the young people today !!!!
September 29, 2022
Liked everything about it beginning to end.
September 29, 2022
This movie was so convincing and well done it could easily have been a true story, which is my favorite. Both the storyline and the acting were superb!
September 23, 2022
I really appreciate having wholesome, family movies to take my kids to see, I laughed and cried. I love that it starred Raphael Ruggiero & rhe red haired boy that both starred in Lifemark, I enjoyed seeing them together again as best friends. Qe need more Christian movies, I am glad this was such a clean,movie that focusing on real life stuff instead of Hollywood smut. Thank you!!!
September 22, 2022
Loved this film from beginning to end!
September 21, 2022
Loved the message. Actors & story line was believable & touched my heart ! There were clips that made me cry & funny ones too. I would recommend that more people attend & listen to their final speech. Americans need this at this time😃
September 20, 2022
I laughed and I cried and when it's all said and done you leave the movie feeling soooo good. This is a really rare gem of a movie and we all could use a good movie right now.
September 20, 2022
Love the message that you don't hear in movies at all anymore. Some of the situations and acting are not believable but the message wins.
September 19, 2022
Great movie!
September 19, 2022
Superb acting and strong storyline!
September 18, 2022
Very little humor, no depth of character and heavy- handed with the religious theme.
September 18, 2022
Must watch movie!!!!!! Great movie ever~~~~
September 17, 2022
A very thought provoking movie and a must see.
August 22, 2022
This is an emotional roller coaster! Very moving film, great for the whole family, even if you're not into baseball.