Salt - User Reviews
Thank you for rating this movie!
Read your review below. Ratings will be added after 24 hours.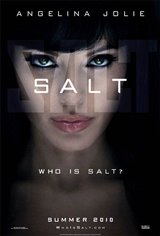 4.03 / 5
User Rating
Based on 1070 votes and 308 reviews
---
Please rate movie 1 to 5 stars
Showing 1 to 50 of 308
March 11, 2011
worth a watch
February 07, 2011
very interesting movie
January 27, 2011
Decent flick. Some good twists but a certain amount of predictability. Overall, an entertaining movie to watch.
January 10, 2011
Boring and predictable
January 02, 2011
not that great = Jolie mails it in, again.
January 01, 2011
saw this the other day, it was excellent ! Worth buying
December 31, 2010
Fantastic movie. Action pact with good twists and turns.
December 28, 2010
Good action well put together, I loved Angelina in this movie
December 26, 2010
really good movie
December 26, 2010
Overall a good movie.. Angelina does a good job as always...twist in the end..
December 23, 2010
Very dissapointing movie.
December 02, 2010
Loved this movie!! One of my favourites now
November 22, 2010
Pretty good overall, there is a good twist to the story. Lots of action.
November 20, 2010
Angelina is such a phenomenal actress and she does the action hero so well. Despite what the comments are she does play many different roles. I would love to see a sequel
November 20, 2010
Good plausible double agent movie.
November 17, 2010
Angelina proves she's a stellar action hero time and time again!
November 16, 2010
I enjoyed it.. action packed..
November 14, 2010
This was an intense movie from start to finish. I loved the twist at the end and how she finds out that her allies are really her enemies. Angelina did all her own stunts for this movie and boy, did it ever make it worth it to watch.
November 13, 2010
angelina jolie is the beeeeeest actress EVER ! loved this mmooovie.so intense :D
November 13, 2010
Great movie. Plenty of action. Throughly enjoyed this one.
November 12, 2010
Enjoyed this one!
November 11, 2010
I found this movie to be stupid, boring and predictable. Jolie really needs to elevate her game - her last few movies haven't been all that great.
November 11, 2010
To be honest, I wasn't expecting much and the movie lived to my expectations. Jolie has played these roles many times and after a while, it becomes boring. I wish they would take chances with new actresses to see what they can bring
November 07, 2010
very very good.
November 07, 2010
Angelina Jolie really seams to like these rolls but she need to find something not so predictable.
November 06, 2010
Very good flick. Can't wait for the second one.
November 06, 2010
Increasingly over the years, I've found the jolie doesn't really act anymore - pretty much the same character in all of her films. This was just her doing Tomb Raider without an accent. Due to that, I found this movie dull and lame. Other than her strong performance in The Changeling a few years back, Jolie just doesn't deliver anymore.
November 04, 2010
Entertaining but somewhat predictable.
November 02, 2010
good action movie
November 01, 2010
This movie is very interesting.
October 30, 2010
Love Jolie. she is a great actress in her movies, including this one. But the story is not impressive and shadow, and not provide a clear clue to our audience. Overall it was pretty great, but it needed some work to be done on the characters.
October 19, 2010
This movie was great...at putting me to sleep. Wake me up next time Jolie does a good movie.
October 17, 2010
Ok. For. Some what disapointing
October 15, 2010
Angelina's always so great in these action-packed badass lead roles!
October 15, 2010
very dissapointing
October 13, 2010
predictable but good enough for the action junkie or Angelina junkie.
October 12, 2010
Great action, violence from a female character! good plot twist at the end.
October 11, 2010
good movie! As always, Angelina Jolie was badass!
October 07, 2010
It has its moments, but overall echhh, boring and Angelina doesn't look very good, plasticy.
October 07, 2010
Saw this twice with friends....not too bad.
October 04, 2010
There are not many female actresses who deliver the same punch as Angelina Jolie. As the action genre continues to prove as intriguing as ever, Angelina holds her own with the likes of Bond & Bourne, giving us some of the best hand to hand fight scenes, adrenaline pumping gunfire & explosions, as well as thoughtful dialogue as the script dictates. I truly hope that this will set Angelina up as, in a sense, a female Bond-ish character that we will grow to love, follow & want to know more about.
October 03, 2010
Excellent movie, but the ending left you hanging a little more than I would have liked.
October 02, 2010
Great movie. I went in with low expectations because I had heard some negative things but I really liked it a lot. I'm not really a fan of Angelina Jolie and I'm not a big action guy, but Salt was awesome and held my interest from beginning to end.
October 02, 2010
every sec. of this movie is filled with aaction, which I liked it to watch.way to go Ang.
October 01, 2010
This movie really captivated me and I really loved it. I wouldn't wanna ruin it but I think there will be a Salt II
October 01, 2010
lot of the stunts were very phony and not believeable
October 01, 2010
It was a really wicked flick. Just wished there were more hot and sweaty sceens with another hot guy. Giggles!
September 29, 2010
EXCELLENT entertainment
September 29, 2010
A lot of impossible special effects...silly story, mind you it does have a couple of twists...this is very light entertainment, brain must be turned off.
September 29, 2010
Kick ass!