Sausage Party - User Reviews
Thank you for rating this movie!
Read your review below. Ratings will be added after 24 hours.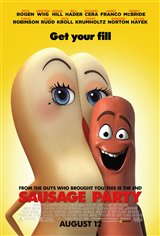 ---
Please rate movie 1 to 5 stars
Showing 51 to 69 of 69
August 13, 2016
Garbage. If you are smart, you will not see this movie.
August 13, 2016
Disgusting. You can't even get away from the language and innuendo in an anamated flick! Trashy, not funny.
August 13, 2016
Absolutely hilarious. Great humor. They underlying criticism on the real world was awesome. Anyone who rates it below 5 has no clue what they're talking about.
August 13, 2016
Refreshing to see a movie in which all the wieners are gender neutral.
August 13, 2016
Vulgar, but very funny movie. The concept was interesting and the voice actors did a great job in the movie.
August 12, 2016
It was an okay movie..a few good laughs, but predictable one-liners from Seth Rogen and his writers..Will make for a good home video rental for a home party..Thx
August 11, 2016
Loved this movie, I thought it wa extremely funny and makes you look at food a little differently when at the grocery store lol. Definitely recommend this to anyone who's over 18yo, so awesome! Love a movie that ends with a bang ??
August 11, 2016
It was very amusing. Good for late teens and adults of all ages.
August 11, 2016
two words..food porn! Prepare to be shocked and awed in a good way
August 11, 2016
Movie was really fun though ending got a bit weird
August 11, 2016
This movie is funny, but be prepare for serious adult humour.
August 11, 2016
Lowbrow raunchy and crude. A dirty romp thru the hard fought world from the grocery store to the great beyond.
August 11, 2016
This movie was Hilarious. I think I got abs from laughing so much. The movie started very cute, then went to extremely funny then became something else entirely. I think that makes this movie not predictable. I like that.
August 11, 2016
That movie was a laugh out funny. Best comedy I seen in a long time.
August 11, 2016
This movie is the best ADULT comedy of 2016. It definitely pushes boundaries on western animation. Not for the easily offended but a great time for those that enjoy good laughs.
August 11, 2016
Hilarious, clever, inventive, and subversive! Not only a great time at the movies, but one of the funniest films I've ever seen.
August 11, 2016
I really hope that the person who said that it looks like a good one for their kid is joking. Please parents don't let your children go to this movie. It is R rated and disgusting. It's too bad that adults even want to go to it. It's a beautiful summer - don't waste precious time by going to this garbage. I'll give it one star cause zi can't figure out how to give it 0 stars.
August 09, 2016
Person who said that they will take their kids to it on opening weekend, WTF, have your kids even seen the RED BAND TRAILER, it is not a kids movie, it is an adult comedy, with vulgar language, sexual content, and sexual references. Aside from that, as an adult, i am really looking forward to this movie.