Scream 4 - User Reviews
Thank you for rating this movie!
Read your review below. Ratings will be added after 24 hours.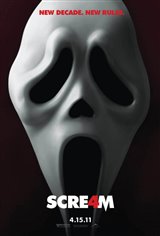 ---
Please rate movie 1 to 5 stars
Showing 1 to 48 of 48
September 14, 2019
The SCREAM movies are horror films for people who don't know what good horror is.
January 19, 2017
Another horrible entry in the worst horror franchise ever.
January 31, 2013
Awesome ending to an amazing franchise! They did a phenomenal job.
January 24, 2012
i had fun with it. i liked emma roberts in the movie...
October 10, 2011
Totally overrated...
June 09, 2011
I was entertained throughout.
May 26, 2011
decent movie, ending was expected. but the killer was never who you thought it'd be. anyway 3/5 overall.
April 27, 2011
I thought this movie was awesome, I hope they make more! and courtney cox looked weird in the movie though, but i loved the rest of the cast!
April 25, 2011
Nicely done. Exellent reference about Horror films, making the over the top acting plausible. Courtney Cox looked a little weird but it did not take away from her fabulous role as Gale. Neve's return to woodspiro(sp?) was also and interesting factor since the trailers indicated that she had long since moved back home. Though I must ask, now that the remake topic has been done, what else could the Scream franchise possibly think of next? is this the actual end of the scream series?
April 25, 2011
waste of time just awful
April 24, 2011
what a crummy movie, not scary at all, just plain bad. Neve Campbell has aged well, but Courtney Cox looked gawd awful.
April 23, 2011
It was a great movie, loved all the twists and turns, keep you guessing till the end... very happy with the ending..way to go wes craven.
April 21, 2011
Love Love Loved it!!!
April 20, 2011
i love this movie i can't wait to see it. screm on people
April 20, 2011
I hope all the cheesiness was intentional. If it was, this was a worthwhile movie.
April 20, 2011
This movie had humour horror and was an equal comparison to number 1. It was very entreating and the twist was very unpredictible and it had decent acting so overall a pretty enertaing horror flick.
April 19, 2011
Worst Scream yet, simply horrible.I thought it was going to be a little different but it the same thing over and over again. Not scary at all. Is it supposed to be funny when people are dying that they have to crack a joke b4 they go? Please stop making these crappy movies.
April 19, 2011
The best Scream since Scream 3!
April 18, 2011
Good movie!, stayed true to the originals I have been a fan since the first movie! But the killing scenes were a bit over done!
April 18, 2011
If you didn't figure out who the killer was 20mins in, you are dumber than a post. IT's SO OBVIOUS. DEAR HOLLYWOOD MAKE SOMETHING NEW PLEASE
April 18, 2011
The golden age of horror is long since dead. I am a huge fan of Wes Craven and the original Scream trilogy. Scream 4 had nothing. It was flippin terrible. And Courtney Cox looks like an alien with all the botox.
April 17, 2011
Hey, can u please take down my post re: coutney cox if your reading this lay off the botox. I just thought it was mean spirited on my part, even if maybe her acting was a bit frozen. i think i was just too dissapointed with the movie-usually my reviews are better. thnx":)
April 17, 2011
Great movie! enjoyed it alot. Scary n' funny.
April 17, 2011
This movie was awsome LOVED IT!!!!
April 17, 2011
Very well done. As a fan of the scream films this one was nicely done and ties into the first one which we all no was the best. It will be interesting to see if they make more. Wes craven said they have talked about doing more but they will see how this one dose first.
April 17, 2011
Really really entertaining. Loved it a lot, and I've been a fan from the beginning. Great job Hayden, Emma, and Neve, especially.
April 17, 2011
saw it yesterday! loved it, favourite movie series,hopefully theres a scream 5 and 6 :)
April 17, 2011
A complete REBOOT! this movie captures the same originality of the first one!
April 17, 2011
What..even for a scream 4 how BOring...the only worthwhile dialogue was when julia roberts neice made a speech to Neve Cambell about being in her shadows which you know was completely put in on purpose also, Courney Cox if you are reading this lay offfff the Botox and fillers you look like a 60 yr old rich housewife.Haydens Part was okay but ohoh so predicable.i say pass on this movie if even for cheap thrills.
April 17, 2011
I thought this one was as good as the others, kept you guessing who the killer was, and great one liners at the right time!
April 17, 2011
lots of fun!
April 17, 2011
Stupid beginning
April 16, 2011
first off the movie was better than what i imagined the actors were very perfect for the role. i like how it tide into the first scream very cleaver movie hope their a sequel to this one
April 16, 2011
awesome movie! made me jump a few times...lots of laughs...and ofcourse the twist ending! if you liked the other 3 movies you'll love this one!!!!
April 16, 2011
why are people giving this movie positive reviews when they haven't even seen the movie yet. dumb kids.
April 16, 2011
It's nice that they found work for Neve Campbell.
April 16, 2011
So awesome, definitely lives up to the hype surrounding the movie. The opening sequence was great! Will not disappoint any Scream fan.
April 16, 2011
BLEW ME AWAY. STILL IN SHOCK.
April 15, 2011
Scream 4 was awesome you couldn't of done it any better. How the story tied into the first film was great and very smart writing. Can't wait for this to come out on DVD.
April 15, 2011
Very funny and scary! exactly what you'd expect from the series!!!!! A good time!
April 15, 2011
It's amazing!
April 05, 2011
I love the Scream seriers - I can't wait for this movie!!! My favorite horror/thriller. They are always extremely well written and scary!
March 25, 2011
Aren't these "kids" a little long-in-the-tooth for this sort of thing?
March 25, 2011
I hope this means we're getting another "I Know What You Did..." movie!!!
November 21, 2010
cant wait! should be an amazing movie!
October 29, 2010
Give it up!!!!! The horse has been beaten to dead years ago!!!!!!!!!!
October 28, 2010
looks good