Sex and the City 2 - User Reviews
Thank you for rating this movie!
Read your review below. Ratings will be added after 24 hours.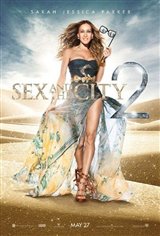 2.98 / 5
User Rating
Based on 1338 votes and 380 reviews
---
Please rate movie 1 to 5 stars
Showing 101 to 150 of 380
July 22, 2010
I enjoyed the movie. Granted, I did find it a bit slow in the beginning to get going. There were alot of details that were "over the top", but hey, it's a movie, for entertainment purposes. I also liked the fact that all previous cast members were a part, including Aidan who was only on one of the seasons I believe.
July 22, 2010
Better than the first movie!
July 22, 2010
Great movie! it could of been a little shorter!
July 22, 2010
way over the top.the holiday in the middle east and it's extravagance is unbelievable
July 21, 2010
Way too long. They should of stop with the first one.
July 21, 2010
It was like watching a 2-hour long episode of SATC. Enjoyable, but nothing spectacular. The wardrobe was no doubt the main attraction in the movie.
July 21, 2010
A bug walked across my kitchen floor. It stopped at a crumb of food and nibbled for a while, then it moved along. This event was 100 times more interesting and entertaining than this movie.
July 20, 2010
Very satisfying for fans of the series: it's like one hugely long episode. Don't expect it to knock your socks off as a stand alone film though. Just fun to see what's next for the characters we know & love.
July 20, 2010
I just love the girls...and the fashion!
July 20, 2010
Tsk tsk! How to blow US relations with the world in one easy film. Materialism rules over common sense in this bad idea all around. Why would anyone with any common sense want to expose themselves to this? There's more to life than fancy gowns and exotic locations girls. Sheesh!
July 20, 2010
The 'ladies' are at it again! Perhaps not as good as the first movie, but in lots of ways it IS - same ladies with a different story line and VERY enjoyable.
July 19, 2010
My wife was happy that I had something nice to say about the movie.
July 18, 2010
Hilarious movie, very beautiful scenery. Not as good as the first movie, but still great for a night with the girls.
July 18, 2010
Good thing this came out in the Spring or it would be the worst movie of the Summer! Pretentious and foul, this isn't entertainment its mindless drivel. Wiser to throw your money out of a moving car window than spend it on this dreck! Insulting, insipid and uninspired, this is nothing more than a money grab disguised as a movie. What a colossal waste of time and effort!
July 18, 2010
I don't ever watch Sex and the City, but I won passes from tribute.ca, and the movie was very entertaining!
July 17, 2010
chick flick, very romantic
July 17, 2010
Great Movie. Not as good as the first but still very fun, sexy and fashionable. A must see but better to rent this chick flick.
July 16, 2010
All that it's meant to be... pure extravagant escapism, romance and beautiful women
July 16, 2010
It's all fluff but sooooo what!!!! The fashion alone is worth the time and money. It's just a more entertaining version of a magazine. Like # 2 better than the # 1 - not as depressing!! I'm sure there will be a # 3 but who cares it's another excuse to dress up and have some drinks with the girls!
July 16, 2010
Skip the movie.
July 15, 2010
good move and i love SJP big fan of the show
July 15, 2010
A lot of fun ... but not as good as the show (or the first movie!)
July 15, 2010
Awesome movie! Loved the fashion and the adventure the ladies took us on.
July 15, 2010
Definitely a chick flick; however, having said that I thoroughly enjoyed myself--nice way to relax and be entertained.
July 15, 2010
i think it was great movie
July 15, 2010
Don't recommend it at all.
July 15, 2010
I guess the producers and stars figured the fans would go no matter what. So why bother writing a screenplay that was any good.
July 15, 2010
Movie was too long and a little bit silly.
July 15, 2010
This movie did have moments, but for the most part it is long and boring filled with cheesy jokes and puns that aren't witty. And it's great to be empowered and all but going to another country and insulting their culture isn't feminism by any means.
July 15, 2010
Only redeeming quality was seeing John Corbett again!
July 14, 2010
very disappointing, first movie was much better...hope they try for a third
July 14, 2010
more of the same
July 14, 2010
Good movie.
July 13, 2010
I did not think this movie was as good as the first one. Could wait for the video.
July 13, 2010
Loved the first one more, but still enjoyed part two. I LOVE Aiden!
July 13, 2010
Gave this 2 stars only because the clothing was so beautiful. Story line was terrible. Totally boring movie. Should've stopped after the first one.
July 13, 2010
loved the movie
July 13, 2010
thought it was a very good movie
July 12, 2010
Great movie. Lots of laughs and just fun to watch
July 12, 2010
not very interesting story line - first movie much better
July 12, 2010
They should have kept it to just one movie. This was terrible. Just let it go.
July 12, 2010
great for what it was. A little over the top in parts, but what do you expect from the sex and the city gals!
July 11, 2010
Loved it, not as much as the first movie, but still loved it. What prevented me from giving it 5 stars was the behaviour of Samantha, very unclassy to take the hospitality given to her and her friends and basically spit in their faces, stereotypical of the "ignorant American". Also, we all know they are best friends, but it was at times a little contrived and forced. I am willing to forgive though, as I can't get enough of SNC.
July 11, 2010
no big deal
July 10, 2010
I loved it. It was a great chick flick with a lot of laugh out loud scenes. Some people say that you have to watch the series to get the movie, but I disagree. It was a lot of fun watching it with the girls. I will definitely be buying this one as soon as it comes out.
July 09, 2010
Exceeded my expectations again with this sequel. Awesome.
July 09, 2010
Great sequel to the TV series and the first movie. I think a lot of people will find the movie offensive because of all the TABOO subjects that is shown on screen but, that is the reason why we love SEX IN THE CITY. See it as a parody of real life truth.
July 09, 2010
Movie much better than I expected it to be from the trailer. Alot of good laughs. Kim Cattrell stole the show. Scenery and wardrobe was worth the price of admission
July 09, 2010
We girls loved it. When am I ever going to see Dubai for one thing. Anything that brings you to another culture or world is worth watching. Its a chick flick, what can you say.