Sex and the City - User Reviews
Thank you for rating this movie!
Read your review below. Ratings will be added after 24 hours.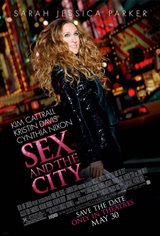 2.78 / 5
User Rating
Based on 14447 votes and 241 reviews
---
Please rate movie 1 to 5 stars
Showing 1 to 50 of 241
July 01, 2010
I loved it! It was great entertainment and I can't wait for the sequel. I am glad I left my housband at home, as this is purely a chick flick at it's finests.
October 17, 2008
Thumbs up! Sarah Jessica Parker is the sexiest man on the planet!
October 11, 2008
The year's most entertaining movie is almost sure to net a Best Picture nom and Parker should be a shoe-in as Best Actor.
October 06, 2008
should have been rated X-disgusting
September 23, 2008
Wow Great Movie!!! Never even seen the Series. We both enjoyed it very much. Two Thumbs Up!!!!
September 23, 2008
Isn't the lead chick supposed to be a dude???
September 11, 2008
I loved the movie and hope the make another one.
September 11, 2008
Freaking FUNNY!!! I loved the movie so much that I went out and got all the seasons!! Hope there is a sequel!!
September 02, 2008
Was that Judge Mills Lane I saw in a cameo?!?!
September 01, 2008
Brutal I cannot believe my girlfriend dragged me to this cinematic catastrophe. I feel like I should call Sarah Jessica Parker and ask her for the 2 hours of my life back that I just wasted or at least my money back!!!!
August 31, 2008
When will Parker realize we watch this show for Cattrall and Davis? This series would be so much better without ugly Carrie.
August 29, 2008
better than i expected. if you liked the series i think you'll not be disappointed. if you didn't watch the show on tv i think you might think it's too fluffy.
August 25, 2008
"Love this movie...will watch again again !!! Can't wait for the sequel"
August 15, 2008
love love love this movie! i would watch it over and over again!
August 14, 2008
Too bad that some people will think of this movie only as a "chick flick." It's SO well-written and it portrays true life lessons. Of course, the fun factor is a given!!!!!!!!!
August 11, 2008
Much better than I expected! Truth be told, the guy who makes the whole thing work is Parker.
August 05, 2008
I loved it. It was so good I didn't want it to end. I hope there is another one soon.
July 24, 2008
Beautifully written and acted!
July 24, 2008
Why would anyone take a straight man to this movie??? Surely every woman has at least one female friend or family who would enjoy this movie. Seeing Carrie et al was like revisiting old friends - satisfying and enjoyable from start to finish.
July 16, 2008
I loved it. I was worried it might be a disappointment, but was very pleased with the story line and how it turned out.
July 12, 2008
Did anyone notice the photoshopping on their faces and arms? I loved the movie, but once I noticed the fuzzy bits, I couldn't concentrate on anything else.
July 09, 2008
I love it so amazing Jessica i love you
July 09, 2008
The best animated movie of the year!
July 08, 2008
Love it! It is more dramatic than expected.
July 08, 2008
This was a great movie!
July 06, 2008
Amazing movie. love it!!
July 06, 2008
very romantic!!
July 03, 2008
AMAZING!!!!!!!!!!!!!!!!!!!!!!!!!!!!!!!!!!!!!!!!
July 03, 2008
Nice to see these ladies aging with the rest of us!
July 02, 2008
Awesome to any fans that watched the series
July 02, 2008
Strong, intelligent women? Yeah right. SELLOUTS. Pathetic ending to a great series.
July 01, 2008
i loved it soo much I can't stop seeing it...
June 30, 2008
soo great! cant get enough of these gals!
June 30, 2008
a Great movie I loved it. Did not hold back at all.
June 28, 2008
Great lessons to be learned in this movie!Just unbelievably GREAT!!
June 27, 2008
It's funny and that is the reality living in the city!
June 26, 2008
best ever!!
June 23, 2008
Sex and the city was such a good movie... i loved every minute of it... If you following the series then you'll definitely love the movie... I gave it 5 stars. :D
June 22, 2008
If you've watch the show since the beggining you'll definetly enjoy the movie. It was everything you wanted to see happen in Sex and the City. It gives you a picture of what real relationships are about and what people go through and how they feel. I cry during the new years scene.But I'm so happy with what happened at the end. This is a must see movie with anyone. It's emotional but it rings true in any relationship you have with people.The personalities are just like what you would find in the world.
June 21, 2008
LOVED, LOVED, LOVED IT.... if you watched the series you wont be disappointed!
June 20, 2008
I have not seen a single episode of Sex and the City and hence was forced to see the movie. But I must say that it was a really good/funny movie!! I am glad that I watched it:)
June 20, 2008
best ever!!!, but only for fans of the show if you didn't watch the show you won't enjoy it as much.
June 20, 2008
Loved this movie! Loved the fashion, loved the storyline and loved the acting. I hope they are making more!
June 20, 2008
Anyone who didn't like this movie is obviously lacking a brain. It was a hilarious movie with a great plot! I'd see it again and again!
June 20, 2008
SEXYY MOVIE!!!
June 19, 2008
Omg sucked sooooooo baaaaad, so totally opposite of the tv show, i dont understand how people can like both, only to have this ruin such a good thing