Sex and the City - User Reviews
Thank you for rating this movie!
Read your review below. Ratings will be added after 24 hours.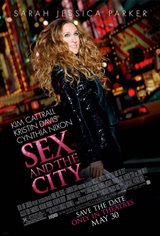 2.78 / 5
User Rating
Based on 14447 votes and 241 reviews
---
Please rate movie 1 to 5 stars
Showing 151 to 200 of 241
June 02, 2008
i loved it, it was so beautiful, everything was 100% BETTER THAN i EXPECTED.
June 02, 2008
Great movie for a night out with the girls!!
June 02, 2008
Absolutely great! Many dramatic and funny parts also. If you are a "Sex" fan, you'll love this movie.
June 02, 2008
4.5 I thought the movie was great!!! Well done!
June 02, 2008
I don't know what all the hype was for. Not very good, very predictable & way too long.
June 02, 2008
Amazing... Loved every minute of this movie, it was well worth the wait :) I can't wait to go see it again and i will have it the day it comes out onto dvd :)
June 02, 2008
Giant waste of time! I've never seen the show and I was bored stiff! The entire movie was based on two very predictable events just like any other romantic movie. Terrible!
June 02, 2008
Fabulous Movie! Well worth the wait!
June 02, 2008
This movie stayed true to its HBO roots. Nothing over the top in terms of character development or plot, but just the same four women most of us fell in love with. It's not Academy Award material but it entertains nevertheless. Most of the movies these days are overhyped crap-atleast this one has some laughs and some heart. Well done!!
June 02, 2008
Was light hearted, funny and a great getaway from real life! Movie was long but worth the retreat.
June 01, 2008
The movie was awesome!!!! It stayed true to the entire series. It was great to see all the characters again. I am so sad that it truly is over. I can't wait to see it again.
June 01, 2008
honestly, this movie was amazing. i dont know how anyone could say anything negative about it , ! it brought like every emotion to surface, i honestly cried in it, laughed soo hard, i was smileling, i got mad , like it was just all around a great movie . ! great way to end the series ! ♥
June 01, 2008
disappointing. the addition of carries personal assistant was completely unnecessary and the acting seemed forced at times. the magic was lost with this movie.. =(
June 01, 2008
It's amazing!!!! The movie had it, romance, comedy, and sad. I would suggest people who are a couple or who are dating should watch it.
June 01, 2008
Totally awesome, luv, luv, luv it. Can't wait for the dvd.
June 01, 2008
Wonderfull, funny and the shoes are amazing! The sex was a little too porn like for me, and not always nessary for the film but all in all great.
June 01, 2008
aarrgh .... dreary movie. sjp looks like jack nicholson as the joker with long hair .. maybe they should find someone sexy to be in a sex and the city movie
June 01, 2008
Great chick flick. Will go and see it again.
June 01, 2008
even if your not one to cry and laugh during movies..... you will!
June 01, 2008
It was great! It stayed true to the characters and gave the laughs and tears I have come to expect.
June 01, 2008
LOVED THE MOVIE......Can't believe people out there are saying its the worse movie, I LOVED IT and would see it again....go girls have a girls night out and enjoy. LV
June 01, 2008
It was awesome!! I cried and laughed so many times.. I was amazed by how well it described women's emotion that I never thought I would feel..I'll definately buy DVD!
June 01, 2008
Nothing brilliant. Actually, its far from brilliant. And the movie was too long!
June 01, 2008
Predictable. Even after all these years, Sarah Jessica Parker still looks like a foot. I hope for the next series like sex and the city, they cast a much more attractive women.
June 01, 2008
i ABSOLUTELY LOVED IT!
June 01, 2008
I loved it!!!!! ? Friggin' great.
June 01, 2008
AWESOME...A TRUE CHICK MOVIE...ADULT THEME DONT BRING ANYONE UNDER 18
June 01, 2008
AMAZING !!!
June 01, 2008
People lets get serious. If you're watching the film, in hopes for an Oscar nomination, don't be niave. It's just a fun follow up, to a much loved television series. Take it for what it's worth.
June 01, 2008
Better than I expected!
June 01, 2008
I absolutely LOVE this movie, especially being a loyal fan over the years like many out there. This movie feels like a long over-due reunion for us fans. I would definitely go watch again and can't wait till the DVD comes out.
June 01, 2008
Who is that playing Carrie? Dee Snider from Twisted Sister? or Secretariat?
May 31, 2008
If you liked the television show, I think you will like the movie. It's great to see the girls again and catch up what's happend to them since the series went off the air.
May 31, 2008
I went with three girlfriends and we all loved this show. It was funny and touching and true to the series.
May 31, 2008
The movie was amazing! For all the haters..there is no need for name calling! You have to be a true fan to really enjoy this movie to the fulliest! So, if you wasted your money and you are not a true fan the joke is on you!
May 31, 2008
sex and city fans won't be dissapointed
May 31, 2008
If you have watched the seri's then you'll be able to appreciate this movie on a very different level. Its not an academy award type of film!!! I don't know how anyone could give it any less of a rating. Of course its going to be about brand names and merchandising...thats part of the context of the show and why we love it so much!! Again, if you aren't fans of the show and couldn't wait for the next episode then your not going to "get" this movie!
May 31, 2008
totally awsome, when with eight of my friends and we all laughed till we cried.
May 31, 2008
I love the series and I'm a huge fan, but the movie disappointed me a bit. It was made to be too cheesy and to fit the mainstream. I think I would've liked it more if I didn't watch any previews ahead of time because they gave away too many of the story lines.
May 31, 2008
OMG i've watched a bit of the series and liked it but i wasnt a die hard fan. however i thought the movie was great!!! It was funny and heart-warming. I can't wait till this comes out o m DVD. I would watch it agian and agian.
May 31, 2008
LOOOVED THIS MOVIE!!! :)
May 31, 2008
I enjoyed it very much, it stayed true to the show...I agree that Jennifer Hudson part was unnecessary, and although shes won an oscar, she was no good at all in this.
May 31, 2008
Fabulous, fabulous...Awesome movie, a true tribute to the HBO series...It was a great decision not to depart from the formula that worked for TV.... The fans of the show would not alienated or get upset...If you did not wash the show, please see a few episodes before seeing the movie, otherwise you may not understand what's taking place..... Hooray for women...
May 31, 2008
this movie is so amazing its so not even funny.
May 31, 2008
you all are so mean so what SJP isnt the prettiest thing coming she is still doing better then all you critics.look in the mirror check out your own flaws in your face.
May 31, 2008
It was fabulous - I want to watch it over and over. A bit of a mature theme so it's best not to bring anyone under 19.
May 31, 2008
I thought they did a really good job of the movie. All the fans who rated this movie less then a 4 star are truly not real sex in the city fans. We should all just be happy that the movie was made and we got to see how the girls lives turned out in the end. I say get all your girls together and go see it as many times as you can on the big screen. It may be the last we see of these fine women!!!