Sherlock Gnomes - User Reviews
Thank you for rating this movie!
Read your review below. Ratings will be added after 24 hours.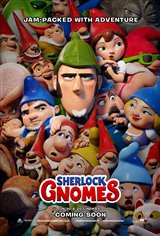 ---
Please rate movie 1 to 5 stars
Showing 1 to 21 of 21
May 30, 2018
funny ! ..... kids loved it ... had a good time ....
May 06, 2018
The Incredibles of 2018.
April 12, 2018
It was too violent and tasteless. I'd rather let my kid watch Videodrome.
April 06, 2018
Kid's films don't have to be this puerile. And yet it's also vulgar. And lame.
April 02, 2018
many people snoring in the theatre, even my daughter was bored. very little humor, and dumb and some even copied from other movies/shows. DON'T WASTE YOUR MONEY........!!!!!
April 01, 2018
Don't waste your time and money on this movie it doesn't need to be 3d and it was dumb and stupid!!!!
March 31, 2018
Many inappropriate sexual connotations sending mixed messages. Would not ever take a child to this movie.
March 30, 2018
Loved it. My kids loved it. Great family movie.
March 29, 2018
No the best. I felt very disgusted with the trailer where they kept showing the gnomeo doing off things. Still I gave a second chance so I went to watch this movie alone to double check if this movie would okay for my kids. No way.
March 29, 2018
Some scenes were okay but the double messages of the night club was very off for little ones.
March 29, 2018
its an amazing movie
March 28, 2018
Enjoyable, entertaining as gnomeo and juliet, like Elton John efforts.
March 25, 2018
The movie could be a nice movie but some scenes were way too off for children. No idea what was the producer thinking. If they had eliminated the Gnome dancing like he was in a night club the movie would much better.
March 24, 2018
Another great movie from Elton John and cast .
March 24, 2018
Very funny 10 out of 10
March 23, 2018
The movie have some suggestion scenes and words for adults. The character who was almost naked was a very disgusting scene for children. The oh...fertilized etc. I will not recomending this movie for little ones. Somd adults will not realized that scene and they will finding funny, but to me the guy doing a provocative dance looked very off for children. My two cents.
March 23, 2018
my kids loved this movie - great story, intelligently written and lots of funny parts. We Highly recommend it.
March 23, 2018
Good family entertainment.
March 23, 2018
Mildly funny with a good soundtrack ... Predictable but yet still a surprising twist at the end
March 23, 2018
Action packed family movie with enough comedy and suspense and some great life lessons thrown in for good measure! An added bonus was the London scenery!!
March 23, 2018
My family and I thoroughly enjoy this movie. Didn't know this was produced by Sir Elton John...there's even an EJ gnome lookalike. The animation was packed full of actions and intelligent jokes. I recommend this film highly.