Shrek - User Reviews
Thank you for rating this movie!
Read your review below. Ratings will be added after 24 hours.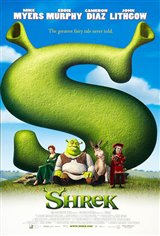 4.40 / 5
User Rating
Based on 4924 votes and 50 reviews
---
Please rate movie 1 to 5 stars
Showing 1 to 50 of 50
February 16, 2018
Clever and funny fairytale which puts many typical fairytale cliches upside down.
March 08, 2014
I LOVED SHREK... DONKEY WAS A HOOT !!
March 06, 2012
stimmt leider.. ich find's shdcae, wie heutzutage mit ein wenig halbherzigem 3d hier und da fcber eine gute storyline oder eine liebevoll erstellte bildkomposition hinwegzute4uschen versucht wird.. shrek letztens gesehen und kann deine meinung nur teilen..aber: spitzen blog, das hier, nur weiter so, bitte!
October 26, 2011
top movie for the children and still pretty good for the adults
April 21, 2010
great movie but i heard today in the movie that the donkey guy said that paste is the best thing in the whole DAM planet i thought this was a kid movie
February 26, 2008
BEST MOVIE EVER!!!
July 30, 2006
AMAZING!! The graphics in this movie were great! It was also really funny and I enjoyed every minute of watching it. 4 stars
May 24, 2006
Dreamworks Shrek is well done!
January 03, 2006
I love Shrek ....Can`t get enough of that movie Iam doing a project on Andrew Adamson right now in movie class and i get to watch Shrek or Shrek 2 i am so Excited That`s My Homework!!! I think that`s pretty lucky. Shrek is one of the funniest movies i have ever seen ....but it has mike and eddie in it how can you go wrong, right?
July 01, 2005
Absoloutly brilliant made me laugh all the way through
March 02, 2005
I absolutely loved it.
February 25, 2005
amazing!!!mike meyers never stops the hilarity!!!and eddie murphy, man, hes funny!!i like the second one better but i still love this movie!yea!!!
January 12, 2005
shrek was so AWESOME i luv the movie its so hilarious i own both the movies i wacth them all the time there so awesome & its so realistic (the animation!!!) its so awesome!!!!!!!!!!!!!!!!!!!!!!!
July 14, 2004
It`s very very very very good and funny...!!! :)
June 17, 2004
its hilarious and funny.
February 26, 2004
It was outstanding. My family has watched it numerous times,and we still laugh as hard now,when we watch it, as the first time.
January 19, 2004
It is the best MOVIE ever created. I can`t even start the think how the 2nd one is going to be like. I am the the biggest shrek fan. Go Shrek GO!!!
January 11, 2004
I normally don`t like family movies, but Shrek is an AMAZING movie
June 18, 2003
LOVE IT LOTS
April 20, 2003
Finally, a computer animated film with a wonderful message! Get ready to sympathize with a Scottish Oger!
September 13, 2002
awesome like stuart little2 it never lets go of you!!!!!!!!!!
June 29, 2002
It was the perfect example of a perfect movie, it was so great!! I heard they are going to make a second Shrek; I can`t wait until it comes out!!!
May 20, 2002
it was graet i liked it im your number 1 fan you know.
April 13, 2002
SHrEk Is An Awsome Movie I liked how the had some humor for both the adult audience and children. it`s the best movie i have seen for a while!
April 03, 2002
`Shrek` had a unique blend of comedy and love. It made you realize that beauty`s on the inside and we definately need more of that.
March 29, 2002
i think that shrek is a great movie and the funniest movie i`ve ever seen in years.
March 18, 2002
it wouldnt hurt if they would make it more funny
February 27, 2002
I thought the story line was unique, original and fresh. The graphics were simply beautiful crafted, really amazing!
February 02, 2002
great movie
January 23, 2002
Funniest movie I have seen in years. Great for the kids and even better for adults!
January 18, 2002
I thought it was awesome, funny, and Mike Myers was great. A quint fact that not many people know about, though, is that Shrek was originally a book. In fact, I used to have it read to me when i was a little kid...
January 16, 2002
his movie was hilarious!
January 08, 2002
It wasn`t the best movie i saw but pretty good?
December 29, 2001
A great movie for the family! I saw it many times and I loved it! :) it is very halarious!
December 29, 2001
Shrek was THE BEST movie............u gotta see it! SEE IT!!! IT WAS DA BOMB!!!!!!!!!!!!!!
December 28, 2001
I THINK SHREK WAS EXELLENT
December 28, 2001
great movie......good acting...funny
December 20, 2001
Cute movie
December 18, 2001
Fantastic!
December 13, 2001
Picture of the year!
December 10, 2001
Best animated movie to date. it s funny for all ages. even though the meaning of the jokes can be interpreted differently by each generation.
December 03, 2001
Hilarious!!!!
December 02, 2001
It was an amazing movie, I loved it....it is one of the best movies...for kids and adults.."then I saw her face.....now I m a believer.....not a trace.....of doubt in my mind.....I m in love...OOOOOOOOOOOO....I m a believer, I couldn t leave her if I tried."
November 30, 2001
I saw this movie 4 times. Mike Myers is so funny. It was a good movie.
November 20, 2001
Thought it was great. Hey! Finally the not so beautiful win in the end!
November 12, 2001
I really liked Shrek because it was funny.
October 22, 2001
COOL SEE IT
October 20, 2001
AWESOME!! I went to see it just before I was 14 with some 13 year old friends, and some 14 and we all LOVED it!But what else can be expected from the actor who brings us the best!(Austin Powers)
October 15, 2001
I thought Shrek has a very ... original story line - guaranteed nobodies thought of it before! You normally have your Knight in Shining Armor, where the princess in peril is completly helpless (or hopeless), but Shrek puts a different kind of twitst on the whole thing. A funny, great movie - I d have no problem in seeing it again!