Side Effects - User Reviews
Thank you for rating this movie!
Read your review below. Ratings will be added after 24 hours.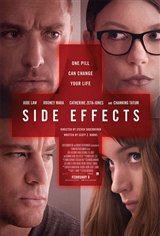 ---
Please rate movie 1 to 5 stars
Showing 1 to 20 of 20
January 29, 2014
Smart thriller!
November 20, 2013
i really enjoyed this smart thriller. Jude Law was great in it - and that's a surprise
November 14, 2013
enjoyable, well acted movie.
November 14, 2013
smart thriller
June 12, 2013
Great actors, but story line is not really believable.
June 04, 2013
Excellent film - gripping - surprising - acting, editing were amazing. Good job everyone -
May 26, 2013
We really enjoyed this movie, highly entertaining, Jude Law does a really good job with his character.
February 26, 2013
I had high hopes going into this movie. I thought it would be incredible because it has the same girl from The Girl With the Dragon Tattoo, but I was disappointed. It's very slow moving, and the dramatic ending wasn't that great. Go see Silver Linings Playbook, way better, or rent The Girl with the Dragon Tattoo (not for kids).
February 24, 2013
Great movie, well done.
February 23, 2013
Excellent movie! Not your typical Hollywood money grab, worth the money!
February 20, 2013
I really enjoyed this flic...lots of twists and turns. It does start slow but stick with it. Nice performances by the cast/
February 19, 2013
Excellent movie !!! Highly recomend watching this, great twists, unpredictable outcome, and wonderful acting.
February 19, 2013
It was good and I enjoyed it.
February 17, 2013
I cannot believe that the movie is still playing in theatres. So long and boring!
February 15, 2013
An engaging movie with an interesting twist.
February 15, 2013
what a waste of time...it was not 'the most exciting movie since fatal attraction et al...very slow start, and you knew what would happen 30 mins in...skip it. boredom was the only side effect!! *also, maybe being able to predict the ending of movies!!!
February 12, 2013
Excellent movie altogether... highly recommend anyone who enjoys a Soderbergh film to go see it. As to the MOron with the Channing Tatum comment. You are daft. Be less dumb when reviewing a movie, please.
February 10, 2013
Excellent movie!!! Excellent plot, really good acting.The new actress Rooney Mara is incredible!!!
February 09, 2013
Ugh, Channing Tatum is such a creep in this movie!
January 11, 2013
Woody Allen in top form.