Sky High
Thank you for rating this movie!
Read your review below. Ratings will be added after 24 hours.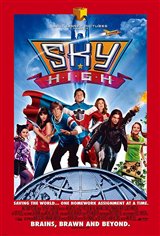 3.83 / 5
User Rating
Based on 3056 votes and 79 reviews
---
Please rate between 1 to 5 stars
Showing 1 to 50 of 79
June 22, 2008
Can't wait for the sequel!
February 19, 2008
Delightful!!
December 14, 2006
thisn is the best mviwe i ers sai
March 18, 2006
This was one of the best movies I`ve ever seen I never get tired of watching
March 12, 2006
so great! magical! i like it so much!
February 02, 2006
it was a good movie
January 15, 2006
Was a good movie, although Panabaker and Strait would have been better suited in the rolls of childhood friends turned sweethearts. The two of them have great potential and I`m looking forward to seeing both of them in many upcoming movies. I would like any additional information about either of them.
January 07, 2006
it was awesome! hope will be a sequel!
December 29, 2005
This movie rocks! I never get tired of it! Michael Angarano does a really good job playing Will Stronghold!He is super hot! I would die for an autographed photo of Michael!
December 29, 2005
this is a great movie and it has a very good cast. my favorite character was will stronghold because i think michael angarano is so hot!
December 26, 2005
I think it rocked
December 10, 2005
It was possibly one of the most wonderful movies I have ever seen. A coming of age tale with a cast that shined in every detail. It led me to pursue Michael Angarano`s career, who is by the way a very inspirinag actor.
December 08, 2005
Very good movie,in classic Disney form. Must see for the family.
December 02, 2005
It`s superman meets harry potter
December 01, 2005
i like sky high becaues my sis told me about it and ya...and she watched it and then told me....it was fun listening! i wish it was on tv...(sigh...)
November 22, 2005
I LOVED this movie it rocked the characters were awesome!!! and... Michael Angarona is HOTT!
November 12, 2005
it rules all other movies
November 10, 2005
i hate this movie ewwwwwwwwwwwww
November 05, 2005
loved the movie, loved thee actors/actreses.watch u wont regret it!
October 18, 2005
I think the film Sky High is great it has so much technology humour and acture it is a great film to watch again and again
October 15, 2005
This is one of the best movies that I have ever seen in my whole entire life!!!!!!!!!!!!!!!!!!!!!!!!!!! If you haven`t seen this movie, I deffinetley recommend it for everyone. It was also pretty funny, too.
October 11, 2005
oh my gosh.. BEST SHOW EVER~ hilarious and interesting
September 28, 2005
I loved this movie!! It was so great it had comedy but it was emotional too like when Danielle Panabaker wanted to cry and i wanted to cry too cuz she`s such a good actress! Sky High is soooo awesome!
September 28, 2005
I was surprised at how much I enjoyed it, it was really good, and you could kinda relate to it besides the whole superpowers thing. Although I was quite distracted by Steven Strait and how INCREDIBLY hot he is!!! Honestly if you don`t think he`s even like a little hot then you`re crazy! Anyway I would definately recommend it, and for those other Steven Strait loving ppl go see Undiscovered, anyway Peace!
September 24, 2005
I thought this was a really good movie,it is entertaining,funny and it is great for the hole family!If u have not seen it already u should go see it! -kristen
September 23, 2005
Very funny and very good movie!
September 18, 2005
this movie waz really good i luv it and im gonna buy it when it comes out in my town
September 10, 2005
this movie is the best movie sience the harry potter movies!!!! I love this movie!
September 08, 2005
cool movie, definitely for kids and kids-at-heart to enjoy.
September 06, 2005
its very cool
September 05, 2005
Funny and really for the whole family. Steven Strait`s so cute.
August 30, 2005
I Think it was great! even for my teenager son.(He`s very picky with movies.)
August 30, 2005
I thought sky High was a entertaining family movie that rarely had a dull moment!
August 28, 2005
I think that sky high is a great comedy movie and i liked it because it was very suspensful and on a scale of 1 to 10 i would give it a 13.5 .
August 21, 2005
too much danger,too many fighters
August 20, 2005
This is one of the best family movies viewed in a long time. It was great being a kid again. Gates
August 19, 2005
Entertaining movie.
August 18, 2005
this movie is AWSOME !!!! like.. the story .. move fast ... ( and wouldn`t spend a lot time just talking about one thing )
August 18, 2005
i think its cool from savannah
August 18, 2005
It was a really good movie not to mention that Michael Angarano was so cute in the film. The actors and creators did an excellent job.
August 17, 2005
SKY HIGH IS AWSOME I WENT TO GO SEE IT AND I LAUGH SO HARD MY FUNNY BONE COULDN`T TAKE ANYMORE!!! AWSOME MOVIE.
August 16, 2005
I think that it was the worst movie that i have ever seen!! i didnt like it everything was so predictable!! but if u are talking about taking the kids to a movie then it would be a good movie for them to see! i just didnt like it at ALL!!!
August 14, 2005
Excellent movie to take the kids to see. Good morals, fun action.
August 13, 2005
Sky High was great. It was a good laugh and i didn`t fall asleep which says enough lol. Go see it, whats the worst that can happen you don`t like the movie but i give it a 4/5 stars :D
August 13, 2005
cooletst movei ever
August 12, 2005
Great kids super-man movie!
August 11, 2005
WOW!If you love"THE INCREDIBLES"and"TOY STORY",you ain`t seen nothing yet.It`s a good movie for movie night with lots of belly laughs!I give it an A plus!
August 11, 2005
A DECENT IF OVER DONE MOVIE
August 11, 2005
these special effects were equivillent to the 1950`s release of godzzila. Trash movie. 4 stars at the least.
August 11, 2005
Why are critics comparing this movie to Harry Potter? It has nothing to do with it, and is a terrible movie compared to any harry potter film. If anything it would be compared to spy kids which was complete trash not to mention sharkboy and lavagirl. It`s movies like this that make me want to throw someking of edible substance at the screen (for example pickle eggs).