Slither - User Reviews
Thank you for rating this movie!
Read your review below. Ratings will be added after 24 hours.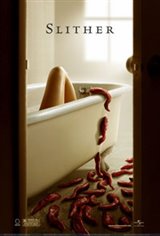 2.88 / 5
User Rating
Based on 3157 votes and 32 reviews
---
Please rate movie 1 to 5 stars
Showing 1 to 32 of 32
November 06, 2006
Absolutely awesome movie for anyone that considers themselves a horror movie buff. It goes back to the old school horror with cheezy gore and suspensfull music. The add on that I loved was the humour. Makes you chuckle a couple of times. Well done!
October 27, 2006
A wonderfully schlocky take on those cheesy 80`s horror movies. Definitely more of a spoof than a real horror movie but very entertaining to watch!
May 31, 2006
Slither takes on the horror genre with humorous spoofs to classic horror flix. It`s a great addition to any horror collection.
May 19, 2006
Waste of money. I would never watch this again, even if it was to understand something so stupid, not even worth renting
April 17, 2006
It was everything that i expected, i saw the previews i knew it wasnt going to be an oscar winner but i had fun and thats all that matters.
April 10, 2006
was a waste of my money, it wasn`t scary in fact i laughed through most of it because it was so lame. i would never recomend this movie, actually it could be used as cruel and unusual troture.
April 10, 2006
Thought it was one of the best horror films ever. well done, really enjoyed The "Corb Lund Band"
April 10, 2006
This movie was very gruesome. I had to turn my head away for about half of it because it was so disgusting. The actors did an ok job for what they had to work with, and there were some parts that were funny, but over all I wouldn`t suggest seeing this movie, unless you like lots of gore.
April 09, 2006
It was average
April 08, 2006
it was the best movie ever!!!!!!!!!!!!!!!!!!!!!!!!!!!!!!!!!!!!!!!!
April 06, 2006
an entertaining film, sort of in the spirit of the blob. Gory, kind of creepy but meant to entertain! I enjoyed the movie quite a bit, it made me laugh a lot and jump out of my seat a few times! If you are into spoof-esque movies, i would definately check this on out!
April 05, 2006
slither is garbage
April 04, 2006
Laugh out loud HIIIIIIIIIIIIlarrass if you know what I mean folks. This has got to be the funniest horror zombie mutant flick I have seen. It`s going right up on the top of my dvd shelf beside Shawn of the Dead and Young Frankenstein
April 04, 2006
Good story, cool special effects
April 04, 2006
Loved the line Just a bee sting when the guuys face is about to fall off. Excellent creepy fun!
April 04, 2006
Good creepy movie
April 04, 2006
Kiler movie LOL
April 03, 2006
Im actually surprised at the overall rating by the users of this website. I enjoyed this movie completely. It was original, "scary" (thats a relative term), and very funny. I figured with a genre that has been flooded with marginally descent remakes (ring, grudge, amittyville horror, hill have eyes, etc.)that this would be seen as a breath of fresh air. it may not have had the budget of the previously mentioned but if you love the classic B`s (the evil deads, romero`s night, dawn, day, land, shaun of the dead) then SEE THIS MOVIE.
April 02, 2006
Absolutely gross but a lot of fun to watch!
April 01, 2006
I admit I went to see this movie because I feel Nathan Fillion has a real shot at becoming an A-lister and I want to watch his progress. But I was pleasantly surprised with the film. This was my first "horror" film and I was prepared to walk out. But It was really funny, totally camp with what I thought was inspired casting. I had fun! For a good time--go! P.S. ...and about that deer...you`ll never call him "Bambi" again!
April 01, 2006
fun.funny.freaky.
April 01, 2006
This movie is stupid. Anyone who gives it 5 stars has a problem
April 01, 2006
This was never a SLASHER film in the first place. It was a horror/comedy flick and was great, I loved it. Very enjoyable. And Canadian to boot. Gotta love it.
April 01, 2006
Cool movie with a decent plot
March 31, 2006
lol....pretty cool..."marriage is a sacred bond.." HAHAHAHA!
March 31, 2006
Slimy but so funny!
March 31, 2006
Hilarious, gross and totally watchable!
March 31, 2006
The most entertaining horror film I`ve ever seen.
March 31, 2006
Creep out fun! Really enjoyed it.
March 31, 2006
Slither is not your average predictable teen slasher film. Good acting and a good storyline make this one a winner