Snatched - User Reviews
Thank you for rating this movie!
Read your review below. Ratings will be added after 24 hours.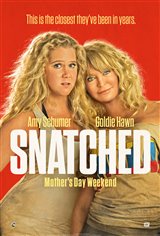 1.95 / 5
User Rating
Based on 360 votes and 112 reviews
---
Please rate movie 1 to 5 stars
Showing 1 to 50 of 112
September 07, 2017
A couple of funny parts, but mostly boring. The very beginning had promise. Sadly the best people in the movie disappeared fast. Park was hilarious! Meloni was awesome as a tough guy without a clue. It could have been better.
August 12, 2017
Good. It was funny and has an important message. . Stay safe! Don't go off the resort when on a holiday no matter what!
August 11, 2017
Great movie! Amy is the best. Good time had by all!
August 08, 2017
Complete waste of my time.
July 14, 2017
The cinematic equivalent of a hot flash.
June 27, 2017
Yikes there is a new disaster movie in town and it's called Snatched. Amy Schumer has lost it, not funny, not sexy but she is blonde.
June 19, 2017
Amy Schumer starring in this film is what made this movie great! Let's hope we see more of Amy Schumer movies and hopefully she will do another comedy movie because seeing the Snatched trailer we all know that Snatched will be one of the best movies of 2017!
June 19, 2017
The best thing about snatched was the return of Goldie Hawn. How come we don't see her anymore, she should be like her daughter Kate Hudson and star in more movies because the adventures we've seen in Snatched is awesome!
June 19, 2017
Snatched is one of the best movies of all time one of the best movies of 2017!
June 13, 2017
Okay, so I laughed pretty much through the entire movie. There were unexpected moments...and maybe I'm a bit partial because the entire movie was filmed in my Hawaiian Islands. It's always nice to recognize the layout and scenery in films. There were unpredictable moments, which I found refreshing. Goldie's face work was a little scary, Wanda didn't deliver the usual laughs, but Joan...I don't even have words for how funny she was without saying a word! All in all this was an enjoyable view that I would see again. Amy is trashy and trashy can be funny...that said, how did some of the one star giving viewers not know that she's got a horrendous potty mouth? Do your homework folks! And take a chill pill, it's just comedy.
June 12, 2017
I can't believe Goldie Hawn would do this movie.. Schumer I can see she has no Talent.. don't see it don't waste your money don't waste your time.. I can't believe people will finance movies like this period -- just absolutely awful.
June 11, 2017
We wasted our money as I slept through most of it.
June 08, 2017
Some of it was funny some not. If you like the actors go see it, or wait to rent.
June 07, 2017
I laughed so hard my belly ached. We had a girls night and Amy Schumer and Goldie Hawn are such classics, outstanding A plus! DO NOT MISS THIS MOVIE! Loved it so much we really enjoyed ourselves.
June 07, 2017
I cannot believe this is still at the theaters...
June 03, 2017
wasnt funny - had a dumb disconnected storyline - and poor scripts. didnt like it at all - waste of money. I was so disappointed because I like Goldie alot.
June 01, 2017
There were some horrendous reviews, so the film exceeded my very low expectations. It was funnier, and more fun, than I had been led to believe......guru bob
May 31, 2017
Trashy movie. I am not an expert but this movie was very stupid.
May 30, 2017
Both Amy Schumer and as always Goldie Hawn were great. I loved this movie couldn't stop laughing. It is a feel good movie.
May 30, 2017
I did not like the movie at all. I did not like all the foul language. That Amy girl is just trashy. Goldie Hawn has had too much face work done. Also the movie theater was trashy. People just leave their drinks and popcorn and candy paper all in the floor. The theater staff doesn't care about the trash. I said something to the manager and she said they didn't have anybody to clean it up . And that's just the way it is. She had a very bad attitude overall about her job. She was going to school and working and that's all there is to it. Very rude. She said if I didn't like it , I didn't have to come back. And I told her that I will not come back to your theater. My money and time is more important than that. I guess you guys can stay in business and not worry about what your customers think. I don't have to patronize you.
May 30, 2017
I hope those who gave this movie 1 star don't consider themselves movie critics...I wouldn't give it 5 stars but 1 star - really?? Considering it is a comedy and did deliver comedy your rating is unfair.
May 30, 2017
Won't be winning any Oscars anytime soon but it was entertaining
May 30, 2017
It's a comedy....and it was funny
May 30, 2017
What a waste of time and money on my part.
May 29, 2017
Worst movie ever!!! Wasted 2 hours of my life I will never get back. Amy Schumer SUCKS so bad it's unbelievable. AMC is a hole, too. And it's bull to have to give any star rating for such a bad movie.
May 29, 2017
This movie has got to be the worst movie I have ever seen... we actually debated getting up in the middle and leaving. I cannot believe they would spend good money on making something that made no sense at all...nothing funny about this movie at all. No story line just a big mess
May 27, 2017
99 cents movie. Lol
May 26, 2017
REALLY... this movie is still at the theaters
May 25, 2017
I don't feel that the" Word" that was used all the time was necessary and did not add anything.
May 25, 2017
The movie is a total piece of trash can.
May 25, 2017
Very disappointing. After watching Train Wreck with Amy Schumer, which was very amusing, I expected much more. The story was lame, the antics were lame, the acting was lame, sorry Amy. This movie was a dud.
May 24, 2017
Schumer is stupid...Goldie looks like she had her face beaten...neither can act .
May 24, 2017
Should win a bunch of razzie awards. worst movie of the year by far.
May 24, 2017
Amy Schumer is deplorable. I will never watch her again IN ANYTHING!!!! Goldie Hawn's worst film. Three of us went and we all want our money back!!!
May 23, 2017
Really funny
May 22, 2017
Slap stick comedy
May 20, 2017
Wrong stereotype people from foreigner countries. Probably who give 5 stars people who think everything that comes from Hollywood is real. Lol Like zombies are real.
May 20, 2017
Yes very funny movie in today's world with all the stress and corruption and the killings going on. It's nice to sit down and laugh. That doesn't happen very often. And the ones that rate one or two stars have very closed minds and hearts. Very dangerous people. They must live in a tourist community. Fearful people out there.
May 20, 2017
Derogatory language. Trash movie.
May 20, 2017
Terrible movie!! What a waste of money! Do not see it
May 20, 2017
Vulgur language. Some spots were entertaining and funny, other's were downright offensive. They overreached on this one. Goldie Hawn is much better than this. Letdown!
May 20, 2017
Goldie Hawn was not good over acts everything. Way too much plastic surgery. Yuck