Snitch
Thank you for rating this movie!
Read your review below. Ratings will be added after 24 hours.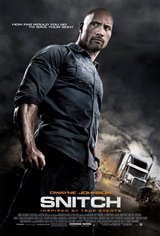 ---
Please rate movie 1 to 5 stars
Showing 1 to 19 of 19
February 06, 2014
Good performances, but the story gets a bit too unbelievable (even though based on a real story).....Love the Rock - wich he just did better films
June 11, 2013
Was a great if you didn't get the plot then ur dumb lol
March 21, 2013
I liked this movie. I feel so bad for the parents who had to go through this stuff. What a good way to teach a lesson to all teenagers...you go everyone involved. LOVE ALWAYS JOANNIE :):):)
March 21, 2013
wow, i wish i could get a refund.....or give -200 stars....very dry and boring....go see the croods, much better
March 11, 2013
I like movies based on true stories. The Rock was quite believable in this movie. I would recommend it to all his fans.
March 09, 2013
Save your money!
March 08, 2013
Such a bad movie.. lol
March 08, 2013
This movie was really good great actting go see this movie
March 04, 2013
The movie was alirght. Yes it does show that you can't trust your best friend. I kinda agree with some of you guys that this movie is a dvd rental.
March 04, 2013
Slow and no plot
March 03, 2013
Great movie, worth watching! Shows you, you can't even trust your best friend. Shows a great relationship between a father and a son. The Rock - Rocked in this one!
March 02, 2013
average. a rental at best, save your money
March 01, 2013
Very slow paced movie with very little plot. Wait for Netflix and save your money!!
February 28, 2013
this was more like a movie made for tv.
February 27, 2013
excellent movie. more than expected. a very relevant sobering down-to-earth story about a topic everyone should learn from and be aware. great to see Dwayne Johnson play more serious very 'human vulnerable' realistic roles. plus he's devilishly handsome, not just a big hunk, and smart about movies he's doing that are more than just about super hero action. worth the see. action scenes were very realistic including car chase that didn't look like 'stunt-rigged' cars with flat metal protected bottoms.
February 24, 2013
The movie i ever seen :)
February 24, 2013
Okay, takes awhile to get going. Dwayne plays it low key not the normal kick as* guy he normally does. Overall at 3
February 23, 2013
this shows you shouldn't f**k with the rock:)
February 23, 2013
lol this was the best movie ever it was action packed.