Snow Dogs - User Reviews
Thank you for rating this movie!
Read your review below. Ratings will be added after 24 hours.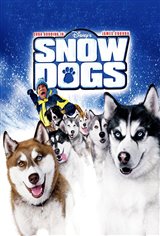 ---
Please rate movie 1 to 5 stars
Showing 1 to 42 of 42
February 06, 2007
I loved the dogs. I also liked the puppys like Avalanch.
January 08, 2006
This movie is one of the best "feel-good" movies I have seen in a very long time. Cuba is an incredible actor of many talents. Having some of the older generation of actors in this movie added boat-loads of talent. Great movie, 5 stars, easily!!!
June 10, 2005
THIS MOVIE ROCKS! GOOD JOB HOOLYWOOD!
May 27, 2005
THIS MOVIE IS THE BEST. (BESIDE HARRY POTTER)
May 22, 2004
I loved the girl who played Barb. Really pretty and good actress.
July 13, 2002
it was so funny? i was literally rolling on the floor the whole movie (i saw it on video :-))
May 04, 2002
My kids and I really enjoyed this movie, worth seeing!!!!
March 22, 2002
i think that the movie is the best movie i ever saw
March 02, 2002
It was Tallright
February 23, 2002
it sucks
February 18, 2002
Very funny and very good movie.
February 11, 2002
very cute and very funny if you like comadys than this is the movie for you
February 10, 2002
i wonder how cuba settled demon? this movie was cute especially the dogs!
February 08, 2002
While on set, Cuba Gooding, Jr. had a rough time with his canine co-stars. In a scene where the dogs were supposed to chase and tackle him, he was injured when they found a spot on his buttocks where the padded jacket filled with meat was too thin.
February 07, 2002
I think Cuba should get a new agent...
February 05, 2002
This movie was great. Definetely one for the kids, although I went to see it with my mom and I`m 28. Cuba Gooding was hilarious, I didn`t think he was that funny, but look out Robin Williams...... I think we found your replacement because this guy is nuts. Bring the kids....and you adults will love it too!!!!
February 05, 2002
A very cool movie. Cute dogs!
February 05, 2002
A cute movie. The kids thought it was very funny, and that`s who it was made for....
February 05, 2002
The snow dogs are stupid and they don`t look cute. They look like monsters. The whole movie was dumb and i think it was a crappy plot
February 04, 2002
DAMN STUPID..
February 02, 2002
My bum hurts. Now that that`s said, I can tell you that Snow Dogs is probably the little piece of chicken fat that you get stuck between your teeth when you have wings. It`s irritating, annoying, in bad taste, and stinks! My 3 year old sister could have written that script, but then again, that was the audienece intended. Way to go Disney, keep losing your money.
February 01, 2002
Very funny picture! Beautiful dogs! Good Story.
February 01, 2002
i think it looks funny on the previews
February 01, 2002
it was a great movie
January 31, 2002
it was a pretty funny movie
January 29, 2002
Excellent! Very entertaining!
January 29, 2002
Cuba, you are a joke. Call up Tom Cruise & beg and plead to get in another movie with him!!
January 27, 2002
IT WAS REALLY FUNNY, AND dEMON THE DOG IT FUNNIEST MOVIES WEITH DOGS YET
January 26, 2002
This movie was so awful even my 10 year old son wanted to leave. Boringly stereotypical.
January 26, 2002
sucks very much
January 25, 2002
it`s Awesome
January 23, 2002
i thought it was the best show i have ever seen in my life i loved it very much thanks againe your freind ryan,
January 23, 2002
my son and i held each other, laughed and cried all threw the movie.
January 23, 2002
I think It`s very funny!
January 19, 2002
it was very goode i like it very much
January 19, 2002
Fabulous Family Movie!!!!! Take the entire family - including Grandma!!! Hillarious - Cuba Gooding Jr. was fantastic. Made me laugh and had made me cry!! Would defenitly see it again! Worth every penny!
January 19, 2002
i thought it was really good in commercials and when i saw it it was amanzing it was funny
January 19, 2002
All the fuuny parts on on the commercial, The only talking part the dogs do is in the actors dream. It was a great diappointment to my daughter
January 19, 2002
Funniest movie I have ever seen. Cuba is Great!
January 19, 2002
GRARBAGE
January 18, 2002
I think it is going to be great!