Soul Surfer - User Reviews
Thank you for rating this movie!
Read your review below. Ratings will be added after 24 hours.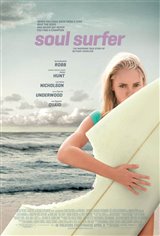 ---
Please rate movie 1 to 5 stars
Showing 1 to 50 of 65
February 18, 2020
movie was good liked carrie underwood.
February 16, 2013
movie was great.
December 20, 2011
Very couragious young woman, but the movie is poorly put together. Other than Quaid, Hunt and Sorbo, poor acting. Carrie, stick to singing.
August 20, 2011
Great film! I recommend it!
August 16, 2011
Great Movie! Inspiring. We need more movies like this. And koodo's for keeping God in it, that's part of the story and her life, regardless of what people want the norm to be.
August 09, 2011
This movie was amazing such an inspiration even my boyfriend cried lol so that's saying something!!
July 30, 2011
Really enjoyed this movie dispite Carrie Underwood's bad acting job.
July 30, 2011
Great drama. I enjoyed the great determination displayed by the main character. An excellent movie for our children.
July 28, 2011
Very good movie
July 26, 2011
A family show that tells the story of triumph.
July 24, 2011
I am big carrie underwood fan this is such good movie based on real story, kinda makes ya not want go into the water .The acting in it was so good by all .Liked how her friends were there for her .
July 22, 2011
loved this movie. I read the book before watching the movie and it was a very insoirational movie. I took my 9 yr old daughter to it and she loved it as well.
July 20, 2011
The main idea of this movie is that you shouldn't give up. The girl had no arm yet she still surfed and followed what she believed in.
July 20, 2011
UNBELIVEABLE
July 14, 2011
This movie was great so sad but I loved it.
July 14, 2011
Excellent movie, good acting and interesting story
July 13, 2011
It is good for the soul to watch this
July 11, 2011
Fabulous movie!
July 11, 2011
Amazing, uplifting story, hard to believe someone could show such perseverance! AnnaSophia Robb was amazing!
July 10, 2011
This film was one of the most powerful films I have seen and the message portrayed was very inspirational. The acting by AnnaSophiaRobb was very believable as we followed through her tragedy and how she overcame it. This movie sends a powerful message to NEVER GIVE UP NEVER let your dreams go away and SHOOT for YOUR GOALS.
July 09, 2011
A very powerful movie about the courage and will to overcome adversity and succeed.
July 08, 2011
it was interesting
July 08, 2011
Incredibly inspirational movie. I went thinking "groan", but I was so amazed by the beauty and emotion and story and acting. This is a must-see movie for your teenagers to see.
June 02, 2011
For me an unexpected surprise and moving story of overcoming tragedy, faith in purpose, and determination to do right and be the best one can be, and never give up, no matter what. Loved the telling of that story.
May 23, 2011
Like it alot.
May 21, 2011
It's awesome!!
May 16, 2011
Everyone could benefit from seeing this movie. It makes my mountains look like molehills. The cinematography is fabulous also. I could watch it over and over.
May 14, 2011
What an amazing story, great to see a movie that gives glory to God on the big screen!
May 10, 2011
Loved the movie so much, so inspiring to those who have a goal in life only to be tested with tragedies... it's a must see !!
May 09, 2011
How can people say to leave the religious beliefs out when they are central to the story? - especially when it's a true story? It's a fabulous movie about a girl's incredible faith in God after losing an arm. Some people would lose their faith in God after such a horrific event and just give up their dream and be bitter. She wonders why God let it happen but gives Him credit for helping her overcome the handicap. It's not her own will that does it. Without her beliefs, there would be no story!
May 07, 2011
I ???? this movie soooooooo much ive seen it twice. but i hate it wen the shark bites her arm just like that because i hate sudden surprises like i knew it was goin to happen wen it did but it just soooo freaky 4 me!!! but it is sooooo inspiring 2 see that she is still surfing they dhouldve made this a movie a looooooong time ago!!!!!
May 06, 2011
God bless Jesus and Jesus bless God! Talk about religious overkill! Even without faith propaganda the movie was still garbage.
May 05, 2011
This movie is so inspiring! I love it!
May 05, 2011
i love your movie i just wish that your harm did not get bit off by a shark
May 05, 2011
Excellent example of courage and determination. This is based on the real life story of Bethany Hamilton. I didn't know much about her life and what she went through until recently when have heard about this movie. I'd reccomend everyone to go see this. It wil linspire you in your life, I think, as it did in mine. Faith is and can be a powerful tool to overcome a lot of challenges we face in life. Am glad Hollywood respected the wish of the family to keep the theme fo faith in it, as it seems indeed what made them the people who were, are. Also what comes across in the movie is that trough love ( of your family and friends) and faith in God you can conquer any things that gets thrown to you.
April 25, 2011
This movie was amazing! And for those of you who are saying to keep the religious beliefs out, well first of all, this is based on a true story, and second of all, if you believe in God like my self, you will get far in life, and live on in Heaven, this is what the movie was trying to show. I am ashamed of all of you who said to keep religious beliefs out. This movie was amazing, trust me, watch this movie. It will inspire you.
April 25, 2011
Excellent movie about a girl didn't allow her circumstances to cripple her, but use her situation to encourage others! Incredible and inspiring. Great faith based movie! All things are possible.
April 24, 2011
AWESOME movie about perseverance and triumph. So great to see a movie without all the CRAP in it. One good for the entire family. It's awesome to see faith portrayed in a positive light! I encourage everyone to go see this incredible story of Bethany Hamilton. She will warm your heart.
April 23, 2011
Nice to go see a movie in this day and age that promotes family life,faith, values, respect,hope,positive self worth, etc. And along with these the fact that this is a true story really is inspiring. Couldn't help but think "What would I do if she was ME !!"
April 21, 2011
Soul Surfer is a the story of Bethany Hamilton overcame losing her left arm in a shark attack and went on to become a chanpion surfer. It's a story of faith and determination that surmounts the typical sports movie cliches by being true; featuring an unusual sport, and not jamming religion down our throats at every opportunity [their faith is a part of the Hamiltons' everyday life and treated as such] - plus superb performances by the entire cast [but especially AnnaSophia Robb, Dennis Quaid and Helen Hunt].
April 19, 2011
Soul Surfer was the best movie I have seen in a long time! Glad I had kleenex though!
April 19, 2011
Terrific movie!! You don't want it to end. Yes it has a Christian message... It's based on a true story
April 19, 2011
It is a true story about a Christian girl and her faith, so of course it is going to be religious!
April 19, 2011
Great movie!!
April 18, 2011
very good.
April 18, 2011
can they not just keep religous beliefs out of movies?
April 17, 2011
Wow, a great movie without violence, sex, or foul language....oh ya, and wait for it.....a Chirstian message to boot....what is the world coming to?
April 16, 2011
All things are possible with God! Just believe!
April 16, 2011
It is awesome.... and sad!