Sparkle - User Reviews
Thank you for rating this movie!
Read your review below. Ratings will be added after 24 hours.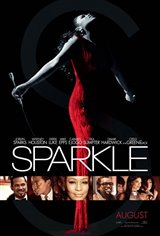 ---
Please rate movie 1 to 5 stars
Showing 1 to 14 of 14
October 01, 2012
I loved this movie very much- I have always loved Whitney as a singer and I saw another one of her movies - Body Guard and really liked her in there too, so I wanted to see this one too.
September 13, 2012
nice portral of whitney.
September 05, 2012
i wasn't expecting much except to enjoy a bit of music... a bit of story of struggle of fulfilling elusive dreams. to that, it succeeded and i enjoyed the story and the music; and didn't care whether it was a remake or variational fiction based on the real supremes several decades back. worth the see. i know people generally don't like anything related to christians (no matter how they are like), so if you don't, you won't like this movie, period. for sure, i feel we lost whitney houston much much too young, and miss her; too bad she didn't get to enjoy the success of this movie, as limited the audience might be.
August 29, 2012
i thought it was a great movie. very entertaining! great acting, especially whitney & carmen ejogo.
August 26, 2012
felt it was more suited for video vs. theatre release. 2-1/2 stars.
August 24, 2012
was not old school enough for me. you cannot just dress up a cast in old clothes and expect that to do the job. how ever, the voices and songs were amazing. modern, but amazing.
August 24, 2012
loved the singing. great voices!
August 20, 2012
great acting by every one
August 19, 2012
a return to the great music of motown and a last chance to see whitney houston. not on a par with the bodyguard, but still an immensely enjoyable movie.
August 18, 2012
i had no expectations and i wasn't too sure what it was about. considering i am not a huge fan of whitney houston, i had no idea what to expect. i was so pleasantly surprised. the great music took us back to the great era of motown. i truly enjoyed this movie.
August 18, 2012
wonderful, whitney's best film, a gift from her to us all.
August 18, 2012
the plot may be weak, but the "sistas" are strong and whitney houston is outstanding throughout. her rendering of "his eye is on the sparrow" is worth the price of admission.
August 17, 2012
great movie... the whole cast was great, but whitney was fantastic. she stole every scene she was in. i miss her very much.