Spirit: Stallion Of The Cimarron - User Reviews
Thank you for rating this movie!
Read your review below. Ratings will be added after 24 hours.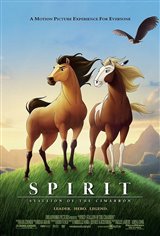 4.29 / 5
User Rating
Based on 2517 votes and 69 reviews
---
Please rate movie 1 to 5 stars
Showing 1 to 50 of 69
October 11, 2018
Spirit: Stallion of the Cimarron was one of best animated movies of the entire year in 2002 because critics and audiences are approving this instant classic about discovering the true hero inside each and every one of us!
September 15, 2011
The movie is about freedom, inspiration and hope and it is my all time favorite. I love spirit. Thanks for kelly asbury and lorna cook.
September 01, 2010
if you love horses than this is the movie for you!
August 12, 2010
Jst awesome movie Inspiring & totally cookl movie
November 21, 2009
i love the character of rain
October 21, 2009
Best Movie ever he looks and acts just like my horse!!
August 28, 2006
i loved the spirit:stallion of the cimarron.i can,t wait for a second movie of spirit:stallion of the cimarron.i love horses with all my heart i can,t say enough about this movie i bought 3-copys of this movie and one is already wore out.i,m waiting for a second part to come out so i can buy it and i,m praying very badly that you do.please please make a second part.ever one i know owns a copy of spirit:stallion of the cimarron and thats over 30-people.the spirit:the stallion of the cimarron after watching it i wanted to get a tattoo of spirit:the stallion of the cimarron.i love this movie that much it was great and thank you very much for thi
March 02, 2006
I thought that the movie was awsome and very visually pleasing. Spirit to me is probably the best animated movie I`ve seen in years with realistic visuals and the music fit with each scene. Rob C. Toronto, Ontario Canada
January 01, 2006
i loved the movie
December 20, 2005
It was the most awsome movie sence the Lion King. The art work was amazing. it really dug deep into the emotions we all feel. It gave the horses a new personality, and a sort of apreciation
October 29, 2005
I LOVE THIS MOVIE!
February 28, 2005
I thought that the movie was awsome and I like the way that the horses acted so realistic...you should make a secual (sorry about the spelling)...and keep it real!!!
January 08, 2005
The Was Great When I Saw IIt For The First Time Because It Made Sense
November 11, 2004
It was such an awsum movie.I love wild animal movies and it really makes me think about my cute dog and about how animals like horses should always be free!I have watched the movie so many tiems its starting to wear out the tape so i bought a second one!This movie rocks!!!!!
November 09, 2004
I loved this movie. I can`t stpo watching it because i`ve got the dvd and it`s ausome. It`s got special features, games etc etc. I escpecialy love Rain the beautiful paint mare she is absolutly gorgous.
September 21, 2004
i luv that movie
August 11, 2004
it was really good because there are not very many horse movies and I am a horse lOVER!
May 28, 2004
I loved!!! loved!!! loved!!!!! this movie!! the whole movie made me cry because it showed power, friend-ship,and faith! In some of the parts like when spirit jumped the canyon it reminded me of myself cause one time i jumped the jump of my life time.(it wAS BEFORE the movie came out!!!!!!)
May 22, 2004
I Just love Bryan Adams` Music
April 04, 2004
This was the best movie I have ever seen in my whole ENTIRE life. I have the DVD, movie, soundtrack,pictures and posters. This movie ROCKS!!!
November 16, 2003
I thought it was an awesome movie. I especially liked it because I love horses. I have four horses. I really hope they make a second movie!!!!!!!
October 05, 2003
It was the greatest movie I have saw. I cry all through the movie.
July 15, 2003
amazing. worth eveyr penny and so very touching. I`m 17 and I could say this ranks up with one of the best movies ever!
June 30, 2003
this was an awespme movie. the horses not talking made the movie so emotional and sincere. there was a lot of death in it, i cried quite a few times the first time i saw it. it was a powerful, uplifting movie.
June 29, 2003
it was the Best and i mean Best movie i ever watched ! i couldn`t take my eyes off it ! i usually watched 6 - 8 times a day !
February 15, 2003
i loved the movie...i cryed at some parts!i thought it was better than some of my other family movies.
February 07, 2003
This is one of the best movies I have ever seen. Every time I see it, I cry my eyes out. It is so powerful and moving, It lifts my spirits everytime I watch it. The music is wonderful, and the animation is fantastic! When those wild horses gallop up at the beginning... its like your heart is right there along with them. And when Spirit jumps the canyon, you feel as if your heart is flying. It is a wonderful movie! ~__/>
December 07, 2002
I loved it ! It made me cry at some parts but it was the best family movie next to the Lion King.
November 19, 2002
I loved it but a sade part was when spirt got cote on the log!Horses are my favourite animal.I JUST LOVED IT!
October 03, 2002
It was the best movie of the year for kids and adults. My daughter just loves it . The sound track to the movie will be a good one to , because it has bryan adams, is singing most of the songs. Which makes the movie even better. We saw it twice at the show and i cried twice , both times.
September 15, 2002
Spirit doesnt know when to call it quits and ride toward the sunset! And the horses dont talk-what good is that?!
September 07, 2002
It was pretty good. Though I didn`t agree with some of it (Horses CAN`T jump over a gap that`s like 20 feet wide!!!!!!!) Other than that it was a pretty good movie. Needs a little more reality though : )
August 17, 2002
I LOVE IT!!!!! THE BEST ANIMATED MOVIE EVER!!!!!!!!! A MUST HAVE ON DVD!!!!
August 16, 2002
I loved this movie... but, there are some scenes that I didn`t like at all... such as when Spirit jumps the cliff at the end of the movie, and the way Spirit was broken to riders at the fort. But other than those and a few other minor things, I was a great movie.
August 10, 2002
it was the best movie ever
July 26, 2002
I LOVED THE MOVIE! (Since I love horses) SEE YA LATER!!!
July 09, 2002
I loved it!It was very exciting with all the things that happened to him when he was just trying to get home.
July 06, 2002
I love the movie. I am a bonofide horse lover and was ecstatic when they came uot with this. The storyline was a little repetitive but exiting judt the same. I am going to get the soundtrach because the music outstanding. The opening music is my fav because I love adventure music! Keep up the googd work! I hope they make a sequel. It`s that good! If you haven`t seen it, go rent or buy the video! You won`t regret it!
June 28, 2002
The best cartoon ever! one that didn`t have voices from the animals and really showed some history in it. I love to draw myself but not animation. I would rather draw realistic animals. Wish ther`re was a second movie. I have already got the sticker collection but i`m trying to get that coin collection and the breyers for them. I`ve also asked for the poster when the movie comes out at my local movie rental. Love the film!!!!!!! C YA LATER!!!!!!!! SPIRIT RULES!!!!!!!!!!!!!!!!!!!!!!!!!!!!!!!!!!!!!!!!!!!!!!!!!!!!!!!!!!
June 26, 2002
This was the best cartoon to ever hit theatres since who knows when!
June 24, 2002
Not much of a story line but a movie that touches the heart.
June 24, 2002
I thought it was the greatest movie i ever brought my kids to. They were so into the movie they wanted to see it again. This making it the fifth time they have seen it and still love it again and again. As do I hehehe
June 22, 2002
i dont know what i thought cuz i never saw it!
June 20, 2002
beautiful with realistic horse behavior.funny too!
June 20, 2002
It was the best movie I`ve ever seen!!! I Love mustangs and my two horses sooooooo much!! I saw it with some friends of mine for her b-day party the first day it came out! We all loved it and have the breyer of Spirit!!!!
June 18, 2002
My friends asked me if I wanted to go see it, so i said, what the heck i`ll go and when i came out , i almost had tears in my eyes! it was great!! i should take my sister to go see it !!
June 16, 2002
Spirit: Stallion of the Cimarron was a touching movie. The animation was very good. Spirit had an amazing personality and his confidence in fighting for freedom was remarkable. Both my friend and I watched it twice and each time she cried. I hope that the video and dvd will be out soon; I can`t wait to buy it!
June 16, 2002
I`ve watched this movie twice already. THe second time, I went with two friends. Both of them came out of the theatre VERY HAPPY and VERY SATISFIED! For me, Spirit is truly one of the best animations I`ve ever seen! Better than Shrek. Better than Monster Inc.
June 16, 2002
Both my children and I LOVED Spirit. It was breathtakingly beautiful and very moving. We`d highly recommend it to anyone:)
June 13, 2002
One of the best animated movies I`ve seen, very moving, very good movie and story line