Splice - User Reviews
Thank you for rating this movie!
Read your review below. Ratings will be added after 24 hours.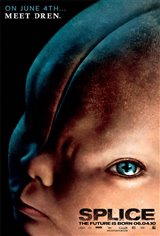 3.18 / 5
User Rating
Based on 468 votes and 138 reviews
---
Please rate movie 1 to 5 stars
Showing 1 to 50 of 138
January 10, 2017
Very good movie from Canadian genre filmmaker Vincenzo Natali. Good special effects, especially the way they painted a smile on the face of Sarah Polley, who has never actually smiled in real life.
August 05, 2012
a really good twisted horror flick, that will keep you on the edge of your seat !
January 05, 2011
Finally saw this tonight... I felt sick afterwards.. this movie was messed up !!
January 04, 2011
So bad it's funny.
November 11, 2010
the first 20 or so minutes were good and then it quickly goes downhill. the female protagonist was just a god aweful actor, especially considering shes some genius scientist who becomes next to mentally handicaped after about 15 minutes into the film
October 19, 2010
This movie is horrible. I'm embarrased that Canadians were invovled in the making of the film!!
October 15, 2010
garbage - One word describes this movie: dumb
October 13, 2010
the ending was MESSED UP
August 26, 2010
what garbge!!!! surprised Polley put herself in this movie...adrian brody needs a new agent...terrible movie
August 25, 2010
Not bad! In the movie, the viewer will certainly see the metaphors for conception, labour and life. It took about 12 years for this movie to come to life. I understand why the director calls this his "Baby".
August 23, 2010
Nothing new here.Similar to other sci-fi movies
August 23, 2010
Not a very good movie...they could have done a lot more with it. It was ok, but Polley shouldn't have been in it.
August 19, 2010
Stupid and brainless......disn't like it at all.
August 16, 2010
This is a nasty little movie that has its moments, you could do much worse than this. Give it a try and heap on the popcorn....
August 13, 2010
Splice was not what I except...I expect me horror and less science. Having said that, I really enjoy splice and all the surprising twist kept me interested. I was very impressed by this movie and would watch it again and recommend it to my friends.
August 13, 2010
Such a creepy cool concept, although I expect a lot from Horror afianados, such as Brody and Polley, they make a good team....
July 30, 2010
Excellent acting & animation. story was creative but made me afraid of our future....thrilling in a bad way.
July 30, 2010
Great for the Scifi nut in your life. Not my cup of tea however.
July 30, 2010
Great B Movie! This is what horror/sci fi used to be about, cheesy plot with over the top performances set in dark laboratories with eerie music. Took me back to the salad days of David Cronenberg and the brilliance he accomplished with a next to nothing budget. Lots of fun if not taken too seriously.
July 30, 2010
a cross between species and alien, this thriller has some chills and thrills to keep the audience going. adrien brody is great as always, but still has not hit the level of being in action and horror movies.
July 29, 2010
This movie is surprising. The entire time, I'm wondering when Dren is going to start killing people. But she doesn't. I found this movie to be very disturbing. I still have a difficult time thinking about what happened. Just be warned, you need to be mentally prepared for this movie.
July 28, 2010
this movie sucks big time.
July 28, 2010
Definitely a movie to see, but prepare to be weird-ed out.
July 28, 2010
Maybe it's cause I'm a SCI-FI nut... but I really loved the movie!!! Well worth seeing
July 27, 2010
Very interesting concept. Cool special effects. And it will creep you out.
July 22, 2010
This movie is the very definition of ridiculous!
July 22, 2010
what a joke! This movie goes skyrocketing to the top of my TERRIBLE MOVIE list
July 20, 2010
This movie was twisted more than i have expected... prepare yourself to be shocked and to be disturbed... i still am shivering from some of the scenes... there was a bit of answered questions but i will leave that to you guys to find them and try to answer them... Good Luck ;)
July 18, 2010
Reminds me of the movie Species but not as good. It gives insight into human nature and their morals and it can definitely be called "interesting" but honestly only worth the watch if you have time to waste.
July 17, 2010
weird concept, it was alrite
July 16, 2010
Nice movie. Interesting ideas.
July 15, 2010
This movie is OKAY. it makes you wondering what happened at the end, though.
July 15, 2010
The film wasn't all that bad it challenges peoples morals and beliefs and pushes boundaries on so many levels. 1 star for the acting, well done sarah and adrian. 1 star for the CG and over all work done on Dren. 1 star for it being an original film. 1 star for filmography, it was very well done. -1 star for making everyone in my theater feel so uncomfortable that some even left. Even though I found it funny :) -1 star for the plot twist at the end, kind of sick and twisted. over all 2/5
July 15, 2010
Plot isn't great. Waste of time.
July 15, 2010
Not quite a horror, not quite sci/fi, not quite a thriller, not quite entertaining.
July 15, 2010
I enjoyed the movie overall...But it really needs a better ending.
July 14, 2010
This movie is lacking a plot. In an effort to make it interesting they threw in sex and incest. Too bad that Sarah Polley and Adrian Brody got involved with this mess of a movie.
July 12, 2010
This entertaining but ultimately disturbing scenario is a throwback to the sci-fi flicks of the fifties wherein the metamessage is that man's attempts to alter nature for his essentially selfish purposes results in disaster. Good photography and set design adds grandly to the atmosphere of doom and gloom.But,the last 20 minutes might make David Cronenberg gag. (Note:The character's names,Clive and Elsa are in-jokes. Refer to the original Bride of Frankenstein.)
July 12, 2010
I went with my son and was very embarrased. The alien sex scenes should have given this movie an 18A rating not the 14A rating it had in Canada. I felt there were gaps in the story line and the brutal ending was out of place.
July 11, 2010
Too bad. This had the potential of being a very good movie with the the whole dna/genetics/hybrid/ethics aspect but fell flat and definitely got in to the unbelievable (human/monkey girl sex?). How desperate can one be? Had a few scares but definitely failed overall.
July 09, 2010
so disappointing for an oscar winner!
July 09, 2010
It could have been so good of a horror movie, but became a more preachy type of movie in the end. So looking forward to a good scare but was dissappointed.
July 09, 2010
I've never laughed and made so any jokes aloud at a movie that wasn't a comedy in my life. This was BAD, folks. Just a big 'ol steaming pile. People were laughing and walking out of the theater. I think the creature was part flying fish, human, and a cornish hen. I'm not sure. What I AM sure of, however, was that Adrian Brody found it mighty attractive and I died a little inside while watching this.
July 09, 2010
I get the DNA hybrid story, but I didn't care for the movie much. My husband really liked it but this is his kind of flick. The baby was creepy..lol
July 08, 2010
I didn't hate it but I'm still undecided! There were a few instances where my reaction was: What?? Did I miss something??. I suggest you rent it. A few good scenes saved it from being a totaly bad movie.
July 08, 2010
The film was a lot better than I expected from the other reviews I have read.
July 08, 2010
scary scary scary
July 08, 2010
This movie started off well but went a little far beyond what it should have which was too bad as it had potential.
July 08, 2010
intriguing movie but ending was abit weird