Split - User Reviews
Thank you for rating this movie!
Read your review below. Ratings will be added after 24 hours.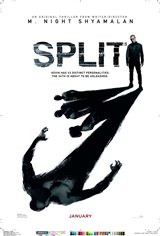 ---
Please rate movie 1 to 5 stars
Showing 1 to 50 of 70
February 05, 2020
Honestly, I don´t get how people could get bored. I think the cultural warholism with all that generic Marvel crap with CGI mess influenced human brain to the point people lost ability to watch original movies with interesting point and great performances from the actors.
March 25, 2018
Aside from the good acting this movie is sub par the story is boring and feels incomplete .
June 15, 2017
There was not a moment of boredom in this movie. I enjoyed it from start to finish.
May 06, 2017
Very suspenseful, great plot, surprise ending made it worth it
April 23, 2017
great movie, lots of suspense, well worth the watch
March 23, 2017
I was so tired and about to fall asleep before the movie even started. I stayed up till the very end. M. Night is back! I like the very last twist which ties something else together! McAvoy needs an award nod big time. My one big issue is I wish we saw ALL the other personalities, not just a handful. Mind you, there were still a lot.
March 19, 2017
James McAvoy is AMAZING in this movie. His ability to switch between "characters", or more like personalities, is like non-other acting I've ever seen. You have to see this movie. It's officially my favorite movie. If you watch it a 2nd time, you will notice even more details. Watch it!
March 02, 2017
I believe that this is a real psychological thriller and filled with suspense!Acting was good. I think it will do well.
February 28, 2017
it was a good thriller and it kept your mind working
February 26, 2017
Dreadfully slow. Nobody in the theater seemed to like it. A damn shame.
February 22, 2017
No one else could have pulled this off like James McAvoy did.
February 20, 2017
This move was excellent. The ending was different. The story line was also, different from the rest. Those who gave the film one and two star ratings are being super critics. The actor did a phenomenal job.
February 18, 2017
Two thumbs up!!
February 18, 2017
It wasn't nearly as good as I was hoping. The ending was especially disappointing.
February 16, 2017
i am so sick of movies that use that old offensive trope that mental illness is dangerous and makes one a monster. this is a terrible film that relies on terrible stereotypes. also, the acting is so bad. poor james mcavoy. just, no. no. no. no.
February 14, 2017
Excellent film and the ending left me breathless!!! 2 Thumbs up!!! Totally did not see it coming!!!
February 12, 2017
Not what I expected which is a good thing!
February 12, 2017
- Slow buildup - Great acting by James McAvoy - Cool ending with nod to previous Shyamalan movie - Other actors are pretty bland in their roles - Very interesting script overall
February 12, 2017
Another terrific twisty plot from the brain of Shyamalan, wonderfully realized by Mr. Tumnus himself, James McAvoy, in tour de force performance. But, unlike The Visit, I saw the final plot twist coming.
February 11, 2017
Acting was great, but story of the movie so poor. This is some what a Christian's theological twist, if you are pure from sin then the killer won't kill you in the movie.
February 11, 2017
Should have heeded the bad reviews on this movie. Not even worth watching on TV. As one previous reviewer remarked, should change his name to Shysterman!
February 10, 2017
Eccellent story and suspense. M Knight is baaaaaaaaack.
February 08, 2017
The best part of the movie was to take a nap while outside was raining and cold. Save your money.
February 08, 2017
When they are going to take down this piece of junk of movie?
February 08, 2017
His movies are like piece a quilts. They are from different movies. No beginning not end. He should stop making movies.
February 08, 2017
Terrible. We left earlier from the movie. We got our money back. Another scam movie from him.
February 08, 2017
i dont like itt
February 08, 2017
Very well done, etc. I got a kick every time I heard him say 'etc'. It was like the King and I, etc etc etc. If the character wasn't such a devil he'd be very likeable. All the characters played well. The uncle was reprehensible, why does he live? A theme of life, that real scumbags live long lives, & everyone thinks they're wonderful.
February 06, 2017
I am a fan of Shyamalan's movies and enjoyed the movie. Great performance by lead actor James McAvoy portraying a man with multiple personalities. This psychological thriller has a great plot but it was a bit disappointing at the end with the element of fantasy.
February 05, 2017
I'm writing this preview based on M Night Shysterman's previous attempts at movie making. His worst effort, indeed THE worst attempt at putting together a "horror" movie was The Happening, where the terrifying subject was a virus causing people to kill themselves. This was depicted in the movie as blowing wind. WOW what special effects. That's why I wouldn't spend a nickel on any of his movies. Pity that Anya Taylor-Joy is in this abomination because she has shown herself to be a fantastic actress. (see The Witch) Hope she chooses her roles more carefully in future.
February 05, 2017
Shyamalan's movies are copying ideas from others movies. This movie looked like those typical movies made but college students when they are in a hurry to get a grade. Lol. Seriously? I am taking back. College students would be doing a much better version of this junk movie.
February 05, 2017
The entire movie was a total disaster. We waited for a good part from the beginning to the end and we got veru disappointed. His movie always end with weird boring endings.
February 04, 2017
Split was very suspenseful and kept me on the edge of my seat the whole time. I don't know why people are saying the ending was bad because it was fantastic. I can't wait to see the third movie. I didn't even know this was the second one.
February 03, 2017
Comical, not horror. The best part of the movie was my pulled pork nachos. Yes, that's how bad it is.
February 03, 2017
Lame movie.
February 02, 2017
No idea what I just watched but looked boring. Did he try to reboot a movie? I want my money back.
February 01, 2017
Sixth Sense was a copy from one the TV series from the 70s. Avatar was a disaster. The lady in the pool was very stupid. I though he already gave up making movies, This movie was 100% predictable. We walked out before the movie ended.
February 01, 2017
Awesome movie. Sequel should be in the making.
February 01, 2017
Big fan of M.Night Shyamalan's movies. He is very talented and creative director. I loved The Village,Lady in the water, Devil which I highly recommend. Split movie was good but agree with those who didn't like ending. There was not M.Night's "twist" that many expected to see. It was confusing seeing Bruce Willis with a name tag from movie Unbreakable. Yes, amazing acting by James and I also liked female lead acting.
January 31, 2017
Really enjoyed this - interesting subject matter, and the backstory ties in nicely with the current events. It is a psychological thriller that is not fast-paced but neither are any other of M. Night Shyamalan's movies. Sit back and enjoy.
January 31, 2017
I fell asleep during this movie. And then the ending had a MODERATE build up and then the actual ending was such a let down. Not scary and not a thriller. SAVE YOUR MONEY
January 31, 2017
Great performance by the lead actor, but unfortunately just kind of bland. The concept was great - a mentally disturbed person with multiple personalities kidnaps people - but then it just kind of goes nowhere interesting and actually gets kind of boring in some parts. And worst of all, the movie never really did build up much in the way of suspense or scares. I was really hoping to like it because I really liked M. Shyamalan's first few movies (Sixth Sense, Unbreakable, and Signs), but he's been on a steady downhill spiral ever since and just can't seem to recover. He did ok with The Visit a year or two ago (except for the bad acting by the younger leads), but it's like he's developed a case of movie-making E.D. and needs some kind of movie-making Viagra to get back to form.
January 30, 2017
The movie was a very interesting movie it was very creative of how they made the main character have many different personalities and the movie was tecnecly a thriller but the ending was not a really good ending.
January 29, 2017
The movie is just ok. Some parts of the movie was so boring.
January 29, 2017
Pleasantly surprised. Not normally a fan of his movies. Very well done, kept me on the edge of my seat- great storyline
January 29, 2017
Great job by the lead actor; very freaky, a plot you don't see very often. Had me on the edge wondering how things were going to play out. Would have liked a little more resolution for the ending however.
January 28, 2017
Bad movie. I prefer watch something on TV rather to spend my money in gasoline to going a junk movie. Positive part. The sitting are was great. Popcorn was good.
January 28, 2017
Nothing new and brilliant front this movie. Looks like a copy or copies from others movies. I took couple naps in some scenes.
January 28, 2017
Absolutely Brilliant ! M. Night Shyamalan Did A Terrific Job In Writing And Directing This Film. His Best Film Since Signs Starring Mel Gibson. This Film Is Full Of Suspense And A Thrill That Will Have The Viewer Wondering What Is Going To Happen Next. However, There Are A Few Flaws Regarding Short Story Lines Within' The Film. James McAvoy Was Absolutely Stunning In His Performance, Portraying Several Different Characters Seconds After Seconds. Overall, 5 Stars. Great Plot, Great Acting And Of Course, Great Film By M. Night Shyamalan. Highly Recommend ! 4 Thumbs Up !
January 28, 2017
Loved it! Kept me interested, suspense and good story line. Amazing acting by the male lead. I'm sure there will be a split 2