Spy Kids: All the Time in the World
Thank you for rating this movie!
Read your review below. Ratings will be added after 24 hours.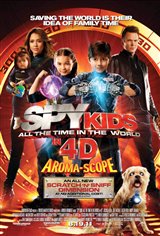 ---
Please rate movie 1 to 5 stars
Showing 1 to 41 of 41
November 20, 2011
Great family movie
November 18, 2011
The kids give it 5 stars! They live spy kids! Great family fun night!
November 18, 2011
Jessica Alba should stop acting. Otherwise, not bad for a fourth movie!
November 17, 2011
Great movie,well worth watching
November 13, 2011
Great for kids!!
November 10, 2011
Great family night movie. It had enough action to also hold my husbands attention.
November 10, 2011
Great for the kids.
November 09, 2011
Cool movie for all ages, face paced and lots of action and excitement.
November 08, 2011
nice storyline and action
November 07, 2011
A surprisingly good follow up for the series. Great story. Great acting. Good twists and turns. The kids loved it.
November 06, 2011
fun movie
November 06, 2011
I was pleasently surprised how much i liked it.
November 05, 2011
entertaining
November 02, 2011
Preettty cool as the first 4d movie you can watch in the theater. Should definitely watch it!
October 30, 2011
didn;t care for
October 28, 2011
i genuinely wonder when they will stop making these...
October 27, 2011
enjoyable, kids loved it.
October 27, 2011
hilarious
October 26, 2011
kids enjoyed the movie requested it to be purchased when it comes out on video
October 23, 2011
Fun for the family. It kicks butt!
October 22, 2011
Kids loved it and I liked seeing the older spy kids also
October 22, 2011
Better than the last Harry Potter film, that's for sure.
October 21, 2011
Terrible movie. Save your money and rent it.
September 19, 2011
A GREAT movie! 4-D is here to stay!!!!
September 18, 2011
i think this movie rules!
September 18, 2011
i really think this is a great movie!
September 05, 2011
A funny, sexy, thrill ride -- and the best American action movie since Tango & Cash.
September 04, 2011
interesting ideas, but a bit pointless bringing back the old cast.
August 31, 2011
The series just keeps topping itself! Fantastic fun, and an absolute MUST in 4-D!!!!
August 31, 2011
The best movie of the summer!
August 27, 2011
SK: ATTITW 3D-4D... :D well Aroma-Scope wasn't that great, the cards hardly worked... :( but otherwise, a fun movie, the 3-D was nicely done in an eye-popping way and it wasn't an annoying poke in the eye kind of way. 3-D perspectives were exaggerated so it was obvious throughout most of the movie making it fun. Seeing everyone's body pop-out as though they were grabbable made one feel like one was there! haha, kids will like it, adult will enjoy the sarcasm of the dog. Worth the watch! Enjoyed it.
August 24, 2011
SPY KIDS WAS AWESOME!!!
August 21, 2011
If you thought AVATAR was a game-changer, wait 'til you see this! The innovation of 4-D heralds a new dawn for filmmakers; Aroma-Scope proves that anything is possible now! SPY KIDS 4D is the most immersive film experience ever, and you don't even have to pay extra for it! Wow!!!
August 21, 2011
Great fun and cool all the things i like in a movie
August 20, 2011
One of the year's ten best!
August 13, 2011
awsome,action-packed,thriller
June 24, 2011
Jessica Alba hot and sexy !!!!!!!!!!!!!!!!!!!!!!!
March 22, 2011
My kids love Spy Kids.
March 21, 2011
SPY KIDS IS AWESOME AND THAT THEIR MAKING A FOURTH IS..........AWESOME!!!!!!!!!