Star Trek - User Reviews
Thank you for rating this movie!
Read your review below. Ratings will be added after 24 hours.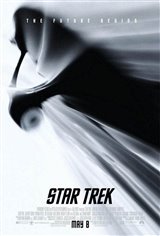 4.57 / 5
User Rating
Based on 29457 votes and 436 reviews
---
Please rate movie 1 to 5 stars
Showing 1 to 50 of 436
July 29, 2016
Very good never saw anything else with Star Trek but this was one hell of a ride
March 05, 2011
Great to see the original crew back in action, especially Nimoy and Shatner.
December 15, 2010
What a great updating of the movie...good acting, great special effects, action and humour. Loved it!!
July 08, 2010
j.j. abrams had taken the crappy old star trek and made it into a masterpiece!!!!! perfect for all people! the characters were hilarious, the acting was great, the effects and sound was great, the characters were hilarious, the makeup was done well; just what is wrong with this movie???
July 06, 2010
very good remake! can't wait for the next one
March 27, 2010
I've never seen any Star Trek movie/TV before and I found this one to be awesome! I LOVED SPOCK!! He was sooooo good! It makes me want to try some of the other Star Trek movies/TV.
January 17, 2010
5 star all the way ! The chemistry between the young Kirk and Spock as well as the other characters we've all come to know and love so well ( Bones, Scotty etc.)is outstanding.Having Leonard Nimoy play a significant role was great as well. The future of the franchise looks well and good. Second star to the right and straight on 'till morning !
November 30, 2009
You don't even have to be a Star Trek fan to love this movie. The cast's chemistry is infectious! I can't wait to see the next one. Please keep the same cast! If you ARE a Star Trek fan like myself, you'll only find it better with the hidden and not so hidden references. A++ Movie. We saw it in Theatres, and purchased it the day it came out.
September 13, 2009
Great Movie, 1 of the best Star Trek movies ever made can't wait till the next one
September 12, 2009
I'm not a trekie, but I loved this movie. It was perfectly balanced in every way.
September 09, 2009
I'm not a huge star trek fan and I loved this movie. Looking forward to a sequal with the same cast. Brilliant!
September 07, 2009
This was a very exciting movie my only problem was the character scenes were wooden and it made the movie seem like one long action scene with no break in the middle the visual effects were amazing and the acting was better to be expected but WERE WAS WILLIAM SHATNER
September 04, 2009
this was the best movie I have seem in a long time. Hope them make more
September 03, 2009
Totally refreshing new start for an iconic show.
August 20, 2009
Totally different! Loved it!
August 15, 2009
this movie does suck
August 15, 2009
Great action, like the storyline,Very entertaining.
August 14, 2009
now this is a stupid movie
August 14, 2009
Sweet acting but... You guys better lose some weight 'cause you do look like stuffed suburban yuppies compared to real military service men.
August 13, 2009
don`t waste your money on this movie because its horrible
August 11, 2009
horrible storyline like the acting was horrible
August 11, 2009
this movie is stupid
August 11, 2009
I loved it, Seen it twice. I never enjoyed like this since I first seen Star Wars.
August 04, 2009
it was ok i liked but not my favorite it was not exiciting
August 02, 2009
The back story makes no sense. Supernova expand at only a small fraction of the speed of light. Their gamma ray pulse travels at no more than the speed of light. Black holes don't allow for time travel.
August 01, 2009
so impressive that they maintained the characters and modernized without mocking the original. Very well done! Strangely seemed as though Deforest Kelly was right there with them... Grand and Fun
July 26, 2009
Am a huge ST fan, have seen all movies/tv shows, and this was the best Trek ever. Well done JJ et al, They stuck to the Star trek universe, but brought new life in with the alternate reality theme. Cant wait for the next.
July 25, 2009
This actually made Star Trek cool. All the trekkies should stop complaining. You can wear your starfleet uniform to work now and you only look half as stupid. Yes the y dumbed it down, but spending two hours arguing with your friends in public about warp cores and black holes (which are fictional, by the way) is even more stupid. Even if the old Star Trek world were real, you would still live in your parents basement and not have girlfriends. The new Star Trek world is better. Accept it. Picard is still better than Kirk though.
July 20, 2009
I'm not into Star Trek, but it was surprisingly very good. Love Spock, and I will go see it again. Didn't like the repeated "hanging from a cliff" scenes, otherwise, a very entertaining movie.
July 16, 2009
This movie kicked was absolutely stunning. The visual presentation was beautiful and the action was superb- 5/5 stars.
July 08, 2009
Having been an old trekky from way back, i thought this one would not measure up - but i was proved wrong. Loved it. The new characters were well cast and lots of fun.
July 06, 2009
Surprising good.
June 30, 2009
This is an awesome movie. I went with my 54 year mother who loved it as much as I did. I thought she would cry when she saw the 'real' Spock because it brought back memories of her youth. The special effects were outstanding and I loved the humor and banter. It truly felt like these characters were the younger versions of the ones we knew so well. I can't wait to buy it!
June 26, 2009
THIS WAS AN AMAZING MOVIE. SOME PARTS MADE YOU FELL LIKE YOU WERE WITH THE PERSON FIRST HAND. I VERY MUCH ENJOYED THIS MOVIE. IT IS A TOTAL ADVENTURE MOVIE AND MADE YOUR EYES POP EVERY SECOND. IT WAS AMAZING. THERE WAS SO MUCH ACTION. ALSO YOU WOULD NEVER BE ABLE TO STOP WATCHING BECAUSE YOU ALWAYS WANTED TO KNOW WHAT WOULD HAPPEN NEXT :)
June 25, 2009
Very Entertaining movie! Time travel theme (again). However, this Trek was different in a really good way. (4.5/5) If you like Sci- Fi, with action and great sarcastic one-liners, this is a must see...
June 23, 2009
Fantastic Movie going to see it for the third time tonight.. Awesome..
June 22, 2009
the most perfect movie that I have ever seen in my life. see it people. I'm still WOWing when i saw it. 100/100 stars. :)
June 22, 2009
I laughed, i cried, i was really scared.. and cheered out loud. i was the only one in the theatre went to a matinee but i felt like a queen. kirk was the luvable bubble headed hero, and spok was actually scary. and I LUVED bones!! best movie i seen in a long time... signed middle aged trekky mom
June 22, 2009
I was hesitent to go and see this movie - I didn't want to see happen to this what happend to all my old loves of childhood..... Now I am glad I did. JJ and company did a great job at brining these old characters fresh life with a new twist. Is it like the old tv show I would be forced to say no, however the story line covers that (even the youth of the crew as they were assigned to the eterprise) Is it star treck .. I would have to give it a resounding YES .. Wonderful casting brilliant storyline which allows for growth and a rebirth of my childhood favorite show, and awsome special effects. A must see in my book.
June 22, 2009
I thought this movie was simply AMAZING. The visual effects were stellar, as well the cast, storyline, etc. An action packed full-throttle thriller which is the Years most Effetive Film! 5 Stars
June 22, 2009
Great Prequel TR
June 21, 2009
Plenty of fast paced action from director JJ Abrams makes this a very entertaining revival of a well established series, set at a period just prior to NC1701's launch. This makes subsequent episodes possible.
June 19, 2009
Wow! Great new Trek movie with the perfect amount of old Trek homage. A truly great film.
June 18, 2009
will go again, waiting for the sequel, near perfect
June 18, 2009
was disapointed that this movie was more action driven than it should have been.
June 17, 2009
ABSOUTLEY PERFECT IN EVERY WAY & EVERYTHING. *ESPECIALLY THE CHARACTER PLOTS & DEVELOPMENT. THE THEORY IS INTERESTING & IT IS A LEGITIMATE SCIENCE THERORY. I COULDN'T CARE LESS ABOUT IT, I DON'T EXPECT ACCURACY OR TOTAL ACCURACY IN A SCIENCE (FICTION) STORY!!!! I WILL ALWAY BE THANKFUL TO JJ FOR MAKE THIS PERFECT ORGINAL STARTREK MOVIE. I FELL IN LOVE WITH THES CHARACTER AND BECAME A FANATICAL FAN OF THEM. ALL THE ACTOR WERE EXCELLENT & DID AN EXCELLENT & PERFECT JOB. THIS IS THE FIRST TIME I'VE EVER WRITTEN ANYTHING AND SENT. I NEED AN EXORCIST, I'M TOTTALY OBSESSED WITH IT. I'VE SEEN IT 18 TIMES ALLREADY & PLAN TO SEE IT THIS FRI. & SAT. AGAIN AND IT HASN'T EVEN EVEN WENT TO THE $
June 17, 2009
Loved Star trek movie.
June 14, 2009
I went to see it, based on the ratings, and I loved it. Best Star Trek yet.
June 14, 2009
Very well doe movie worth watching