Star Wars: Episode I - The Phantom Menace - User Reviews
Thank you for rating this movie!
Read your review below. Ratings will be added after 24 hours.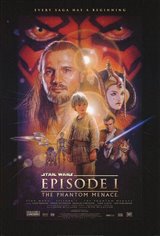 ---
Please rate movie 1 to 5 stars
Showing 1 to 28 of 28
December 28, 2005
lightsaber duel was incredable, ray park is phenominal.
July 15, 2005
i really find it very interesting......neil2 "trailblazer"
July 05, 2005
you appreciate this movie after u`ve seen episodes 2 and 3...well done
June 16, 2005
Cant wait when Lucas goes back to finishing this one like he did for the older movies. Kidding its alright shoulda been better.
May 13, 2005
Great story line. Bad acting.
May 12, 2005
i think you movie could be better if you still using those dishes and old effects. you cann`t use the same staff, but yuo are using too many eefectes whit you new movies . you cuold be better; less computer effects and more human think, like your first movies in the 70` you really did something special and massing, you did history. Now my dougther dose betters pictures in computer. use your main and imagination. well, computers are not better then you and you showing something different. are they ?
May 05, 2005
This movie was okay visually, but the plot really sucked. I think Lucas can do a way better job. Episode III looks wicked!
December 15, 2004
LIKE EPISODE 6 IT SUFFERED FROM WEAK ACTION SEQUENCES INVOLVING OVER SUGAR COATED VIOLENCE AND IDIODIC VILLAINS (i.e THE BATTLE DROIDS AND NUTE GUNRAY).BUT OVERALL IT`S STILL A GOOD MOVIE!
December 09, 2004
GOOD BUT THE PLOT AND THE ACTION SEQUENCES WERE A LITTLE WEAK. I HAVE NOTHING AGAINST JAR JAR.
November 29, 2004
the BEST movie made in all of the planet- no the galaxie. t kicked ***
November 29, 2004
The best star wars movie ever it beets any other sci-fi movie hands down
November 13, 2004
GOOD BUT I FOUND THE PLOT TO BE A LIL` WEAK AND SHOWED LITTLE CONNECTION TO THE CLASSIC TRILOGY.I FIND THE VILLAINS (Excluding Maul)WERE QUITE WEAK AND IDIOTIC (THE BATTLE DROIDS ESPECIALLY.)
October 17, 2004
Star Wars is the best! No movie can rival these episodes!
December 08, 2002
this movie was amazing i can`t wait till episodes 2 and 3 are finished. Natalie Portman was awesome she looked absolutely beautiful she really did make a fabulous impact on the film and i can`t wait till she appears in the next star wars film
November 08, 2002
I despise this movie. They should have given this movie I new name because it really had very little connection to the original star wars movies. The six year old beside me thought it was great... maybe that tells you who they are targeting with this one.
June 12, 2002
The movie wuz awesome i`ve never seen ne thing better! I luved it!
May 15, 2002
I love all the Star Wars movies but somehow there`s always an annoying character in the movie, but I still like it. Portman was sexy and I love it! Star Wars is the best!
May 05, 2002
The movie is great and Natalie Portman is superb and sexy. Very Hot.
May 03, 2002
litlle kid`s movie, i`m suprised barney wasn`t in it
April 10, 2002
Natalie portman is the Best
April 01, 2002
Simply an awesome movie. If you liked the original Star Wars and have and even simple interest in sci-fi, you need to watch this
March 31, 2002
movie was great and NATALIE PORTMAN is the best!
January 31, 2002
I did not enjoy it as much as I thought I would. What`s with the annoying Jar jar binks? I liked the older Star Wars better!
December 28, 2001
it sucked
December 15, 2001
the movie was great
October 21, 2001
If you didn t the movie, you should buy the DVD just to watch the added materials you might like those better.
October 21, 2001
If you didn t the movie, you should buy the DVD just to watch the added materials you might like those better.
October 19, 2001
Apparently the DVD is supposed to be the greatest dvd ever made. Don t know....