Step Up - User Reviews
Thank you for rating this movie!
Read your review below. Ratings will be added after 24 hours.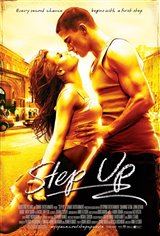 4.20 / 5
User Rating
Based on 11500 votes and 304 reviews
---
Please rate movie 1 to 5 stars
Showing 1 to 50 of 304
January 31, 2013
Loved this movie!!! None of the other ones compared to this!!! It has a great story and great acting!!
March 27, 2008
omg i loooooooooooooooove step up it is so cool i have seen it 500,000 times because i have it!!!!!!!!!!!!!!!!!!!!!!!!!!!!!!!!!!!!!!!!!!!!!!!!!!!!! CHANNING IS SO HOT!!!!!!!!!!!!!!!!!!!!!!!!!!!!!!!!!!!!!!!!!!!!!
February 03, 2008
i cant wait to see 2
May 19, 2007
i loved it omigod
April 02, 2007
Step up is the best movie that you`ll ever see!!!
March 30, 2007
step up the the best movie in the whole wide world!!!!!!! i love it soooooo much! Jenna/Nora is sooooooooooooo good at dancing... She`s amazing! love jess xoxoxoxoxo
February 19, 2007
it was wicked awsome
February 13, 2007
Step Up is the best movie of all times!!!!!!!
February 03, 2007
omg step up is the best movie ever channing is SO HOT!!! Jenna and Channing make such a cute couple
February 01, 2007
oh my god this is the best Movie ever i would so happy if Tyler and Nora marry in real life
January 31, 2007
Awesome!!! I just saw this movie a few days ago for my first time and it was amazing!! Not only is channing hot but hes great in it. Jenna and Channing make the hottest couple ever!
January 31, 2007
THE MOVIE WAS AWSOME! IT WAS SAD ROMANTIC FUNNY EVERYTHIN U WOULD WANT TO SEE IN A MOVIE!
January 20, 2007
it was cool becuse she`s good at dancing
January 15, 2007
Amazing! I went to see this 4 or 5 times! It is not just a dance movie, it comes in touch with reality and the dangers that are out there.
January 15, 2007
i love this movie! channing and jenna are amazing dancers
January 13, 2007
its the best movie ever
January 02, 2007
I loved the movie...it was so good, great music, and it really made you want to dance...the choreography was amazing..best movie to me of 2006.
January 02, 2007
Step Up is a great movie ... Jenna Dewan is a great dancer and is damn hot (i`m a boy)
January 02, 2007
I thought the movie Step Up was prodigious, Jenna Dewan is a fabulous dancer. Channing and Jenna looked adorable together and had great chemistry, The roof top scene was breathtaking. I would personally give this movie 5/5. But the movie wouldn`t have been as amazing as it was if not for the choreographers.
January 01, 2007
I thought that Channing Tatum was the most hotest guy in the hole movie. It was a really good movie because Channing Tatum was in it. I think that Channing is the hotest guy in the hole universe. I hope that Channign is in an other movie so I can see him on big screen again. Im 16 and my name is Francesca. oh and I think that the movie was good, that`s why I rated 5 star.
December 31, 2006
I enjoyed the movie and worth while to buy.
December 23, 2006
It was an amazing movie of how you can be anything you want to be if you are willing to work hard to get it.....
December 22, 2006
I loved this movie! First of all, not that this matters as part of the movie`s quality, but Channing is damn sexy! Oh my, he`s hot. Anyways, the movie was excellent. The dancing was amazing and the chemistry between Jenna and Channing was real. They even were a couple in real life after filming the movie. So I really think that this was one of my favourite movies from this year.
December 22, 2006
I thought step up was a really really really great movie because i dance hip-hop like that cute hottiein the movie Tyler!
December 19, 2006
This Movie is Theeee Movie :P:P... For teens and people who like to dance watch It!
December 12, 2006
OMG!!! this is the best movie of all time you have to go see it!!!
December 02, 2006
It was soo good. I really enjoyed it. I so can`t wait for it to come out on DVD.
November 30, 2006
OMG! CHANNING TATUM IS THE HOTTEST GUY EVER! OW OW!!!!
November 28, 2006
dis movie was da bomb
November 24, 2006
This movie was sooo good. I luved it! n channing tatum is sooo hot!!
November 24, 2006
it`s really really good, excellent actually! well done and the actors are very talented! good job
November 21, 2006
This movie was tight!!!!!
November 19, 2006
channnin tatum was rlly hot!!!!!!!!!!!
November 19, 2006
this movie totally rocks!!! CHANNING TATUM IS SOOOO HOT!!
November 12, 2006
Step Up was an amazing movie. The Choregraphy was incredible. It was my first time seeing the movie and even my husband thought the movie was great and he is a big critic. It is kind of like Save the last dance but better. The two main dancers had great chemistry.
November 10, 2006
stup up was a "great" movie i saw this movie 10 toimes already so ya thats how good it was i am absolutaly in love with it HOW CAN ENYONE NOT LIKE THIS MOVIE ...?
November 04, 2006
Omg! I`m absaloutly in LOVE with Channing Tatum! I love him so much he is so hot!
November 02, 2006
I watch Step Up once a day. I love the dance routines and use the soundtrack when I`m working out. The storyline itself is great and really moving. Jenna and Channing made excellent leads they meshed well together. Wondering if `Step Up 2` will be considered.
October 31, 2006
How can anyone not like that movie?!?Channing Tatum and Jenna Dewan looked so good.And Anne Fletcher did an awsome job directing it.Step up ROCK`S!!
October 28, 2006
I`ve seen STEP UP at least once-a-day since it was released and it never gets old.
October 28, 2006
i loved this movie i have seen it i dont even know how many times at least 10 haha i rate it 11 out of 10 and channing tatum is one sexy guy that not hard to look at
October 21, 2006
the dancing was amazing, this was a really great movie and the leading actors are both gorgeous
October 17, 2006
I love this movie..the day it came out, i took my bro n sis to it.. I love Channing Tatum (who doesnt), Jenna Dewan is wicked also. I have seen this movie so many times because it is so good. I can`t wait till it come on video!! Keep doing what you guys doing best!! I love you Channing Tatum and Jenna Dewan!
October 11, 2006
STEP UP IS THE ABSOLUTE BEST MOVIE EVER
October 11, 2006
I love this movie i think you should make a (STEP UP 2). I love tyler you hotti!!
October 11, 2006
step up was the best movie ever channing was so hot and i must say hes a good dacer he will whip any dancer in this world!!!!
October 09, 2006
It is absolutely impossible to sit still while watching this movie! All the amazing dancing really makes you want to get up and join in the fun! This movie was absolutely incredible! Channing and Jenna definitely have a lot of talent and also really great chemistry! Please try to see it while you still can on big screen because it`s just so much cooler to see what with all the dance routines. I was lucky because I managed to catch it while it was still in theatres, so GO GO GO right now to see Step Up!
October 06, 2006
I think channing is hot and this movie rocks
October 05, 2006
I think that he has a very good actor. And HOTTIE.
October 01, 2006
It was great shake your booty