Strange Wilderness - User Reviews
Thank you for rating this movie!
Read your review below. Ratings will be added after 24 hours.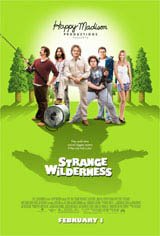 ---
Please rate movie 1 to 5 stars
Showing 1 to 23 of 23
September 27, 2015
My all time favorite dreadful film. This is Just a good fun, easy to watch adventure comedy film that can be watched over and over again.. Even now, I still find myself belly laughing through it.
February 25, 2009
this movie is awesome
July 17, 2008
this movie was a waste of time to see. It is a shame that so many good actors like Robert Patrick wasted time to do this movie. This movie was full of crude and senseless humor that wasn't funny at all.
June 03, 2008
I don't think smoking all the pot in Mexico could make this movie funny! It was amazing how moments that might possibly have been funny just managed to come off as completely stupid. No effort at all from anyone involved in the production or cast.
May 27, 2008
Potheads of the world unite! this movie is off the hook! Its stupid, its senseless, and it would make all my non pot smoking friends "Tsk", It was the best mindless 85 minutes ever. Don't be so serious people, sometimes we need a little stupidity in our more than serious lives...
May 14, 2008
THIS MOVIE IS NOT MADE FOR CRITICS. SERIOUSLY DID ANY PERSON WHO WROTE A BAD REVIEW EXPECT A MOVIE WITH A MESSAGE OR SOMETHING.. THIS MOVIE IS JUST FUNNY. TAKE YOUR LIFE A LITTLE LESS SERIOUSLY.. DONT BE SO CONSTIPATED. I LOVED THAT MOVIE!!
February 21, 2008
FREAKIN PERFECT
February 10, 2008
I LOVED THIS MOVIE, I THOUGHT THAT IT WAS SO FUNNY I WOULD GO BACK 15 TO SEE IT. yOU JUST HAVE TO GO AND SEE IT IF YOU HAVE NOT ALREADY.
February 09, 2008
WOW!!!! fantastic. If your young and enjoy the refer. THIS ONES FOR YOU GUYS!!! random and funny. dont listen to any other reviews.
February 05, 2008
My heart aches for the waste of fine talent in this movie.
February 05, 2008
if you're looking for one of those movies that make you go 'hmm'.. this is definitely not it--but if you're into stupid comedy, looking for a movie to get your head off things for a while check it out
February 03, 2008
This has got to be one of the worst movies I have ever seen. Period. The only people in the theatre who were laughing were people who'd smoked up before they went in.
February 03, 2008
This was a crude movie and a total waste of time to see. Steve Zahn can do better than this!!
February 03, 2008
very stupid!
February 03, 2008
really wished i would have walked out during the first ten minutes
February 03, 2008
horribly awful
February 03, 2008
worst thing ever
February 03, 2008
Wost movie ever. Dont see it.
February 03, 2008
Worst movie I've ever seen and I've seen some bad movies! Awful. Not even one good thing about it. And leaving it's been the only movie that people leaving as a whole hated it just as much as everyone else.
February 02, 2008
WORST MOVIE EVER MADE!!!!
February 02, 2008
horrible, disappointing, not funny at all and very choppy story line.