Sucker Punch
Thank you for rating this movie!
Read your review below. Ratings will be added after 24 hours.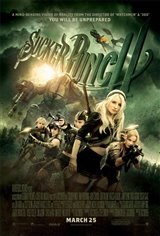 3.55 / 5
User Rating
Based on 758 votes and 244 reviews
---
Please rate movie 1 to 5 stars
Showing 1 to 50 of 244
July 06, 2012
good movie, lots of action. parts of it were like watching a video game, with cool effects. a good action fantasy for sure.
April 30, 2012
i just watched it and, wow! what a great movie! if you liked 300 or sin city, you'll love this one. i am puzzled by the cool reception critics gave this one during its release in theatres - but then, their lower iqs deny them understanding most sci fi movies, too. i think i'll watch it again, right now!
August 27, 2011
This was an absolutely amazing movie. People who did not get the full scope of the story line truly need to open their minds to what is being show here. First the movie was cutting edge some of the best things I have ever seen. Second the story line was in my opinion about opening your mind and giving you new possibilities to what reality may truly be for those of you who did not understand the context of this movie I suggest that you watch a David Wilcock seminar. By the way did I mention this was an amazing movie.
August 14, 2011
disguasting
July 18, 2011
Only thing going was the effects. Horrible movie
July 01, 2011
loved the unique story line.
June 30, 2011
Confusing! Bad movie.
June 29, 2011
awesome and sexy!
May 27, 2011
this movie make me sleep
May 24, 2011
Hated it!!!!! Movie made no sense! Nice soundtrack.
April 21, 2011
Technically brilliant but emotionally and philosophically barren. Still, great music, pretty pictures and a memorable performance from Scott Glenn almost even things out enough to recommend it. Almost.
April 18, 2011
3 Stars.. I went in there with high expectations and wasnt that impressed. It was okay. very random movie and like that other guy said its a nerds wet dream :) Nice action but not so amazing story line.
April 16, 2011
The movie had great music that went along perfectly with each scene and the story was also very good but you have to pay attention to fully understand the complexity of it
April 14, 2011
Had great action and effects and a killer soundtrack, but everything else was just terrible. A one time watch.
April 14, 2011
As with most movies it's hard to get a real storyline into a 2 hour time frame. It was entertaining and that's what movies are suppose to do. For people who expect every movie to be Oscar quality then I suggest you stick to reading books.
April 13, 2011
The story (or what I could make sense of the story) was about Babydoll (Emily Browning), a girl who is committed by her stepfather after some events that happen in the first ten minutes of the movie. She is set to be lobotomized and she works in a burlesque show with four other girls. Every time she dances, she lets her mind escape and kick-ass action scenes ensue. The following ninety minutes is pretty much just a sexed up prison break movie peppered with great visuals and great action. The story did have problems, seeing as some times it was damn near incomprehensible, and it does borrow a ton of stuff from other movies. There is a very Tron-esque battle scene in the middle of the movie, t
April 10, 2011
3 stars max. Special effects are great, but they cannot replace the non-existent storyline. Mostly disappointing.
April 09, 2011
I really enjoyed this movie. I would recommened to anyone over 14 since it is way darker than you would think. examples include prostitution clubs and attempted r#ping
April 07, 2011
Quite honestly the only good thing about this movie was parts of the soundtrack, I should have left the theatre but I kept expecting a better part to turn up, but it never did.
April 07, 2011
I thought this movie was absolutely amazing! The special effects were astonishing and I thought the acting was unbelievable. I got very into the story and would definitely see it again. I have to admit I cried at many parts, which makes it obvious that the acting was phenomenal. I thought it would be too sexual or tasteless, but it really surprised me and is now one of my favourite movies! Definitely buying it once it comes out to DVD!
April 05, 2011
Enjoyable movie if you are able to follow the symbolism.
April 05, 2011
I can't belive this movie got a 4 star rating. There were people actually leaving the theater. I wasted my time. The only good thing was the pop corn. What a let down.
April 05, 2011
zack snyder, u have a curse, people ether hate ur movies or love them, i barely hear a inbetween comment, i loved this movie, i thought its visually entertaining, the story is where people hate, they ether dont get it, or think its lame and dull or others love it and see the depth, two opinions, mine is the love it side
April 05, 2011
Good special effects..... Bizarre movie!
April 05, 2011
good action a great movie for david karadin if it was his last movie before past away
April 04, 2011
I'm a 30 year old woman and I loved this movie. It had fantastic visuals and music, and an excellent message of empowerment. I'm not sure what the people who gave it a poor rating were expecting. I honestly wouldn't change anything about this movie.
April 04, 2011
a great way to waste a few hours!
April 04, 2011
Different Movie
April 04, 2011
Intersting concept. good soundtrack
April 04, 2011
To all the naysayers I say "pffft". I agree, the acting is not the best (or the worst), the storyline is not the best (or the worst) and there is no warm-fluffy-touchy-feel good vibe in this movie. If you are looking for these things then I'd recommend you see 'The King's Speech'. If you want to see a movie that I can only describe as "Every Nerds Wet Dream" then Sucker Punch is your movie. (Every nerds wet dream typically contains scantily clad- gun toting-butt kicking women, robots, monsters, swordfights, dragons, explosions and did I mention the scantily clad women?)
April 04, 2011
Special effects were nicely done. Great combination of all different kinds of fantasy and I loved the action sequences. The ending was quite sad and unexpected, but overall, a great film...kind of like comic book action heroine spliced with Inception. Well done.
April 03, 2011
cat house mets arcade game.....yes 2 hours i'll never get back
April 03, 2011
was interesting
April 03, 2011
different type of movie
April 03, 2011
The wonders of computers...WOW! What else can be said?!?
April 02, 2011
It was not very good
April 01, 2011
It was action packed with themes at different levels. The ending left me hanging a bit; it was not a tidy ending.
April 01, 2011
This Movie sucked, in fact the only "Sucker Punch" was the one I got as I paid to see this garbage. There is 2 hours of my life I will never get back.
April 01, 2011
Awesome!! Loved it.
April 01, 2011
It made me think of a bunch of video game trailers stitched together... I'm very disappointed.
April 01, 2011
enjoyed it
April 01, 2011
different type of movie but enjoyable
March 31, 2011
The movie was definatelt visually pleasing, as the visual effects, the colours and hues of the movies were capturing. However, the acting needed to better. There were also too many repititions in the movie that made it actually quite annoying, one of those moments where you say, "again, really???". Overall, the movie is suitable for a teenage audience, mainly young men.
March 31, 2011
2 hours of my life I will never get back
March 31, 2011
2 thumbs up
March 30, 2011
People who dislike this movie and say story is bad are just too dumb to understand what a fantasy movie about. When you go to see a movie like this, its all about visual effects, and then the story. DUMBASS
March 30, 2011
The girls are hot but the movie is so so.