Take This Waltz
Thank you for rating this movie!
Read your review below. Ratings will be added after 24 hours.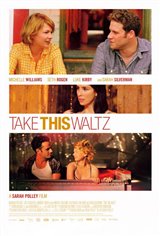 ---
Please rate between 1 to 5 stars
Showing 1 to 31 of 31
July 30, 2019
One star only because the actors were good, despite the idiotic story and poor direction.
March 14, 2014
an emotional rollercoaster of a movie! very well done. a movie you think about long after it's over!
December 22, 2012
A subtle but effective heart tugger based on the Leonard Cohen hit.
December 22, 2012
Should never have been made. Another example of Telefilm Canada rushing a film into production.
October 17, 2012
a tough movie to watch at times...but a very good and realistic movie..makes you think "the grass isn't always greener"..
October 07, 2012
I didn't see the end...it got boring....(s.....l.....o......w), Michelle Williams she is a nerve-wracking, distressing
September 24, 2012
wonderful adaptation of the leonard cohen classic. 3.2 stars!
September 24, 2012
fantastic.
September 22, 2012
excellent
September 10, 2012
beautiful and poignant. makes you wish you could be married to 2 guys at the same time.
August 30, 2012
seth rogan is great in this. great film! :)
August 27, 2012
take this waltz was a movie that makes you think. michelle williams is amazing! seth rogen also does a super job!
August 15, 2012
emotionally raw and somewhat draining. after watching it i kept thinking about the movie for days.
August 09, 2012
this happens very rarely; i watched the movie, i enjoyed it, can't say it blew me away, but it stayed with me all day the next day; i could feel it in my heart.
August 01, 2012
emotionally draining movie....good, but hard to watch at times
July 23, 2012
a bit disturbing and extremely raw - but very good!
July 20, 2012
tough movie to watch about relationships, divorce and the fact that the "grass isn't always greener"...good movie, but maybe best as a rental. michelle williams was annoying, but seth rogan and luke kirby were great..especially kirby.
July 18, 2012
depressing...not really a fun times at the movies.
July 17, 2012
overwhelmingly raw and real...a tough movie to wathc, but a real good movie.
July 13, 2012
an emotional rollercoaster of a film. a hard movie to watch at times, but a good one.
July 12, 2012
tough movie to watch, which is part of teh appeal. a bit too long and slow for me, but entertaining nonetheless.
July 04, 2012
an absolutely beautiful film - a raw, nuanced examination of romantic relationships and desire. sarah polley once again provides an incredibly insightful and honest perspective on the human condition. very believable chemistry between all of the lead actors. luke kirby's thoughtful and expressive performance deserves to be recognized.
July 04, 2012
satisfying sequel to the last waltz, but nothing more. needed dylan or diamond to reprise their roles from the first film to make it something special. as is, just ok.
July 04, 2012
the central love affair at the heart of this summer flick is the love of the world class city which is the setting for this romantic drama. this should come as no surprise when we consider that native torontonian sarah polley used an all canadian cast. in fact most of the lead cast members met on the set of degrassi high- the mythical canadian public television drama which was produced in the late 1980's. polley also remained in contact with sarah silverman in spite of silverman being fired from the second season of degrassi following charges of public indecency following an incident at a degrassi public appearance in a mississauga mall. the richness of the directing and acting are compl
July 03, 2012
i really loved this movie. subtle, nuanced - not your typical relationship movie. great performances by all esp. rogan and williams. loved the portrayal of their marriage - esp. how it realistically captured the private, playful intimacy of a couple. s.
June 22, 2012
heart-wrenchingly beautiful.
May 29, 2012
i saw this film at tiff last year, and i was blown away. polley hit the nail on the head with this bittersweet story.
April 20, 2012
finally, a movie musical with decent music! 8/10
April 20, 2012
it's flashdance for today's generation.
April 20, 2012
i finally got oruand to seeing the fighter, and i agree that bale's performance is electric. there was an underlying sadness to many of the scenes revolving oruand bale's character, and thankfully russell doesn't overdo it with any sentimentality that is typical of similar movies. my only problems with the movie are that some of the fight choreography feels rocky -like), wahlberg is a tad shallow in his acting, and rifts are too easily patched up and the movie ends predictably.
September 11, 2011
The Leonard Cohen song, "Take this Waltz", has the lyrics "Take this waltz, take this waltz It's yours now. It's all that there is." Sarah Polley includes Cohen's song at the key moment, as she tells an intense story of voided relationships. The story is of Margot, a beautiful Michelle Williams and her partially satisfying and comfortable marriage to Lou, a believable Seth Rogen. Margot perceives gaps in her relationship and sees in Daniel (Luke Kirby) what she lacks. Includes some racy scenes but in context, and it's really a stunningly beautiful, romantic and insightful movie. Not just a chick's flick but it does move slowly at times as it plumbs relationships and context, and some guys