Terminator Genisys - User Reviews
Thank you for rating this movie!
Read your review below. Ratings will be added after 24 hours.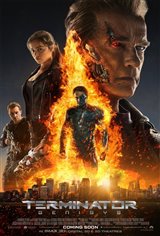 ---
Please rate movie 1 to 5 stars
Showing 1 to 37 of 37
January 14, 2016
I enjoyed the movie! Overall it was fun and looking forward to sequels. Good special effects and it was nice to see Arnie back in action. Hope I can be as fit at his age.
November 21, 2015
Man oh man, what were they thinking???? Cliche'-ridden, confusing, boring, average special effects at best, average acting at best (and that's being friendly). Arnie looked bored and haggered, the girl was cute but couldn't act, action was ho-hum and nothing original. I knew it was going to be bad when the John Connor's character gave the "big battle speech" near the beginning of the movie, and bad it was. The original will always be the best, T2 pretty good, even T3 had moments of brilliance, but this one? Forget about it!
November 16, 2015
was preparing for this to be garbage and garbage it was. only surprise was the dude who played kyle. I know him as a terrible actor from die hard 5 and jack reacher. and he was miles better than the 3 other main actors. needless to say the girl was dreadful.
November 13, 2015
Do not waste your money. Story line sucks.
September 18, 2015
Horrible. Couldn't wait for the movie to be over. Big let down for The Terminator series.
August 05, 2015
Best TERMINATOR ever.
August 05, 2015
Seriously, I agree below. So many holes. Now this one explains holes in other Terminator movies. They say you can't send metal back in time. Ummm, the liquid metal terminator only imitated human flesh, yet he went back in time using this same machine from the future. So did the chick in T3. Grr I want to write wayyy more cause I discussed it with a lot of my huge fan friends and we picked it apart over a beer and pizza and realized there's some blatant time travel errors. Ignoring the fact of time travel mixed with distance. Science says time travel might be possible but you'd go back or forth in time in the exact spot you leave you'd reappear. Not travel over distance and appear in mid air on an overpass.
August 05, 2015
Stop, please just stop. Great effects, but each time they make a movie they need to change the evil machine to something newer and high tech'er?! Um, think about it, if they keep going back in time form the same moment in the future but we went from just metal robots, to metal robots with flesh, to liquid metal, to whatever that girl was in part 3, to now one where a robot can take over a human, why didn't Skynet send this latest (and apparently most deadly one), in the first movie? There's so many plot holes it's swiss cheese. Please Arnold, stop. Please everyone, just end the franchise. re-make it in 30-50yrs then maybe we'd watch again.
July 27, 2015
This was an excellent movie!! Action packed didn't miss a beat in storyline and can't wait for it to come out on DVR
July 20, 2015
Action packed; Stayed within the storyline of previous movies. A must see!
July 19, 2015
Great great movie. The trailer sucked, but movie was totally opposite. If you liked the 1st two movies growing up or if you're new fan like some people in our group, it worked for everyone. Best movie in series on par or close to T2. Great story, visuals and adrenaline. Way better than Jurassic 'copy part 1 in steroids' remake. This has some serious original content!
July 16, 2015
Not quite sure while all the negative comments. This was a very good movie. What were people expecting? It is better the second time because you miss a lot the first time. Not a fan of the new Sara.
July 14, 2015
I thought it was very good. It incorporated things from the first two films. At the beginning it looked like it was going in a familiar direction, but then it doesn't. I liked that. There was a little bit of humour, would've liked if it had more humour. It had action (love that!) and drama, but wasn't boring.
July 12, 2015
This movie was great. It is a definetely must see. The cast was great in the movie.
July 10, 2015
Very good, best Terminator since the second. It took elements from almost all of the movies to be a satisfying, well paced culmination. Good to see our friendly T-800 back for another movie (or more). The start of a new trilogy, and it looks good so far!
July 10, 2015
Just saw the movie and thought it was great. Had the same kind of feel as the first two movies. Almost didn't go due to some of the criticism's the bad ratings some web sites gave it. Have no idea what people had a problem with, and can totally understand why James Cameron gave the movie his approval. There's no pleasing some people I guess. It brought back memories of seeing T2 in theatres in 1991. Also....Emilia Clarke is excellent as Sarah Connor.
July 09, 2015
surprisingly good - didn't expect much from it given the comments, but it was an enjoyable film.
July 07, 2015
Great action in the first half, but gets rather silly in the second half. Loses a star for the annoying cliché of the bad guy having the perfect 100% guaranteed opportunity to kill the heroes, yet doesn't take it, only to struggle to no end to kill them afterwards. Other than this dumb and all too common cliché, this is the first well-cast, well-acted Terminator since T2.
July 07, 2015
I went into this movie with no expectations and thought it was pretty good. Not the best movie but was worth the price of admission.
July 07, 2015
I loved this movie. It has everything going for it.. action, special effects, suspense, nostalgia & comedy. I was fully entertained from begining to end. I dare say it's just as good as Terminator 1 & 2. The time travel aspect is not difficult to unserstand. You just need to be familiar with the storyline of the first 2. And the few open questions left I'm sure will be answered in the next movie ;) I don't understand why some viewers and critics are trashing it. Perhaps Magic Mike XXL is more to their taste.
July 07, 2015
This is the first worthy Terminator film in years. Emilia Clarke is stellar as Sarah Connor, the evolution of the T-800 is a great wrinkle in this film series, and the problems and paradoxes of time add a fascinating layer of depth. I'm disappointed in the film critics, who have criticized this movie for being original, thought-provoking and not formulaic enough. This is a fantastic step in a new direction. I enjoyed this movie as much as James Cameron's original Terminator and Terminator 2. Not surprised he gave Terminator: Genisys his blessing. Enjoy!
July 06, 2015
The movie is entertaining especially for those who love the original franchise. However, the story was weak and not a good ending from Terminator 2. At some points I felt that it dragged and I lost interest. Arnold does a decent job.
July 06, 2015
Very well done, may go back again!
July 06, 2015
Arnold's best since Escape Plan.
July 06, 2015
Best TERMINATOR ever and the must-see film of the summer.
July 05, 2015
Total crap!
July 05, 2015
Only reason I gave it 1 star is because I can't give it 0 stars. Total crap, had zero logic or purpose and so many plot holes it could be used as a model for a pasta strainer.
July 04, 2015
awesome!I can't believe ppl rated it bad, I think they should go watching some DC movies? Maybe they think DC movies are great.
July 04, 2015
Arnold. Need i say more. We watched the movie yesterday (family) and we all loved it. It used elements from the past and added new stuff. But enjoyed how they used Arnolds age in a cool way. If you love movies you will love this. Go see for yourself.
July 03, 2015
Go see Terminator Genisys... but rewatch Terminator 1 and 2 first. I can't believe how dumb some of the reviews are for the movie. I rewatched all four of the old Terminator movies before seeing Genysis and I absolutely loved it! Some of the negative reviewers seem think it's a remake or a reboot - it's not. They also complain that it's too complicated. If you can't handle time travel plots, don't see it. But for people that love action, thrills, comedy, intelligent writing, and a ton of reverence for the orignal two films, you will love Terminator Genisys. I'm not surpised James Cameron loved it too.
July 03, 2015
This movie sucked on all levels and I'm a huge terminator fan
July 01, 2015
Terminator: Genisys is a great start of a new trilogy! Terminator 3: Rise Of The Machines (2003) and Terminator: Salvation (2009) were well done, but creatively are inferior to The Terminator (1984) and T2: Judgment Day (1991) Terminator: Sarah Connor Chronicles TV Series started well, but fizzled. Terminator: Genisys is different. It has the humour that made T1 and T2 successful, to go along with intrigue / mystery, action / adventure / sci-fi! It is great to see a good series back on track! See it!
July 01, 2015
Great movie....Arnie....kicks but!
July 01, 2015
great movie!
July 01, 2015
Is surprisingly entertaining providing a tribute to previous films, loads of action and some funny moments.
July 01, 2015
Well sometimes they should have left well enough alone. On its own terms, Terminator Genisys makes virtually no sense.
April 19, 2015
He's Back. Looks like an amazing movie! Trailer looks awesome!!