Terminator Salvation - User Reviews
Thank you for rating this movie!
Read your review below. Ratings will be added after 24 hours.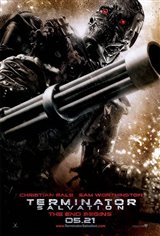 4.03 / 5
User Rating
Based on 2995 votes and 245 reviews
---
Please rate movie 1 to 5 stars
Showing 1 to 50 of 245
June 02, 2010
Best of all terminator movies! Sam worthington did terrific as Marcus Wright!
April 03, 2010
The best terminator movie among all!
March 27, 2010
I really enjoy all things Terminator so I went into the movie expecting entertaining terminator fun and I found it! The story was not what I was looking for in #4 but it was fun. Lots of action and the cheesy lines made me smile.
February 21, 2010
Poor story and action. No acting skills required for Bale...
February 01, 2010
Good! worth the money.
December 27, 2009
Really, not the greatest movie. Save your money and try something different.
December 25, 2009
Good Movie
December 07, 2009
Who can follow the time line through out all of the terminators.First hes sent back from the future then in the future blah blah blah.They shoud have named this movie something else doesnt deserve the "Terminator" title. And what was with the crappy "CG" arnie he looked like craP.
August 14, 2009
Great action scenes but poor story development. the dialogue was like a third gradeers book report. The ending was pretty lame too. They are in terminator central and they can send only one freaking terminator after John?
August 11, 2009
umm yah not the greatest and transformers was about a trillion times better
July 19, 2009
it was pretty good it was scary lol it was funny
July 18, 2009
Christian Bale wasn't right actor for this movie,sorry to say that,and also this movie was to slow and crowded.
July 16, 2009
The best Terminator of them all! Arnold Who???
July 16, 2009
This was a very good film and surely lived up to the level of action from its predecessors and was a very entertaining movie. The dialogue could've used a bit more work but overall, I thoroughly enjoyed it- 4/5 stars
July 06, 2009
Enjoyed the movie for the most part. Didn't seem like the humans should still be alive though, the machines were so dominant. They show a factory where they're building thousands of the robots but you don't see the terminators attack in groups. At least give the humans EM Pulse weapons to disable/capture terminators - that would actually make it seem like the humans could win. Do that and I would give this 5 stars.
July 01, 2009
Moon Bloodgood hot and sexy !!!!!!!!!!!!!!!!!!!
June 25, 2009
Way better than the crappy Transformers if you ask me!
June 24, 2009
great movie!!!!!!!!
June 23, 2009
Best out of the series. :)
June 22, 2009
Great movie. Don't listen to the bad reviews.
June 22, 2009
So, so good. Did not dissapoint. TR
June 20, 2009
Unlike Star Trek, this movie has a nearly flawless story line.
June 20, 2009
This was one of the biggest dissapointments i have ever had in a movie,i just hope Transformers will be done better.DONT WASTE YOUR MONEY.
June 20, 2009
great movie!!!
June 19, 2009
best movie Ive seen
June 19, 2009
Not bad, certainly not great. Timelines were shady. Very well done with the CGI on Arnold...almost got fooled into thinking it was him for a sec. I gauge movies based on whether I would own it, I wont own this one. Will watch it if it comes out on TV though.
June 16, 2009
Not as good as Judgement Day, but still a great movie.
June 16, 2009
Did not like the acting story was bad all earlyer terminator movies were better.
June 14, 2009
Better than I expected. Overall entertaining.
June 14, 2009
Very good special effects and CGI. But just a poorly done movie topped off by lousy acting by Christian (I'm the best actor in the world) Bale. His acting almost reaches the lowest poor levels of Nicholas Cage. In any event, poorly done effort. Can't move at night because the robots have Infrared. So they just light big fires all over the place and sit out in the open. When shooting at robots the humans hit them every time but when shooting at robot guy and pilot girl everyone misses, every time. Never mind all the explosions and fires the robots can't seem to notice. And we're supposed to believe that a robot whose job it is to kill John Connor is just going to throw him around for a while
June 13, 2009
MAJOR DISAPOINTMENT. Christian Bale was not convincing and the terminators never really scared us. This move sucked big time.
June 10, 2009
Great action Movie
June 09, 2009
What a huge disappointment. I've been waiting for this movie for a year and this piece crap is what they delivered. I should have known better when they announced Mc G was directing. I'm very ticked off!
June 09, 2009
IT WAS FANTASTIC
June 09, 2009
This was the BEST of the Terminator movie next to the first one. It was action packed and Christain Bale does not disappoint. I would love to see it again. SEE IT ... IF YOU WANT TO LIVE!!!
June 08, 2009
simply put it was another terminator movie for the sake of making one....nothing was resolved, for terminators they only attacked one at a time, didnt seem to attack the human bases very often.. and not a very good story. T2 still is the best one thus far.
June 07, 2009
Maybe 2.5 Christian Bale's performance - lacking; storyline - lacking; action - lacking; believability - lacking; the chronicles TV series is better.....but Arnold excellent......expected way more from the hype ...sleeper
June 07, 2009
awesome well done
June 07, 2009
for all the hype, i expected a better film ...hard to say that it is bad, but can't really say there's anything to distinguish this one. pretty leaden through and through, a definite rental.
June 07, 2009
too serious....
June 06, 2009
This movie is crazy amazing i give it 5000 stars if i could
June 06, 2009
i thought the movie was just amazing. It was just the way i thought the final battle was going to be. I would for sure go and see the movie agai.
June 06, 2009
75/100! TERMINATOR: SALVATION is the best movie sequel since U.S. MARSHALS!!!
June 06, 2009
Movie was great, followed the true storyline.
June 05, 2009
In 2018, the world is dominated by no more than 20 machines. I Robot has more than that! LOL.
June 05, 2009
Boring and predictable, except for some parts that were just so stupid they were ridiculous.
June 05, 2009
Absolutely terrible. Horrible soap-opera type of script; if the writers watched the first two movies at all it must have been with the sound off. The action wasn't even satisfying. Just watch the first two movies and forget this one and the third one ever existed.
June 03, 2009
Wish there were more scenes with the "machines", and not so much focus on the humans. Still worth a watch though!
June 02, 2009
Much better than Terminator 3 for sure. I loved the action and really liked the CGI Arnold, it was well done. It lacked the plot of the first 2 films but it lacked the predictability of the third film too. It's very enjoyable for action fans, but I did miss the characters, dialog and commentary on humanity the first 2 films had, especially the second.