Terminator Salvation
Thank you for rating this movie!
Read your review below. Ratings will be added after 24 hours.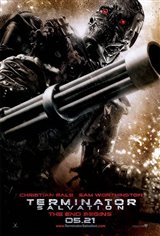 4.03 / 5
User Rating
Based on 2995 votes and 245 reviews
---
Please rate between 1 to 5 stars
Showing 51 to 100 of 245
June 02, 2009
I'm tired of the horrible reviews people give movies like this. Yeah its got big shoes to fill being a movie in the ladder half of the series, but if you look closely it followed the story line perfectly. Bad story ??? Everything made sense, and maybe some of you make reviews based on your own opinion in your little brains universe. The intro set the pace and helped create a feel for the first cyborg terminators, and the experiences they had coming into play. Also the humans being captured seems to stun the narrow minded yet when you stop to think about it... MAYBE THEY ARE GONNA BE TURNED INTO CYBORG TERMINATORS SINCE IT SHOWED A CRAP LOAD OF THAT MODEL BEING MADE !!! and the best line is "
June 01, 2009
Terminator Salvation has finally died at the box office! Maybe when they try to reboot the franchise in the future, they'll actually pay for a script!
May 31, 2009
The best "2 stars" movie. Worth to wait for the DVD.
May 31, 2009
A lot less than what came before and the intro is the longest I have ever had to sit through, before the title screen came up.
May 31, 2009
In my opinion, it has nothing more than action. Neither good or bad.
May 30, 2009
Garbage...1 star.
May 30, 2009
Great action!Poor storyline.
May 30, 2009
One of the worst movies of the decade
May 30, 2009
This is the best Terminator movie yet
May 30, 2009
Movie is just riding on the tetminator name and christan bale's fame.. What was with that cheezy swartznegger scene?? it had nothing at all to do with the movie.
May 30, 2009
AMAZING MOVIE.
May 30, 2009
I thought it was true to the terminator series...I'm not sure what people who didn't like it were expecting, after all it's an action flick.
May 30, 2009
Liked the beginning, however the ending was quite cheesy.
May 30, 2009
Just Awful...worse then 3.
May 29, 2009
Everyone whining about this film not being "original" STFU. It's terminator. True to the series so if you like the others you will like this one.
May 29, 2009
A real disapointment. 1 star.
May 29, 2009
I thought it was ok, not as good as T2 and not even close to Dark Knight or Star Trek.
May 29, 2009
Worst Terminator film ever.
May 29, 2009
Pure popcorn flick, everything you are looking for if straight up action is what you want.
May 29, 2009
Blows all the other summer movies away! 10/10
May 29, 2009
action was amazing...pretty much what I went for, the action, and they delivered.
May 28, 2009
Action packed film with a few surprises but is not as good as the 1st two Terminator films. It needed more emotion and it had to fill in a lot of gaps in the plot.
May 28, 2009
Surprisingly void of any real tension.As each movie is made in the series it gets a bit worse.Needs to be revitalized like the recent Star Trek film.
May 28, 2009
This is not a Terminator movie. It's 2 hours of Bale screaming at the camera while explosions and bad CGI happen in the background. 1 star.
May 28, 2009
Yes the movie have no story line what so ever because if you have seen the first 2 terminator then you know whats the story is about. but if you have never seen the first 2 then just turn on the TV. it almost on once every week now. it is a very good action movie but the movie doesn't tell us why are the terminator taking the human for and the ending was kinda dumb...what happen to blood type and all that stuff LOL. but still it is a very good movie. will sure get the blue ray disk as well when it out
May 28, 2009
Not too bad, more like a war movie as to a terminatior film, but overall pretty good time waster..
May 28, 2009
Even the best CG in the world can't salvage a poor story. Pretty but boring.
May 28, 2009
no story, horrible acting and not that good.
May 28, 2009
Too much mayhem with little emotional connection. Not a patch on the first Terminator or even Terminator 2.
May 28, 2009
This is Terminator for tweens. No blood. No swearing. No good.
May 27, 2009
You have to remember that this movie begins where number 3 ended, which we all know could have been much better. Saying that, this movie is amazing. There are no wasted moments and no stupid one liners. Enjoy it in he theaters.
May 27, 2009
Great action film, just what the doctor ordered!
May 27, 2009
I don't see the problem, the first terminator was stupid, the second was irritating and the third was annoying but all watchable. Atleast they got rid of the the whiny John Connor and got someone atleast decent as an actor. It's true that in some places I did feel like I was watching Transformers. But I like that movie too. Go re watch the old Terminators and then watch this one, it is better.
May 27, 2009
Fast-paced and different from previous films. A little cheesy and complicated, but decent for a recommendation.
May 27, 2009
If I could give this movie 100 star I would it's so cool lots of action people go watch it. 5/5 stars :)
May 27, 2009
Total Garbage...No Story...Poor acting...silly CGI. Note to the makers of this dud: filling the screen with noise and mediocre CGI does not make for a good movie.
May 27, 2009
ugh! no stars.
May 26, 2009
Go away, Chritian Bail. This movie was bad, in all the wrong ways.
May 26, 2009
Well done! hope to see Arni on the next 1...
May 26, 2009
Bit better than Wolverine but not as good as Star Trek, nobody can beat James Cameron, MCG you suck, you are like that Quantum of Solace director, Marc something, horrible movie, 2 robotic thumbs down.
May 26, 2009
If you're looking for action. It's here. If you're looking for a plot, look somewhere else. I wanted action and I got action. Great movie. 5/5
May 26, 2009
I miss T1 and T2, this is better than T3 but not even close to T1 or T2. James Cameron, please write and direct the next one, and use Sam Worthington as your new terminator.
May 26, 2009
If only there was a evil Terminator throughout this film chasing and hunting down Connor and the resistance, cameo at end was too little too late. More Terminator screen time please, the franchise is called Terminator for a reason, not John Connor or Protector, gosh, I want to see a killer robot kill ppl with special effects, fail.
May 26, 2009
What made Terminator 1 and 2 work so well was very simple. You have a protector, protecting a female and then you have the terminator trying to kill. This would have been a better film if they went with that simple formula instead of creating the advertures of Batman I mean John Connor. T2 still rules, despite being made nearly 18 years ago. What are they going to do next, tell the story of how liquid metal comes into existance? lol This is attack of the clones of the Terminator Franchise, Blu Ray it.
May 26, 2009
the best film of the year
May 26, 2009
You know what, maybe all the bad reviews lowered my expectations but I thought this was a pretty good action movie. Call me crazy, but I don't mind having to suspend disbelief in a SCIENCE FICTION movie. Great action ......
May 26, 2009
Fiction right, lets hope! The story had to be tied to the original, so get over the way the plot unfolds. Its not a book. Its still is unwritten as to the details on how we get back to the beginning. The acting was Ok and the connection with the originals was good. The time travel importance is unknown to all but Conner & wife, so Kyle's importance has not yet come into light to the rest.If the destruction from explosions overwhelmed a few, go see a chick flick maybe "Sex in the City", you whooooses.A must see to get to T5.
May 26, 2009
Worst film in the series...when Bale jumps from a helicopter into the ocean to enter a submerged submarine, you won't be able to stop laughing...the good news is that the film did poorly opening weekend, so we won't have to sit through another bad terminator movie in the future.