Terminator Salvation
Thank you for rating this movie!
Read your review below. Ratings will be added after 24 hours.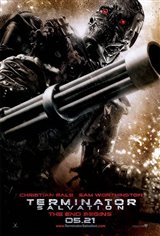 4.03 / 5
User Rating
Based on 2995 votes and 245 reviews
---
Please rate between 1 to 5 stars
Showing 201 to 245 of 245
May 20, 2009
A bit disappointed in this movie. Although the effects were not too bad, it just seemed as if there was something missing throughout the entire movie - yes there was a storyline, but it seemed to be a bit flat. It lacked that je ne sais quoi that the other Terminator movies had.
May 20, 2009
Man cannot be made into machines. They will always rebel.
May 20, 2009
I enjoyed the movie. It had more action in respect of how machines can change in size, movments and attach to one another. I believe that the move is trying to show us that all types of tech machines will run the world or drain it by replacing us. The movies before this one are still great by this one is the greatest. I would watch this one over and over again. I can't wait for the next Terminator New Generation.
May 20, 2009
Good action sequences.
May 20, 2009
The movie was good. The story line was easy to follow, not much talking but a lot of action. The best part was not to much mussy stuff (love scenes). My all time favorite Terminator movie was the first one. This one would be second on my list. Josie
May 20, 2009
Absolutely loved it. The action was unprecedented and the humanity that was instilled into the new terminator was quite a new and fresh spin on an old classic.
May 20, 2009
I really enjoyed the movie, but I've always enjoyed a good action movie. I was surprised that the John Connor role was a lesser role than the Marcus character but I thought it was all well played. I really liked the actor in the Marcus role and look forward to seeing him in other roles. The ending was a little wimpy, but overall a very entertaining movie.
May 20, 2009
Too big on special effects and too thin on story. No build up of suspense. I think this was a prelude to a new video game because it sure seemed to be aimed at gamers and their short attention span. If I had not read a few reviews before I saw it I would have had trouble trying to follow the storyline.
May 20, 2009
I was disappointed. As a fan of the other movies I guess my expectations were high. Still its a good rental.
May 20, 2009
I really enjoyed the movie but you definitely had to have seen the others to be able to figure out the story line!
May 20, 2009
This was a great movie in that it was able to introduce us to the future, can't wait to see the next one
May 20, 2009
action packed. good special effects,fast paced,
May 20, 2009
Excellent movie, true to the original 3. Action was fast, story line was true. At certain parts, it felt like Road Warrior on steroids, well done.
May 20, 2009
I really enjoyed the movie. It was great to see how it all fit together. Loved the special effects. My son is now going on a hunt to watch the first one which was before his time.
May 20, 2009
Great action (except too many times banging into cars). Bale is a great addition. Would have liked to see Common used more. Some great lines and fun to watch! Will be seeing it again!!!!
May 20, 2009
Sam Worthington is the gem of this film! McG has laid the smackdown with cinematography, special effects and robotics. It is unfortunate that Christian Bale decided to bring his Batman voice to the character of John Connor. Connor is a dynamic, exceptional character that did not need chocolate sprinkles or the cherry on top to make him interesting. That element alone made the movie not as luscious as I thought it would be and its too distracting to forget.
May 20, 2009
It was beyond my expectations - awesome!
May 20, 2009
it was great.lot of action great grafics one of the best movies i have seen all year
May 20, 2009
Great movie overall. Definitely a summer Blockbuster just like the originals. However, it tries a little too hard in the special FX department that it leaves one too many plot holes.
May 20, 2009
Definitely worth going to see!
May 20, 2009
Incredible action scenes, great story, excellent visual effects, this is what a summer movie is all about! Highly recommended
May 20, 2009
Terminator Salvation is what its suppose to be - a futuristic sci-fi action flick. What you get is a computer generated action with a lot of explosions and awesome sci-fi action. We have a older john conner who seem to be fighting an un-winable war against the machine. With the help of a human-cyborg hybrid named Marcus Wright, they embark on a mission to free a future Kyle Reese in order to save the human resistance's past and future timeline. The epic final battle of John Conner and the T-800 just show how indestructible these machines are. Lots of fun and entertainment there.
May 20, 2009
Very good movie. Great visual affects.
May 20, 2009
Not as good as I expected. The story line is kindda predictable.
May 20, 2009
Escellent movie, very entertaining.
May 20, 2009
An excellent movie to continue this amazing saga. Brilliant bookending with the main theme in this movie countering perfectly the themes in the first two.
May 20, 2009
Excellent movie, lots of action. Would recommend the movie to everyone of all ages. thanks tribute.
May 20, 2009
I found this to be very action packed and a must see. Although I had to laugh as the women on each side of me in the theatre almost jumped out of their seats from "the unexpected" The action and explosives were also pretty good. I am going to see it again.
May 20, 2009
I thought the story line between the rise of the machines and this one wasn't though but wow - great movie - great action, loved it.
May 20, 2009
Good action sequences. Strong casting for Kyle Reese and Marcus Wright. Nice ties with other sequels.
May 20, 2009
I thought the film saved the Terminator fanchise. Christian Bale was very electric to watch in the role of John Connor. The plot was easy to follow and quite fulfilling. The action sequences were very attractive with the use of the hand-held camera. The perspective and cinematography of the shots were quite innovative. I had some anguish with the ending especially with the fact that Skynet's defence was not able to stop it's destruction or at least have a large war with the human rescue initiative while retrieving the captives. But I did enjoy the movie because of the quickness of the plot and the realness of the action sequences. 4 Stars out of 5.
May 20, 2009
The movie was okay. There was alot of action. Worth watching if you like the franchise.
May 20, 2009
It was good. Action packed.
May 20, 2009
Lots of action, had you at the edge of your seat throughout and left it open for the next sequel!!!!
May 20, 2009
Terminator Salvation was a fantastic movie! The action was non stop and followed the storyline perfectly of the first three movies. Christian Bale played the part of John Connor exactly how I imagined it. The appearance of a certain "terminator" was a surprise and very well recieved by the audience. It definately put a smile on my face! Thanks so much for the opportunity to see this movie. I took my boyfriend as my guest and we enjoyed the experience. It was great! Tara Lyle
May 20, 2009
awesome movie, can't wait for the next one
May 20, 2009
Rather scary. Great sound and shots.
May 20, 2009
I really liked the introduction of Marcus Wright as a character and enjoyed the scenes he shared with young Kyle Reese. However I felt that there was a bit too much of a disconnect between their story and that of John Connor and the Resistance. I also felt that the film stumbled in the last half-hour or so as it raced to connect all the dots and tie up the story. Overall, T:S is a great action movie though, and a fine inclusion into the Terminator franchise.
May 20, 2009
Boring and predictable.
May 20, 2009
loved it.though not as good as the first 3.worth the watch for any terminator fan.
May 20, 2009
Fantastic movie. Definitely a much better film than T3. I would recommend it to anyone.
May 20, 2009
Great action movie!
May 20, 2009
It was a great move tieing in the first 3 to this new movie was a wicked way of story teling. Especially with the whole time travel scenario.
May 20, 2009
This was not one of those disappointing sequels. It definitely lived up to the reputation of the Terminator series and smoothly filled in pieces of the puzzle. Constant action held my attention throughout the movie, plus a nice twist here and there. Excellent!