The 40-Year-Old Virgin - User Reviews
Thank you for rating this movie!
Read your review below. Ratings will be added after 24 hours.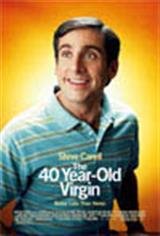 3.82 / 5
User Rating
Based on 3270 votes and 159 reviews
---
Please rate movie 1 to 5 stars
Showing 1 to 50 of 159
November 02, 2009
Worst movie ever made. Did not make me laugh once. I wish I could get two hours of my life back.
January 20, 2008
The amount of vulgar language is shocking for a 1.30 mns. movie! But, you have to say--this movie is FUNNY!
October 15, 2007
Another fine show by Steve Carell. A must see.
July 30, 2007
Wow. They say Knocked Up is vulgar,this is what you call vulgar. It's all nudity and FOUL Language every second of the movie,so dont bring you kids to see it. But anyways,it was super-funny,and i was laughing from beginning to start. The best scene's when hes in the car with that drunk misses LOL! 4 Stars..:P
August 21, 2006
I was not impressed with the level of coarse language in this film,one has to ask is it really nessary to captivate an audience by its use.I think not.
May 02, 2006
Anyone under 15years would be inquisitive of some of the dialogue but anyone older would be embarassed to admit that they spent good money to watch.Did any of the pro viewers finish grade school.
March 06, 2006
I could watch this movie over and over again and it will still deliver just like the first time
February 27, 2006
The language was unbeleivably bad.
February 20, 2006
Virgin was a very entertaining movie that played as well, or better, on the small screen than in theaters. As comedies go it surpassed `Wedding Crashers`as the must see comedy of the year. While some of the language seemed sophomoric at times and the sexual gags anticipated, the romantic fabric of the film played well. The off-the-wall conclusion provided a hilarious ending to the movie thanks to Christine Keeners acting as well as the casts antics. Virgin is definitely one to watch if not one for the home collection.
January 08, 2006
All i got to say is that this movie is very funny.
December 31, 2005
This was such an awesome movie.You can not stop laughing.The moment I pressed play until I shut it offf.So funny.It`s worth buying and watching over and over again.
December 29, 2005
This movie was really funny. I was actually expecting something like "Anchorman" (unfunny trying hard to be absurd, thereby funny?) but it was sweet... and a little strange. I laughed so hard at the end. And Will Farrell didn`t have to get naked to make people laugh. Bonus.
December 19, 2005
over rated, below average,
December 17, 2005
Perhaps an understanding of the genre is required for those who disapprove. In any case, it is without merit to condemn us who enjoyed it as the American Film Institute has included it in its Official Selection of ten best of the year. The list also features such films as Brokeback Mountain, Crash and Capote that even the most unrefined critic would have difficulty trashing. Awards may not entirely validate a work but they sure lend strong support to the cause.
December 16, 2005
If ever a raunchy sex comedy could be up for serious award consideration, this would be it.
December 15, 2005
This movie is in my top 5 funniest comedys. Not only does it bring the laughs, there`s a decent story behind it; which has a good central theme to it. Better then Wedding Crashers, and Ron Burgandy because there is a meaning to the MOVIE!!!!
December 07, 2005
This movie was absolutely hilarious! I`ve seen it twice now! The main actor is so funny in all of his movies! love it
December 05, 2005
I can`t stand that guy.
November 23, 2005
Sooooo funny!One of those movies you can just laugh your head off from beginning to end without thinking too much about the plot and what not...Just laugh and have fun!
November 14, 2005
I Don`t think I ever stopped laughing!!!!
November 14, 2005
lots of hah hah hah!
November 09, 2005
too much stupid stuff, the basic movie was good would have been better if they didn`t use so much 18A content
November 03, 2005
It was a funny movie,lots of gag jokes....no need for the ending where they sing, that was stupid!
October 31, 2005
I LOVED THE 40 YEAR-OLD VIRGIN MOVIE IT ONE OF THE BEST COMEDY I EVER SEEN IN A LONG TIME
October 31, 2005
An absolutely moronic and juvenile offering. Demanded and received a refund.
October 28, 2005
I was on the floor the entire movie...ridiculously hilarious.
October 11, 2005
Funniest movie ive ever seen better than old school and wedding crashes put together
October 09, 2005
Loved it! Incredibly hilarious.
October 08, 2005
It was a really funny movie, worth your money.
October 03, 2005
Sleep hit for sure! I laughed from beginning to end, all the actors were funny in it!
October 03, 2005
This movie is bad dont see.
October 01, 2005
It was stupid...not funny. What a wast of my time. Two hours I will never get back!!!
September 30, 2005
This movie made me laugh from the very beginning. It takes you away from everyday life and de-stress you! highly recommended for a good belly laugh! crude sense of humour and vulgar scenes
September 30, 2005
This was a fun movie to watch but it really dragged on in some scenes. And they were the predictable scenes which made it seem all the more tedious. But OVERALL, there were some good laughs and Andy was endearing as a 40 yr old virgin. His buddies were for the most part pretty entertaining as well. It was better than this summer`s other big comedy, The Wedding Crashers.
September 26, 2005
I`m so glad my buddy had it on DVD and I didn`t have to pay to see it, it was one of the few movies I would have walked out on in a theatre. I`m sure you can find better things to spend your money on...
September 25, 2005
I thought this movie was funny. This movie is for people who are just looking for a good laugh. It was stupid funny.
September 24, 2005
LOVED IT ...THOUGHT IT WAS HILARIOUS..........FUNNY AS HELL..............MUST SEE
September 21, 2005
This movie was so much better then the Wedding Crashers it was hilareous and so entertaining. Luvs it!!(L)
September 19, 2005
This movie was definatley funny from start to finish...it`s one to been seen over and over (maybe 3 times, which is how many times I`ve seen it). It`s just down right cute.
September 19, 2005
The language and crude sex and puke scenes in this STUPID movie were unbearable! R rating was good for this movie ~ but I DO NOT recommend any adult suffer this dumb movie! STAY AWAY!
September 19, 2005
WEDDING CRASHERS WAS ALOT BETTER!!!!!!!!!!!!!!!
September 19, 2005
The sex humor was so bad I had to leave the theater after 20 or 30 minutes. They should change it from 14A to R. In Canada as well in America. But I will wait when it comes on DVD.
September 18, 2005
Very funny movie I loved it
September 18, 2005
Excellent. This movie was hi-larious. Better than wedding crashers. 5 stars
September 17, 2005
awesome better than wedding crashers
September 16, 2005
very entertaining movie
September 15, 2005
Funniest movie in a long time! Amazing writing. Steve is hilarious, great acting. Better than Old School.
September 14, 2005
IT WAS SOOOOOOOOOOOO STUPID!!!!!!!!
September 13, 2005
really funny...better than wedding Crashers
September 13, 2005
It was funny but not laugh out loud. Some gags went on way too long and the ending was really unnecessary, looked like a ripoff of the music video in the extra features of Anchorman. But if you like that total non-reality humor with jokes coming out of left field, then 40 Year Old Vigin is for you, it was for me.