The 40-Year-Old Virgin - User Reviews
Thank you for rating this movie!
Read your review below. Ratings will be added after 24 hours.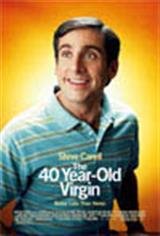 3.82 / 5
User Rating
Based on 3270 votes and 159 reviews
---
Please rate movie 1 to 5 stars
Showing 51 to 100 of 159
September 11, 2005
It was a great movie.. I enjoyed it.... I would so see it again.
September 11, 2005
Attempts to appease two different audiences. Lots of low-brow material in the first portion to appeal to the high school dropouts, amd a flimsy love story to appeal to their girlfriends. Differing philosophies on sex and relationships are represented by the virgin, the hopeless romantic, the ubiquitous stoner, and the stereotypical black player are unoriginal, but it is nice to see the lead stick with his principles. Loose ends are tied up very quickly and unrealistically; it is hard to believe much of what happens in the 2nd and 3rd Acts of this romantic comedy. Blatant product placement in the first few scenes of the movie! The characte
September 10, 2005
I thought it would be funnier... maybe Will Farrel should have made a cameo!
September 10, 2005
This movie was more annoying then funny. What stars? Movie does not deserve any stars. It was the way this movie was put together. Proper direction and casting should make the idea of the movie jump out at the audience. A better cast, direction and more talent would have produced something worth watching. For lover of comedy this puts comedy to shame. I grew up watching comedy. And I enjoy silly films such as Meet the Flockers, American Pie and Another Teen Movie and other classics. This is in a category of it's own for overrated and low budget film. It fails in it's comic delivery and is only successful in annoying it's mature audience.Thos
September 09, 2005
GO SEE IT - it`s pretty funny and compared with the normal tripe out there it`s a GREAT laugh.
September 08, 2005
Don`t waste your money to see this one! It got boring very fast. How could people rate this movie with 5 stars????????
September 08, 2005
I didn`t think any other movie this year would make me laugh more than "Wedding Crashers" but this movie did! Halarious....worth the money...and these `unknown` actors did a really good job...
September 06, 2005
THIS MOVIE WAS AWESOMELY HILARIOUS!! WHOT WHOT!!! GO SEE IT NOW!!!
September 06, 2005
Bad Movie - The supposedly meant to be humorous scenes were lost in to horrible acting. The cast of unknown bad actors have created a movie NOT worth watching. This was an amateur copy of an SNL skit. It would have been 10x funnier if Will Farrell took on the roll. The actor who played the 40-year-old virgin portrayed a creepy (The Brady) meets (Mr. Beans) character. I felt like gauging through most of the movie while watching this literally unpleasant looking actor get it on. Gross
September 06, 2005
Definatly required the "R" rating!!! But funny in a stupid, college type humour.
September 06, 2005
This movie was only mildly funny, and barely worth $10. First time feature length director Judd Apatow had SERIOUS problems with pacing and plot flow, and Steve Carell, while funny, lacked ANY chemistry with Catherine Keener... or any other female he was paired with for that matter. I get it that he`s a virgin and lacks charisma in general, but I never felt that Trish (Keener`s character) should actually LIKE Andy, aside from the fact that she`s old and barely employed with three kids. That may attract her to him, but when she professes her "love" for Andy after only dating a month or two, I was like, "Huh? Are you kidding me?" Other par
September 06, 2005
Probably the hardest I`ve ever laughed in a movie theatre. Even better than I expected. Lived up to the hype...
September 06, 2005
Too freaking funny!!!
September 05, 2005
If you really are a grown up adult, then you would know that its "profane" not "profanity" language.
September 05, 2005
Best Movie!!!! Omg it was SO FUNNY!!!!!!!!!!!!! LOLOL
September 05, 2005
THIS MOVIE IS THE FUNNIEST MOVIE IVE SEEN ALLLLL YEAR!!!!!!!
September 04, 2005
to these "mature adults" about to go see the movie: the title is called "the 40-year old virgin." if ur expecting some sort of mature, idealistic storyline, go home cause ur not going to get that! this movie is for anyone with a sense of humour. very real story, extremely likeable characters, and non-stop hilarity!! a must-see for the summer!!!!
September 04, 2005
it was stupid and a sad statement on north american society that more than 2 out of 3 people liked it.
September 04, 2005
This movie was EXTREMELY BORING AND STUPID! I was greatly dissapointed.
September 04, 2005
I have`nt laughed this much during a movie in years, this is one of the funniest movies I have ever seen !!!! This movie is definately going to be added to my DVD collection !!
September 03, 2005
The movie seems to have scenes in it for filler, the swearing is for young people humour, and the ending is way out in left field. The movie does have merrit. It promotes the idea of asking questions and exploring thoughts with your partner. Learning and appreciating your partner is more important than having sex first. A very good show but a little too long.
September 03, 2005
Very hilarious..but also very grosss.
September 03, 2005
It was way sexual than i expected..but it was funny...not a five star movie but a four star
September 02, 2005
Not bad, funny in parts. Definately liked Dukes of Hazzard better. Should have waited for the dvd. too much profanity
September 02, 2005
Best Movie of the Summer!!!
September 02, 2005
WAY better than I expected. There was real character development and I found myself liking many of the people in the cast. Movie comedies are often just sight gags, toilet humour and slapstick ... this movie has all of those elements ... built on cardboard characters. This one fleshed out the characters and make us care about them. Nice job.
September 01, 2005
This movie isn't so funny for a grown-up adult, in the theater those who were laughing was just bunch of young teens, I sat around among matured audience but none was laughing for this comedy because this movie is nothing but using profanity language. The comedy is based on sexual desire and profanity language. Money is well wasted.
September 01, 2005
i felt that it was rated too high i am 13 years old and my parents did not want me watching it finaly they let me i though it was a good movie but it was rated too high i though it could be rated PG13.
September 01, 2005
KNEE SLAPPING HILARIOUS
August 31, 2005
well played! hilarious
August 31, 2005
HILARIOUS...I was crying at some parts...definately see it!!!
August 31, 2005
I thought it was really funny, go and see it!
August 31, 2005
I haven`t laughed so hard in long time. This movie was so enjoyable, the entire cast was funny, not just the main character. I`m telling everyone to see this movie, if you want to laugh out loud this is the movie to see!!!! AW
August 30, 2005
The funniest movie of the year (and I`ve seen them all so far)!!! An excellent story that is very real, honest and down to earth. Great acting and very relateable funny (not wacky funny). This is a must see film!
August 29, 2005
This movie is absolute jokes! Honestly, Steve Carrell is a pretty hilarious guy! He was funny in Anchorman and is a million times more hilarious in the 40 year old virgin. Mind you, just kind of wondering why it was rated 14A, it should be rated R. Anyways back to topic, I totally reccomend it to anyone who`s looking for a great laugh because 40 Year Old Virgin totally delivers!
August 29, 2005
was a good movie, alot of laughs, but i preferably would see wedding crashers first before seeing this movie (owen wilson fan here)
August 28, 2005
This movie has no redeeming feature whatsoever!! All I have to say beyond this is "why did they even bother?!"
August 28, 2005
This is the worst movie I have ever seen!!!!!!!!!!!!!! You don`t know how happy I was when it was over. It was probaly the most happiest time of my whole life!!!!!!! Don`t see it!! You will regret it!!!!!!!!!!!!!!!!!!!!!!!!!!!!!!!!!!
August 28, 2005
It was a lot more movie than I was expecting. The first half was really funny, the second half was quite cute & romantic. People sat through the first minute of end credits without moving because the movie was a bit better than most people expected. Teenagers didn`t like it (boring/dumb) 30-50yr olds liked it. Good for a giggle.
August 27, 2005
I LAUGHED TILL IT HURT
August 27, 2005
awesome movie and funny
August 27, 2005
F-U-N-N-Y!
August 26, 2005
Awesome movie, so funny. Go see it. Is FUNNY.
August 26, 2005
Awesome!! The most hilarious movie I have seen in a long time!
August 26, 2005
There is a reason it`s rated 18A, so if you`re easily offended, don`t bother. If you aren`t, you`ll love it. It was totally hilarioul. Steve Carrell has really out done himself.
August 26, 2005
Awesome movie, its hilarious you must see this movie
August 26, 2005
i missed the ending because i was laughing too hard, who cares about the profanity, its a fun filled movie. tons of laughs! haven`t laughed this hard since Dodgeball, priceless movie
August 26, 2005
Awesome. Great movie, and it was funny throughout. Better than Van Wilder, and Wedding Crashers.
August 26, 2005
Sorry but those that think this was such a wonderful movie have a very low expectation for humourous entertainment. The profanity was waaaaaaaay overdone but seemed like it was being made a focal point so no one would notice the lack of taste and professionalism throughout the whole movie. I`m no prude but found this to be totally distateful. The only ones I saw laughing were some adolescent boys down the row from us and, of course, they thought it was hilarious. Even if you have free passes - don`t waste them on this one!!!
August 26, 2005
great film, had everyone laughing a must see!