The 40-Year-Old Virgin - User Reviews
Thank you for rating this movie!
Read your review below. Ratings will be added after 24 hours.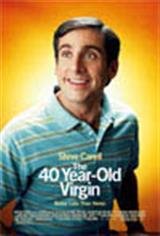 3.82 / 5
User Rating
Based on 3270 votes and 159 reviews
---
Please rate movie 1 to 5 stars
Showing 151 to 159 of 159
August 19, 2005
First saw Steve Carell in The Office and he was very disappointing in that. The other actors were good, but he just didn`t pull it off. Same here. He`s not funny at all and his attempts at humor are cringeworthy. I don`t see what waxing your chest has to do with acting (responding to comment below). Anyone can wax their chest but it doesn`t make them funny or a good actor.... duh.
August 19, 2005
AMAZING MOVIE: I thought this movie was original and hillarious, I am sorry for the prudes who didn`t enjoy it, maybe Classical music and wine is more of your thing. If you like to laugh and actually enjoy life go see this movie. I laughed more than i did in Wedding Crashers. And give the lead actor a break people. HE ACTUALLY HAD TO WAX HIS CHEST for that scene so all the reactions are real. Makes for an amazing scene. GO SEE THIS MOVIE
August 19, 2005
The story line failed to reach its potential. Many of the laughs could have been achieved without the extreme vulgarity. With this movie expected to take in $20M in the first week, the laugh will be on the audience!
August 19, 2005
NOT FUNNY AT ALL! PATHETIC, THESE WRITERS NEED A NEW HOBBY.
August 19, 2005
Horrible. The lead actor stinks, his acting is sooo bad.
August 19, 2005
Absolute garbage. This kind of putrification is one of the reasons I am going to cut down on going to the movies.
August 19, 2005
WOW EXCELLENT! GO OUT AND SEE IT INSTEAD OF WEDDING CRASHERS!...thank you, nick p
August 19, 2005
THE 40 YEAR-OLD VIRGIN IS HILARIOUS!!! STEVE CARRELL IS FANTASTIC & FUNNIER THAN EVER!!! THIS SUMMERS MUST-SEE!!!
August 19, 2005
Go see it. Much better than the wedding crashers. Hilarious, the funniest movie i`ve seen all year