The Adjustment Bureau - User Reviews
Thank you for rating this movie!
Read your review below. Ratings will be added after 24 hours.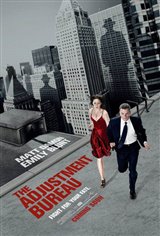 3.66 / 5
User Rating
Based on 634 votes and 207 reviews
---
Please rate movie 1 to 5 stars
Showing 1 to 50 of 207
September 30, 2012
It haad a Very unique thrill to it. It was different. I wished there would have been a sequel.
January 05, 2012
Entertaining movie, albeit a bit slow at times.
December 20, 2011
Unique story line, but it's missing something...good script maybe.
December 16, 2011
Pretty cool flick!!
December 15, 2011
Entertaining movie with an interesting concept. Good acting by Damon, as usual.
September 25, 2011
It's an interesing concept, but the overall take is quite boring.
September 05, 2011
Loved the chemistry between Matt Damon and Emily Blunt! Wished the movie was longer! Really enjoyed it.
August 07, 2011
Entertaining, certainly made you think.
July 23, 2011
AFAICT you've cvoered all the bases with this answer!
June 12, 2011
this movie is poor not good acton
June 04, 2011
I was very impressed with this movie - no guns, no car chases or explosions, etc, yet I was on the edge of my seat in anticipation.
May 27, 2011
this movie is good
May 07, 2011
I am glad that I only paid $3. What a dissapointment!!
April 15, 2011
the movie is good better then tangled
April 15, 2011
the movie is good
April 15, 2011
the movie is excelnt betterfast five
April 14, 2011
If you're expecting anything like the Bourne series you will be thoroughly dissappointed.
April 14, 2011
Bad movie.
April 14, 2011
It's a fairy tale and not very good at that.
April 14, 2011
Really strange movie.
April 14, 2011
"Action packed" - Are we talking about the same movie? I never watched such a sleeper.
April 13, 2011
This movie was fantastic! I'm a big Matt Damon fan, and love his versitality as an actor. This movie keeps you guessing and it's romantic too, which is a bonus for both men and women. A definite date-night movie with lots of action and interesting twists.
April 09, 2011
Excellent movie. Very romantic and dramatic at the same time.
April 07, 2011
good movie
April 06, 2011
Loved that credence is given to the idea that all that occurs, may indeed be part of a bigger plan, not just by chance.
April 06, 2011
Action packed. Made you think! Very enjoyable. Great acting!
April 06, 2011
entertaining
April 05, 2011
worth seeing - different concept that works
April 05, 2011
Fantastic movie. Great performances, great idea for a movie.
April 05, 2011
The movie kind of reminds of The Butterfly Effect, it was a little twisted but not as entertaining as the ususal Matt Damon Bourne Sequels
April 05, 2011
Matt Damon is superb in this sleak romantic/sci-fi/thriller based on the classic Phillip K. Dick short. The movie is twisted tale that gives a slanted view on the world and how chance encounters happen.
April 05, 2011
interesting and intriguing movie!! Worth the $$
April 05, 2011
was a very very good movie would deff go see it again
April 05, 2011
Interesting story. Had tons of potential, but let down overall.
April 05, 2011
Really good movie, turned out to be a bit more of a love story than I thought it would be.
April 05, 2011
verry good movie, Matt damon was very good in this one, i would go see it again, the girl is good too, i think they go beautifuly together. i recommend this movie of fan of matt Damon and a action movie like the Borne identity. I think he is good in those kind of movies. I though the storie was very interesting, that will all have a plan. but we can always change it because people change with time and you cant choose who you fall for, and if you love somebody and you want to be with taht person, do anything to get her or him , just like he did in the movie, even wait for the person , because if you are met to be together she or he will find you one day.
April 05, 2011
I thought it was a very good movie, had action and everything bit of a lovers movie as well.
April 05, 2011
It was okay, acting was good, i thought i would hate this movie, but i left the theater well statisfied from it
April 05, 2011
Awesome movie.
April 04, 2011
An interesting movie with a unique plot.
April 04, 2011
good movie, more of a renter
April 04, 2011
I would consider The Adjustment Bureau to be a toned down version of Inception. I would say the plot was above average, however the cheap visuals and poor dialogue left behind a sour taste.
April 03, 2011
Great movie, exciting! Kept us on the edge of our seat.
April 03, 2011
Uh, watching paint dry is actually a little more exciting.
April 03, 2011
Not much playing that's any good at this time including this one.
April 03, 2011
That was a bizarre movie.
April 03, 2011
Quite dissappointing. Expected more from a cast like this.
April 03, 2011
Very well done! The combination of sci-fi and romance made for a very enjoyable movie. I am not a fan of PDA, so eluding towards real love and not bombarding the viewer with elicit images was definitely a plus for me.
April 02, 2011
Great movie. Lots of fun. Plenty of action.