The Amazing Spider-Man 2 - User Reviews
Thank you for rating this movie!
Read your review below. Ratings will be added after 24 hours.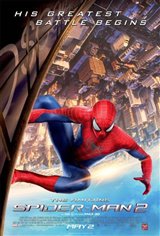 ---
Please rate movie 1 to 5 stars
Showing 1 to 50 of 70
August 25, 2017
I like this electro backstory.
January 07, 2015
This felt like a Spiderman movie more than a lot of the others. It was a little mumble-core, too, which was good at some points.
October 13, 2014
Although the villain Electro is a bit disappointing, The Amazing Spider-Man 2 is an entertaining and exciting movie.
August 21, 2014
Great movie. Every movie series needs to have a more story based film and I feel this was the right time to do it. The next movie will be more action packed rather than peters life which will be awesome.
August 19, 2014
Like a Big video game. Will not care to watch the next to come. Very desapointed.
August 11, 2014
AMAZING YO!!!!! iloved this movie it is great for kids and my cousin and i loved it! i can't wait till the other ones come out.
August 11, 2014
The movie is amazing!! Loved it, the effects are amazing especially Electro's effect!!! Love the idea of dubstep on each attack of Electro!!!
July 30, 2014
The Rhino is the best movie villain of all! WOW!
July 30, 2014
Take away the green goblin and rino, and this movie is awesome
July 24, 2014
Those who didn't like it probably had very short attention spans, sorry but action isn't the only thing that a superhero movie needs. I personally loved it. It's much better than any of them so far, it's got an amazing story, great cast, etc. The only reason I knew the sad ending was coming was because my father read the comic books as a kid (he enjoyed the movie as well).
June 26, 2014
Chick flick. Lame jokes. Overall, bad.
June 25, 2014
If you like superhero movies you will love this one. Best Spiderman movie hands down. Really well done.
June 09, 2014
A little long at almost 2-1/2 hours. I liked the movie, good story and lots of action. Too much CGI though. Enjoyed it.
June 05, 2014
The movie stayed true to the comic, and was action-packed and interesting throughout. Personally, I believe there should've been more on Harry and Peter's friendship, but nonetheless it was still a great film! I might even say it's [one of] the best Spidey films out there, so far.
May 29, 2014
I loved this movie, the action, the story, the characters. I didn't get bored at all during the whole movie... I love the villains and the main characters... and the movie was a bit funny as well. It was great.
May 27, 2014
Forgettable characters, amazing CGI fight scenes, and I do sense the character development between Gwen and Peter.
May 27, 2014
Acting: A- Story: B Writing: F Effects: A
May 26, 2014
A little too dark for my tastes, but it's based on a true story, which helps.
May 25, 2014
I took my 10 year old nephew to this movie he enjoys superhero movies...He wanted to leave after 15 minutes in, the movie was too cartoonish and spider-man character constant buffoon--it was bad film..We exchanged our tickets for X-Men: Days of Future Past--which was a good movie
May 25, 2014
Took my 2 young boys and they stayed still the whole movie. we all love it
May 25, 2014
AMAZING, SPECTACULAR, EXCITING, ROMANTIC, FUNNY,
May 24, 2014
I watched this movie it was amazing how that guy turned into a monster i watched it on my birthday at the drive in
May 23, 2014
Its a waste of time and money. Story kept dragging all the way till the end. Hardly 10 to 15 minutes of action in the entire movie. This movie was a disappointment to me
May 22, 2014
Best movie ever
May 19, 2014
good acting really bad storyline made for a child too many flaws and contradictions. The director should be fired .
May 19, 2014
Really bad writing in this one, the cheesy one liners weren't even funny and the villains were dumb. Jamie Fox was painful to watch, I hope they don't make a third, let this franchise go to pasture.
May 19, 2014
This movie flew by. Non stop entertainment. A must see.
May 17, 2014
A great movie. Well acted and written. The coolest thing was the way the camera followed Spider-man as he swung through the city. It was so much better then the other Spider-man movies in which the web slinging was fairly 2 dimensional.
May 15, 2014
This movie was really good. Full of action, love, and bad guys.
May 13, 2014
Better than all previous Spidermans combined !
May 12, 2014
This movie was spectacular,astonishing dare i say AMAZING! 5 out of 5 Best Spidey yet!
May 12, 2014
Too much story, too little action
May 12, 2014
The worst Spider-Man yet -- and that's saying something.
May 11, 2014
Wish I could get my money back. HORRIBLE MOVIE! Nobody in the theatre laughed, clapped, or cheered. Rhino wasn't a villian in the movie. 2 hours of guilt trips, whining, sad pointless conversations, 10 minutes of Electro, 3 minutes of Harry Osborne as the goblin. I wasted my money and wasted a Sunday afternoon.
May 11, 2014
If this is an indication of what we're in for at the movies this summer, I'll be going to a lot more Blue Jays games.
May 10, 2014
Amazing spider man, definite feel good movie up there with avengers. Spider sprisingly can stand alone. Worth watching in 3d
May 10, 2014
Amazing movie! People who do not like it, watch Dr. phil!
May 10, 2014
Expected more from the movie and the plot. Not sure I will be as excited looking forward to part 3 as I was looking forward to part 2.
May 09, 2014
well done movie but they shouldn't of killed off Gwen. So sad! Excellent movie though
May 08, 2014
it was amazing i love spiderman
May 07, 2014
Awesome movie in 3D IMAX. The special effect are amazing.
May 07, 2014
A real heart breaker this one.
May 07, 2014
i like spider man,,, not so much for Andrew Garfield acting.. Spider man should have more screen time.
May 05, 2014
A MASTERPIECE! SPECTACULAR
May 05, 2014
THE BEST MOVIE EVER!!! THE BEST SPIDERMAN YET!! A STUNNING MASTERPIECE LIKE NOTHING YOU HAVE EVER SEEN BEFORE!!! BEST MOVIE IN THE UNIVERSE, I CAN'T WAIT TO SEE IT AGAIN!!!
May 05, 2014
If you are looking for a drama, love story this is the movie for you. If you are like me and love your super hero movies, skip this one or watch it at home where you can fast forward past the hours of boredom.
May 05, 2014
These movies are only as good as their villains, and the villains in Amazing Spider-Man are a joke.
May 05, 2014
We were among the many who left after the first half-hour. They've killed the franchise with this lame effort.