The Assassination of Jesse James by the Coward Robert Ford - User Reviews
Thank you for rating this movie!
Read your review below. Ratings will be added after 24 hours.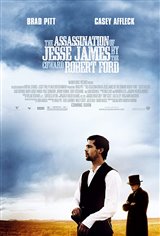 ---
Please rate movie 1 to 5 stars
Showing 1 to 32 of 32
July 01, 2017
Very good the intensity of no country for old men with a true story and a great performance by Brad Pitt & Casey Affleck
February 10, 2009
What a cool perspective for the Jesse James story. I really enjoyed the story and how it was told. Very long so make sure you are in the mood for a long slower movie and you will enjoy it.
October 15, 2008
very good movie and was done very good overall
August 04, 2008
what a good movie. amazing acting by all. very smart way to film a movie. even though its 160 minutes its worth ever second. a must watch.
August 04, 2008
Very quiet movie, but the acting and cinematography were top notch. A must see..
February 04, 2008
inteligent movie for intelligent people
December 22, 2007
This is not your typical movie. This is more of a "film" with very good acting. It is long but I think was necessary to get the story across. Recommend watching it.
December 11, 2007
yawn.....
November 25, 2007
zzzzzzzzzzzzzz
November 19, 2007
I think Brad Pitt is an amazing actor and am hardpressed to not like just about anything he does.... until NOW! The worst movie I have seen in .........well, ever I think. I appreciate great acting, but come on, this movie didn't justify the 3 hours it was given. I fell asleep several times because of the slow pace. We have made a pact to always check reviews before spending $40.00 for a movie and popcorn again! The only way this movie would have been worth that was if Pitt had his shirt off for 2 hours 45 minutes of it! :)
November 13, 2007
Warning: This movie is extremely long and boring. Just letting you know so you don't waste your money like me.
November 11, 2007
Brilliant! Pitt is solid, Affleck even better. Cinematic, articitic, intelligent, compelling... Pace questionable at times.
November 03, 2007
Excellent acting.Don't expect shoot outs. Great story.
November 02, 2007
An amazing breath-taking piece of cinema. Do not expect a shoot-em-up western, rather a moving portrait of the year leading up to the death of Jesse James. The movie is excellent at portraying Jesse as both a herioc icon, and a deranged murderer at the same time. Performances by Brad Pitt and Casey Afleck are well beyond their percevied talents. I really enjoyed this movie, however not everyone will enjoy it. It is slow moving and not an action.
October 31, 2007
Those of you who fell asleep don't know acting when you see it. I guess you want all blood and gore and the computer to do all the work.
October 31, 2007
Excellent movie.Acting at it's best. I got so into it. Pitt did an amazing job and Affleck will get an Oscar.
October 31, 2007
not good. very long and boring, well acted, beautiful landscape amd setting, but very uneventful. Zzzzzz.....
October 31, 2007
bad. well written i suppose, but one WOULD expect some kind of action, more than the one train robbery at the beginning. dragged on way too long. don't expect a typical western, expect a long drawn out story of a depressed and deranged jesse james and an irritating character in rob ford. love it or hate it i guess, we chose the latter.
October 26, 2007
I can't believe people found this entertaining. I found it dragged in so many places and found better renditions of this story in docudramas.
October 22, 2007
Haha. Exactly. Go in with the expection that youre gonna get a peek in on the life of Jesse James, in the time leading up to his death. Even heros die when they get shot. This isnt a hollywood western. It a hollywood attempted recreation
October 22, 2007
Its a drama. Not a shoot em up western. And not the comic book character, hero of the wild west that he was made out to be in his time. This movie attempts to show the likely reality of who Jesse James was, and also his killer Robert Ford. It moves slow, just like life in the pre-technology wild west did too. Did you expect a high speed chase scene to happen in the days of 1-horse-power?
October 22, 2007
The besy performance Brad Pitt has done since fight club. Really really good. And Cassey Affleck was amazing. Oscar
October 14, 2007
was the worst movie I have ever watched in my life The acting was awkward at times and a boorrrriinng plot I would rather watch the paint dry
October 13, 2007
Excellent movie. A thinking man's western. Did a great job of portraying the paranoid psychopath that was Jesse James and how Robert Ford was wrongly scorned.
October 08, 2007
It sucks, toooo slow not enough action, borrrrring and way toooo long.
October 07, 2007
too slow movie.........and guess what?....a bit of boring too.
October 07, 2007
Beautifully filmed, great cast and well acted but very tough to watch. This is not a shoot-em-up western!
October 06, 2007
Bring a pillow. Fantastic opportunity to catch up on your sleep. Still waiting for something "dramatic" to happen. A poor movie trying to cash in on Brad Pitt'appeal.
September 29, 2007
Boring at best. I actually fell asleep at one point (and I wasn't even tired). I thought it might be interesting to see the true story of J.J., I guess I was wrong. Very slow, ok acting, nicely shot, EXTREMELY POOR PLOT.
September 23, 2007
Darkly beautiful,slowly moving as the Alberta landscape that it depects.
September 22, 2007
I bit too long and I could do without the voiceover. Otherwise a good movie.
September 21, 2007
great acting by bradpit! worth the money