The Back-up Plan
Thank you for rating this movie!
Read your review below. Ratings will be added after 24 hours.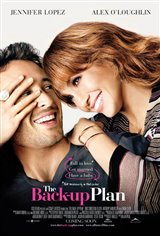 3.34 / 5
User Rating
Based on 664 votes and 171 reviews
---
Please rate between 1 to 5 stars
Showing 1 to 50 of 171
January 13, 2015
Wonderful!
January 02, 2011
The best thing about this movie is the little dog with wheels for hind legs.
September 03, 2010
Fun to watch! Even my husband liked it who is not a chick flick fan!
August 31, 2010
Stodgy, predictable, and Jennifer Lopez should stick to singing. She needs acting lessons badly because she delivers every line with over-exaggerated expressions and no tonality whatsoever. Where are the talented actors who can fill the female lead in this without propping up Lopez as the lead - she sunk the movie, sadly. Alex O'Loughlin tried, but just couldn't carry it on his own. Too bad. It could have been a flirty, sweet watchable instead of a drag.
July 30, 2010
I enjoyed it.
July 30, 2010
Hilarious! Funny movie! great date movie or chick flick. J.Lo did an amazing job!
July 30, 2010
a typical attempt at a romantic comedy, the plot is pretty basic, boy meets girl, boy looses girl, boy gets girl back, the twist is that the girl is pregnant before she meets boy. There are some cute moments in the film, but there is no chemistry between the stars and the relationship is unbelievable.
July 29, 2010
J.lo is poppin, great performance, hilarious movie. Two thumbs up.
July 29, 2010
When I just got out of the theater, I was just so excited to find my future partner! Amazing movie!
July 29, 2010
My niece and myself loved the movie. Great flick!!!
July 29, 2010
Cute movie...
July 29, 2010
This movie is cute. The story isn't too predictable. Well, at least, I've never seen another movie about a woman who decides to have a child by herself. There were some really funny scenes. For the most part, it was just about a girl falling in love with a guy.
July 29, 2010
Very average. JLo is not much of an actress ... movie is very predictable.
July 29, 2010
a ROMANTIC COMEDY IT IS NOT...ALMOST BORING...SUCH A SHAME BECAUSE IT COULD OF BEEN SO MUCH BETTER THEN IT WAS/IS
July 29, 2010
Love it! so funny!
July 29, 2010
Jennifer Lopez is a great actor for someone who also sings (it seems it's not always an easy thing to be both). The combination of J.Lo and Alex O'Loughlin is fresh and funny!
July 29, 2010
I thought this would be better. It was just ok.
July 29, 2010
Can't stand SJP. Horrible movie.
July 28, 2010
Horrible, what a waist of money. Lopez was so bad!!!! I would not recommend anyone to see this movie in the theatres.
July 28, 2010
Love Jennifer Lopez and the sappy movie theme. Great chick flick.
July 27, 2010
This movie was horrible and boring. Jennifer lopez should stick with singing no offense.
July 27, 2010
Predictable, disappointed with this one. I expected more out of this movie.
July 27, 2010
Predictable and disappointing.
July 26, 2010
Too bad this plot had no back-up plan.
July 26, 2010
Enjoyed the movie, happily ever after.
July 26, 2010
It was an ok movie but I thought it would be funnier. A bit dissappointed
July 26, 2010
I was pleasently surprised by this film. I feel I got exaclty what I paid for and that was a light hearted romantic comedy where Jennifer seems to excel. I feel it is wrong to compare this to an oscar contender. Remember what you are looking for when you watch this movie it is light and cute as it should be and it hits the mark.
July 26, 2010
IF you've got absolutely nothing else to do - then watch it. Otherwise it's a huge time waster.
July 24, 2010
Predictable, absolutely nothing to make this movie stand out. Forgot it before the credits finished rolling.
July 23, 2010
Total waste of my time
July 22, 2010
I talked my friends into watching this movie and at the end of it I had to ask for their forgiveness.
July 22, 2010
This was an awful movie. It was very predictable and boring. There was nothing original about it. There was a slight poor attempt At humor that did not work. It was just like every other chick flick out there.
July 22, 2010
It had potential, but got stupid, and had some forced grossness that it didn't need. Not too bad, though.
July 22, 2010
I thought it was cute romantic comedy.
July 22, 2010
this was nice.
July 22, 2010
seriously!? an ipad!!! oh wow. anyways. i liked this movie.
July 22, 2010
could have been better
July 22, 2010
a 'wil-do' movie
July 22, 2010
IM STILL CONFUSSED WHY ITS called the back up plan.
July 22, 2010
wow, she really wants a baby that bad!?
July 22, 2010
a predictable movie like one of the other comments said.
July 22, 2010
Ha. the dog part was really funny
July 22, 2010
not the best movie jennifer has done, but good enough
July 22, 2010
Jennifer Lopez kicked it good
July 22, 2010
The acting in this movie was well performed.However,the strory line wasn't mind blowing.
July 22, 2010
Alright movie - a few good laughs but quite predictable
July 21, 2010
A very predictable film. It was a typical 'chick flick', and didn't offer any unexpected twists or turns in the plot. Knowing that it was predictable, it however was a decent movie for a relaxing night out and a few chuckles along the way.