The Best of Me - User Reviews
Thank you for rating this movie!
Read your review below. Ratings will be added after 24 hours.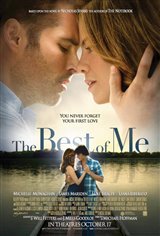 ---
Please rate movie 1 to 5 stars
Showing 1 to 13 of 13
March 03, 2015
Thoroughly enjoyed this movie.
February 10, 2015
Terribly boring movie, and filled with gendered roles of the men and women, absolutely nothing new or exciting about this movie. Racist in the fact that it was 100% white characters, and biased and sexist in that the characters were A typical "man" and "woman." 0/10, wish I hadn't wasted my time watching this.
February 03, 2015
Loved this movie, was one of the best Nicolas Sparks movies yet! Chick flick but my husband loved it as well
November 30, 2014
Best movie I have seen in a while, great plot, great acting, great story twists and solid story.
November 06, 2014
MORE LIKE BEST OF YOU. BAHAHAHAHAHAHAHAHAHAHAHAHAHAHAHAHAHAHAHAHAH
October 30, 2014
One of my the movies I saw this year I don't often rate movies but thought this move deserved it a 5*
October 23, 2014
I thoroughly enjoyed this movie it's a love story. I though it was really enjoyable for people that believe in first love
October 23, 2014
Nicholas Sparks at his best.
October 22, 2014
This was an easy movie to watch. life is harder for some and we all fall in love. I understand where her dad was coming from.. I would be the same. Sometimes love insn't enough but these show a different story.. I enjoyed it and he is soo easy to watch anyway.
October 18, 2014
An outstanding job by Nicholas Spark! His best movie yet I can't get enough of it. The movie was definitely better than the book. A must see movie about how far one will go just for love.
October 18, 2014
This movie was absolutely amazing. It's got a great story. Way better then The Note Book. It's a chick flick. I took my husband and he really liked it. I dare you to watch this and not cry, such a beautiful movie.
October 16, 2014
If the movie is anything like the novel, it will get a 5 star rating from me. The girls are going to love this "chick" flick.
October 16, 2014
2.5/5. While entertaining, this predictable formulaic film just leaves you rolling your eyes. Firstly, try getting younger and older versions to look at least similar. Notebook rip off. Lead actress cannot cry. just as the crying scene is about to end is when you might get a glimpse of a tear. Gerald McCraney was good but seemed like a Clint Eastwood gruff character. Take a date. Girls will cry like crazy. Advanced screening is what made it worth it.