The BFG - User Reviews
Thank you for rating this movie!
Read your review below. Ratings will be added after 24 hours.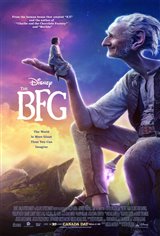 ---
Please rate movie 1 to 5 stars
Showing 1 to 24 of 24
July 21, 2017
This story was full of energy and just made my evening watching it. Really good stuff
August 12, 2016
Unpredictable, Fun and heart warming! I especially loved that the GIANT was ugly and she loved HIM almost from the start. GOOD lesson here. Thanks for an an all round lovely Movie.
August 01, 2016
One of the most awesome childrens/family movie I have seen. Right up there with ET! A must see!
August 01, 2016
a beautiful fairy tale...must watch
July 21, 2016
I`m undecided on 3 or 4 rating. The primary characters were terrific yeah Mark Reliance. The animation also terrific. My opinion went the south with the introduction of the queen though.
July 20, 2016
a big dissapointment
July 19, 2016
I loved this movie. I went in with pretty high expectations as I've been waiting years for this to come out. I was not the least bit disappointed. I wish more would go see it. It didn't do well at the box office. People need to give it a chance. It's so well done, and a great story for all ages!
July 17, 2016
Good for children and adults as well. Great family entertainment.
July 15, 2016
This movie was so stupid that we left in the middle of the movie. Very boring movie and very ridiculous saying witch should be not on film. This should never came to threatre. Don't waste your money...
July 11, 2016
Very entertaining !! Exceptional new twists. Loved the animation as he was soo ugly at first and then very sweet after you got to know his personality. All round great movie for adults or children. Thank You
July 10, 2016
"I seed this movie, and I is very proud to say, This is My Favourite Film of the Year! A golden phizzwizard come true for human beans! Mr. Spielberg and Mr. Dahl, you is geniuses!"
July 07, 2016
it was a REALLY good movie and had a good story to it. I am so happy I saw it (: (: (:
July 07, 2016
this is the best movie I've seen in a long time. so I personally loved it (: I hope you like it to.
July 06, 2016
Really nice story well developed and easy to follow. Good animation, kept attention all through movie.
July 05, 2016
Funny, entertaining fantasy movie. Great CGI and special dimensional filming with "fractured" words/vocabular, whimsical, hard to understand , but got the gist of it, kinda twisted. Did not read the book, is R Dahl husband to actress Patrcia Neal?
July 04, 2016
Could have been so much better. My k8d enjoyed it but the story was weak and it seemed rushed.
July 04, 2016
Great for kiddos on rainy 4th of July. Took our 6 and 10-yr-olds and they both enjoyed.
July 03, 2016
Very disappointing movie. I will say the effects are great. However, falls flat with silly fart jokes and a "been there down that" story. There's basically no conflict in the movie. Bad move Spielberg, bad move!
July 03, 2016
Very good followed the book very well
July 02, 2016
I didnt like the story .had yo leave un the middle of the movie my 4 year old was very scared ,he didnt like it eather
July 01, 2016
I usually don't like 3D movies, but this movie was done really well. The BFG movie had a good story line and I would recommend this for family and adults.
May 19, 2016
what a lovely story.
December 09, 2015
it is really cute.