The Bling Ring - User Reviews
Thank you for rating this movie!
Read your review below. Ratings will be added after 24 hours.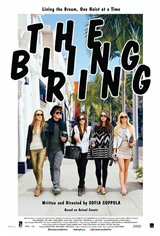 ---
Please rate movie 1 to 5 stars
Showing 1 to 19 of 19
April 18, 2015
Very entertaining. They are so dumb it's almost too much to watch.
July 16, 2014
a complete was of time, not to mention a total waste of talent.
February 06, 2014
Shallow, superficial, hollow, GREAT!
September 25, 2013
This movie is as entertaining as sitting on the toilet and waiting for a shit that will never come. And they couldn't of used REAL CELEBRITES instead of crap Hilton? What a joke. Seriously, this is why women shouldn't write movies, they can't come up with anything! Don't they realize you have to use you're brain when you're screenwriting? Obviously, the boring/useless idiot who wrote this muck didn't. She said she just got the idea from reading a article, maybe you should of done some research on this worthless crime then just reading a article, dillweed! Seriously though, this was worse then spring breakers. That was crap too. And the celebrites not locking their do
September 19, 2013
Great film!
August 12, 2013
Great, fun to watch
July 30, 2013
I was expecting so much more...Emma Watson's performance was flawless and her dance moves were great but that's it...they could have done so much more with the story and (not counting Emma), they could have gotten way better actors...when they finally get caught all they way to the end is the best 10-15 minutes of the film
July 20, 2013
they could have done soooo much more with this movie.
June 29, 2013
This could have been good if they used real actors.
June 28, 2013
This was so bad! Sad because it had some great actresses in it.
June 28, 2013
This was so bad!!! I loved the concept of teenagers breaking into celebrities houses and stealing stuff from there house but they just told the story so horribly! There was so many parts where there should have had music and they filmed it so badly! It was so boring! I was so disappointed with this movie! I've waited forever for it...
June 28, 2013
This was a disappointing movie. The content and story line was shallow, the acting was weak.
June 27, 2013
Offensive and dumb.
June 27, 2013
Thinks it's cool and ironic but not with this cast.
June 27, 2013
May well be Emma Watson's worst movie yet.
June 25, 2013
Emma's dance moves were almost as bad as Leonardo Dicaprio's in the wolf of wall street trailer! Bleech...
June 23, 2013
Needed a stronger lead actress to carry the premise.
June 21, 2013
I didnt like it.. I wasnt expecting much from the trailer. Not worth your money or time.
May 23, 2013
totes amazing