The Book Thief
Thank you for rating this movie!
Read your review below. Ratings will be added after 24 hours.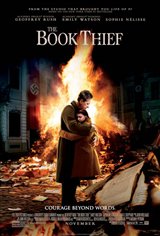 4.43 / 5
User Rating
Based on 448 votes and 198 reviews
---
Please rate between 1 to 5 stars
Showing 1 to 50 of 198
June 02, 2014
This thought-provoking drama was perfectly cast .
January 30, 2014
Having lost most of my family to the Polish/Jewish holocaust, anything below a five for this film is total disrespect and an insult to a phenomenal humanitarian film.
January 13, 2014
I thoroughly enjoyed this movie. It was in turns sad, lighthearted, painful, touching, uplifting and more. Solid performances by all. geoffrey Rush is always good, Emily watson's transformation was great- and I especially loved the scenes between leisl and Rudy.
January 05, 2014
Excellent !!
January 05, 2014
wow ! go see this movie
January 02, 2014
wonderful-a heart warming/heartbreaking movie. one of a handful in my life I would watch again
January 02, 2014
Excellent story! Very well acted by all the cast. Really. Felt I was there. Never stops to amaze me how the people of this era thought so differently than we do. Don't think most people today would be capable of rising to the occassion in such a manner as so many of them.
January 01, 2014
BRILLIANT - Best film I've seen this year and there have been other very good ones.
December 30, 2013
A tragedie of the Second World War that presents a narrative from the German people's perspective....a reverse Anne Frank story....quite moving. A tail of survival at its best and the resilience of a person throughout the emotional obstacles thrown at her by fate....
December 28, 2013
I cannot recall in my life seeing a more moving film. The audience could not move at the end of the showing.
December 23, 2013
An amazing movie! The last movie that I gave five stars was 'It's A Beautiful Life'. Movies of this quality are rare and so inspiring.
December 20, 2013
What a magnificent film! Beautiful story, well acted. It is slow moving but it is like a fine wine...you savour each sip. Not to be missed.
December 16, 2013
This movie was excellent. The story, plot and the acting throughout was superb. This movie should win an award just for drawing in it's audience. You really feel for each of the characters, especially the heroine, Lizelle!
December 11, 2013
Best book I have read in years and the movie totally did it justice. Should be a contender for a number of Oscars. Just loved it!!!
December 09, 2013
A good story, a little slow at times. would make a good family movie as it depicts the Holocaust in a very mild way so to speak. All the actors were very good.
December 08, 2013
Riveting film. Worth seeing
December 08, 2013
Compelling story and excellent acting
December 08, 2013
The best movie of the year!!!I saw 12 Years a Slave and thought there could not be any better acting then what was displayed in that movie. The Book Thief was as good, perhaps even better!!!
December 07, 2013
reminds me of anne frank,a great story
December 04, 2013
Well worth seeing.
December 04, 2013
Best movie hands down.
December 03, 2013
Although the topic has been done time and again, being narrated from Death's point of view was a new spin. The film is beautifully shot, well acted, and held my interest right till the end. I really liked this movie.
December 01, 2013
A well told true story with tremendous acting, covering a painful time in German/World history. Best movie I've seen in a long time. The whole theatre clapped.
December 01, 2013
It was the same old, old Hollywood story telling.
December 01, 2013
Beautiful movie. Would absolutely see it again.
December 01, 2013
very powerful film indeed as i just saw it today November 30th, the girl acting was excellent as u don't see that much with somebody that young stealing the show, and the others where a good as well from beginning to end, if you luv drama and war movies go see this one for sure on the big screen as i would be surprise if this doesn't win a Oscar for best film of the year, my only Tim bit is death narrating it from time to time and the very end, rather from those beefs i would of give it a five star as it is one of my top 20 favorite movies of all time, enjoy this one for sure and you wont be disappointed :)
November 21, 2013
This is a very well acted movie with endearing stars.
November 18, 2013
Awesome
November 18, 2013
EXCELLENT
November 18, 2013
Excellent and unpredictable. A movie that stands on it's own merrits. No need for special effects or extreme violence and sex. A realistic, heart warming jouney into a past that while violence was a part, it's overshadowed by the excellent storyline and characters.
November 18, 2013
For the most part, you will come out seeing this film with what you expect. "The Book Thief" takes place during the Holocaust, a subject seen in many other renowned films, but the beauty of this story comes from the perspective viewers get - that of a child's. There is an excellent blend of different pieces that move the film along well - the violence and the intensity of the time period, the touching relationships between friends and family, and the humor they all share. Though it's nothing new, the writing and lines are still great and make the characters very likable. Performances by the entire cast, no matter how small or large a role they play, are certainly deserving of praise. Even
November 18, 2013
This film followed the book fairly closely (important in my opinion), telling the story of what people will do for each other in order to survive. Acting was good, although I felt that the actors struggled a bit with the accents.
November 18, 2013
absolutely fantastic movie
November 18, 2013
This movie is so incredible amazing. It is very deep, well made and acted, fantastic story line, and about one of my most favorite subjects in the whole wide world - literature. Plus, the scenery is wonderful and so are the outfits that people wear.
November 17, 2013
Was a very good movie
November 17, 2013
4 stars excellent movie
November 17, 2013
really good movie.
November 17, 2013
Very good movie
November 17, 2013
Excellent movie
November 17, 2013
I saw this movie and i thoroughly enjoyed it especially getting to watch through their(my kids) eyes. i also enjoyed that the movie was narrated by the angel of death- it added a cool effect! thanks
November 16, 2013
Riveting, intense, emotional rollercoaster, well worth the time.
November 16, 2013
omg....best movie ever! I laughed, I cried, I felt I was there....soo many emotions!
November 16, 2013
Great movie to watch !! Great characters, great story about a yound lady who wants to fight her illeteracy and she loses important in her life throughout the movie..her adaptation throughout her life!
November 16, 2013
In one word..."WOW". This movie was incredible. The historical content is worth seeing alone, but the beautiful messages that come from such a time of turmoil, mixed with the reality of the wartime they were all entrenched in, will warm your heart. Absolutely a must see - you will not be disappointed.
November 16, 2013
loved it...a truly special movie
November 15, 2013
Good movie
November 15, 2013
A great movie during Nazi days filmed in Germany, it was very emotional, a lot of drama, a little comedy and a story of a young lady who has to adapt to losing her family and friends because of several tragedies..excellent story and film!
November 15, 2013
It was so good, I want to purchase the dvd.
November 15, 2013
Excellent story, very moving, some humour, some tears
November 14, 2013
You follow the emotions and confusion of a young girl from the innocence of childhood to being a naive young woman. Her only escape and happiness comes from reading books. She has been thrown into a world at war and has to keep secrets that would get her and her adoptive family killed. The casting of the characters is superb.