The Break-Up - User Reviews
Thank you for rating this movie!
Read your review below. Ratings will be added after 24 hours.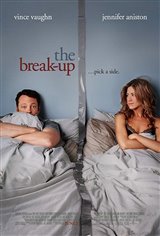 3.55 / 5
User Rating
Based on 6610 votes and 899 reviews
---
Please rate movie 1 to 5 stars
Showing 1 to 50 of 899
March 14, 2011
Yes, it did seem like a real life situation, very believable. Enjoyed the movie.
March 08, 2007
Too true to life. The ending was too real. Sometimes we want a sad, depressing and realistic ending, but this was jsut too depressing. For once, I wanted it to be happier. Overrall good movie though.
January 13, 2007
Was quite real life but depressing.
December 10, 2006
An O.K. Movie
October 22, 2006
I can`t believe that actors would go butt naked in front of other actors, film makers, and fans just for a couple bucks extra! It`s stupid!
September 30, 2006
real funny
September 24, 2006
thoroughly enjoyed this one
September 18, 2006
Wife said she could relate to this movie!!
September 17, 2006
it`s a renter, not a buyer. it had it`s moments, but i had higher expectations
September 04, 2006
good entertainment
September 02, 2006
certainly worth a rental
August 31, 2006
good entertainment
August 31, 2006
I thought it was very entertaining.
August 31, 2006
Enjoyed the chemistry between Jennifer Aniston and Vince Vaughan which made the movie interesting to watch.
August 30, 2006
The movie was a lot hype but I think that is all it was was hype. Jennifer Aniston is fabulous, and so is Vince Vaughan, but this movie was not a great movie. It seemed they ran out of ideas at the end and came up with a cheesey cheap ending that lacked luster.
August 30, 2006
good entertainment
August 30, 2006
good entertainment
August 30, 2006
I thought the ending was a bit of a letdown. A little too realistic I guess.
August 30, 2006
I enjoyed the movie. People should not go into the movie believing it is a comedy cause it`s not. But what it is, is a movie that is so trueful about how hard breakups really are.
August 29, 2006
Overall an alright movie. Had it`s funny points.
August 29, 2006
I enjoyed the break up but thought there was a bit of overkill on the fighting matches between them and not enough special moments.
August 28, 2006
I`ve always enjoyed Jennifer`s movies. This one was no exception. Check it out.
August 28, 2006
I was not very impressed with this movie. I thought it could have been much better. I like Jennifer`s acting, but, not this time.
August 27, 2006
SOOOOO FUNNY!!!!LOTS OF FUN AND LOTS OF LAUGHS AND OH SOOO TRUE TO LIVE!!! WILL DEFINTELY BUY THIS ONE.
August 27, 2006
Entertaining
August 26, 2006
Great movie.
August 26, 2006
it was a great movie not including funny i loved it. i would off liked if they would of got back together at the end but thats a movie that i would love to see again.
August 26, 2006
Entertaining and funny, feel good type of movie
August 26, 2006
You could almost see the sparks flying.
August 26, 2006
was not as funny as i was expecting-however, very true to life.
August 26, 2006
Very entertaining and good humor
August 25, 2006
I rent a lot of movies but this is the first movie I have seen in awhile. It was disappointing. Vince is not funny! He is the same in every movie. At least Anniston is pretty to look at. For a comedy it often leaves you feeling akward or sad for the characters.
August 25, 2006
True to life! If you have ever been in love and haven`t been able to "end things", this is a great flick to check out! Plus, the fact that it is HILARIOUS definitely helps...
August 25, 2006
Entertaining; very humorous. Good role for Anniston.
August 25, 2006
good adult entertainment
August 25, 2006
That movie was great. The actors work very well together and should make more movies with each other. They have excellent chemistry.
August 25, 2006
I found the movie to be quite entertaining, a very good comedy. Jennifer Anniston did a very good job in this movie. I felt good after watching this movie.
August 25, 2006
I thought this movie was extremely funny
August 25, 2006
The film The Breakup was reality based and I think a lot of people can relate to the events that take place between the two lead characters. Some moments were funny especially when Vince Vaughn and Jennifer Anniston were in the process of dating other people but were still living together. All in all, I wouldn`t rate this as a comedy, it was more reality Lisa
August 25, 2006
I thought it was an entertaining movie. There was more of a story than I expected. Good show.
August 25, 2006
It was a funny movie but romantic at the same time. The ending was unexpected.
August 25, 2006
I thought that Vince and Jennifer played their roles to the T.. It was a great movie that I would watch over and over again..
August 25, 2006
all the jokes covered up a very touching story about what people want out of relationships and what happens when we dont get what we need from somebody else.
August 23, 2006
The Break-Up was a good movie from the stand point that it did not take the typical route of your average feel good movie, where everyone ends up happy. I was, like most of the audience, uncomfortable and a little upset, at some points. When a movie allows up to experience different emotions, it has done a good job. The story told hits home with a little bit of the real world.
August 23, 2006
Below average even for a lame topic like this
August 23, 2006
I found it very entertaining.
August 22, 2006
Clever dialoque, believable and edgy. Well acted and directed, Aniston`s best role yet! Vince Vaughn is underated, this is his genre.
August 21, 2006
Two thumbs up!
August 20, 2006
expected it to be a lot better. not that great, boring at times, hated the ending but at some parts it was alright.