The Cabin in the Woods - User Reviews
Thank you for rating this movie!
Read your review below. Ratings will be added after 24 hours.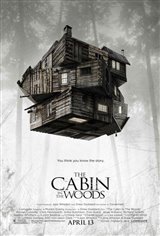 3.32 / 5
User Rating
Based on 560 votes and 190 reviews
---
Please rate movie 1 to 5 stars
Showing 1 to 50 of 190
June 01, 2013
Nice try, but alas, nothing special.
January 25, 2013
I was looking forward to this film, ever since I saw the first trailer, but it was nothing like I expected. Though I did enjoy the film, it wasn't as amazing as the trailer made it out to be. All the best parts were in the trailer itself. I did enjoy when the characters bong turned into a cup, and after all that complaining from the guy about the merman, he gets killed by it....but it just didn't have enough of a scare factor for me. Finally scary movies she be unpredictable - this was not. It was very clever, but in my eyes the movie fell short.
November 02, 2012
what an absolute farce of a movie. it's like a watching a worse version of the truman show, terrible acting, terrible plot, terrible idea! how is this movie is getting mre than 1 star is beyond me!
October 04, 2012
I guess this is one of those movies you either love or you hate. Personally I loved it; it grows on you after a while.
October 03, 2012
should be classified as Sci/Fi-Horror Not what I expected. Different and some interesting parts.
September 25, 2012
I was waiting for a good scare but it was predictable and a waste of time thank heavens I only paid $7 to rent on my pvr.
September 24, 2012
what is all the hype about this movie? you can guess the plot right away and the characters played by jenkins and withford are laughable!
September 23, 2012
this movie sucks
September 22, 2012
now i may be biased as a both a whedon and a goddard fan, but cabin in the woods is a fresh, funny take on the traditional horror film. it doesn't employ the standard jump tactics of most of today's "scary" movies, instead relying on tense action scenes broken up with hilarious dialogue. even the trailer, which makes it very obvious there's a twist, can't prepare you for what's really going on behind the scenes.
September 21, 2012
completely retarded movie, dont waste your time, and yes i know this is a parody but it was really bad and had absolutely no explanation of what the hell was going on until the absolute end. i think that the idea could actually be made into something good, this just sucked major balls though.
September 21, 2012
complete crap. the only thing that saved it was the gore,any less and it would be in the top 5 worst movies of the year
September 18, 2012
amazing movie. keep in mind it's as much a parody of horrors as a horror.
September 18, 2012
waste of time
September 09, 2012
one of the best horrors ever.
August 26, 2012
absolutely horrible movie. waste of time. do not watch this. probably one of the worst movies i have ever wasted my time watching. awful awful.
August 24, 2012
not very good!
August 20, 2012
this movie is absolutely fantastic. it's definitely not for everyone though. you have to have a certain type of humour to really like this film :d enjoyed greatly and i will most definitely purchase it.
August 19, 2012
not your average horror movie.
August 19, 2012
terrible movie!
August 17, 2012
very odd movie. too much gore for me.
August 16, 2012
entertaining movie with a twisted ending
August 16, 2012
excellent!
August 14, 2012
some good comedic moments.
August 14, 2012
worse movie ever!
August 12, 2012
different kind of horror.
August 11, 2012
not for me
August 10, 2012
i won't watch this one again
August 08, 2012
wait for the video release
August 08, 2012
not for me
August 07, 2012
explains the reason behind every horror movie ever made. brilliant!
August 07, 2012
thought it was a real horror movie when we went to see it, turned out to be another scream and i didn't like those either.
August 06, 2012
best movie this year
August 04, 2012
lots of good gore.
August 02, 2012
did not enjoy this movie.
August 01, 2012
loved this movie, a total twist to the norm of the horror genre. it's about time i got scared at a movie...!!!!
August 01, 2012
a cheeky satirical look at the all-too familiar tropes and archetypes commonly found in the horror genre. the first half is significantly stronger than the second. the resolution at the end is unique but felt forced.
August 01, 2012
pretty entertaining and the ending was epic haha
August 01, 2012
best movie of the year
August 01, 2012
not good!
July 31, 2012
i'm glad i didn't know what this movie was about before i went to see it....loved the twists in it!
July 31, 2012
not scarey for a horror
July 31, 2012
best movie i've seen in a while. can you imagine the possibilities on bluray or dvd? alternate endings, or even alternate creatures. that would be awesome!
June 14, 2012
definately a good movie, a little creepy at points but i'd watch it again1
June 14, 2012
the movie was ok i was expecting it to be more scarie but instead it was funny so that was alright.some of the side affects were ok but could have been better but thats only my appoinning..
June 13, 2012
two because it was witty not scary
June 12, 2012
one of the best horror movies in the last 20 years.
June 12, 2012
good movie but a little hokey. my husband and i saw it with friends.