The Da Vinci Code - User Reviews
Thank you for rating this movie!
Read your review below. Ratings will be added after 24 hours.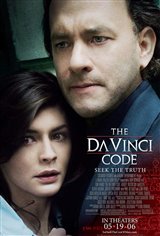 3.51 / 5
User Rating
Based on 63556 votes and 2163 reviews
---
Please rate movie 1 to 5 stars
Showing 1 to 50 of 2163
September 02, 2007
real cool. i loved this movie!!!
June 05, 2007
this movie is nothing like the book! there is no plot and Kate's character is gone completely! She basically sits there doing nothing for the whole movie and i dont think i have ever been so disappointed with an ending of a movie!! i LOVE tom hanks but this really was not the right role for him. the best part of the whole movie was probably ian mckellen who was amazing as lee teabing!!
April 16, 2007
big waste of time don`t watch it
March 08, 2007
this was an awesome movie and an awesome book i cant wait till the angels and demons comes out to the theatres i am so excited.
March 02, 2007
good movie but there was way too much hype. There was no way this mpive could live up to all the hype surronding it.
January 29, 2007
the book was quite different from the others
November 28, 2006
Great screenplay of the book. I`ve read the book and viewed the DVD. The movie captures 75% of the book which is not easy to do within 90 to 120 minutes. The actors portrayed the book characters just as I had imagined them and because I already knew the storyline, the film flowed perfectly. If you haven`t read the book, there will be small gaps for you when watching the movie. Either way I didn`t like the ending. Watch the DVD extras for more on filming in the Louvre. I gave this ****.
November 16, 2006
davinci code was not as good as the book..........i hope they make and angels and demons book or digital fortress
November 15, 2006
You know, after renting The Da Vinci Code Movie, I watched it, I liked it. Sometimes you wonder if their is a bloodline from the Lord Jesus Christ, BLOODLINE(Familytree), I thought the movie would have been a waste to watch, I was too involved.
October 13, 2006
I didn`t really like this movie. The only reason I even wen`t to see it was because my girlfriend wanted to see it. I was bored while watching it. Found it long and hard to follow. I`m not a very religious person and left the movie wondering if alot of the things depicted in the movie we`re even true.
October 11, 2006
The one thing I have to say about The Da Vinci Code is that it had way too much hype, so you might be a bit disappointed. But not a bad movie. I did, near the end of it looked at my watch to see how much longer.
October 08, 2006
l couln`t understand the movie, l just didn`t care for the movie ,it was a waste of time and money l do like Tom Hanks though.
October 05, 2006
very good move will rent it too
September 30, 2006
This movie was not bad. Although it didn`t seem complicated to me at all, it got extremely long, and keeps you on the edge of your seat...guessing when it`ll finish. After you watch it a second time, it`s really just an okay movie, the first time was the best.
September 27, 2006
Followed the book very precisely which made the movie a little boring if you have already read the book. Decent enough movie, thought.
September 27, 2006
2 thumbs up
September 17, 2006
if you have already read the book, the movie might dissappoint. i wish i would have seen the movie first. although it was nice to get a visual of all the places in the book, Tom Hank`s hair stole the spotlight... and not in a good way
September 09, 2006
good entertainment
September 04, 2006
i thought it was awesome!!!!!!!!!!!even though none of it was really true. Its a buyer.
September 03, 2006
I personally thought it was a good movie. the only part i didn`t like was when the crazy dude beat him self. other than that it was awesome
September 02, 2006
good entertainment
September 01, 2006
It was drawn out but had to be in order to accurately depict the book. There was really on 2 things I thought were not highlighted in the movie enough in comparrison to the book. The book was definetly better.
September 01, 2006
Interesting and fun
August 31, 2006
Very, Very good movie
August 31, 2006
I expected more from Ron Howard and Tom Hanks. Both seemed to drag their feet through the whole production. It`s unfortunate that such a great premise is ruined on poor story telling.
August 31, 2006
If you go with finding out fact from fiction, you may not find this movie very enlightning. However, if you go for entertainment, it is good.
August 31, 2006
I loved this movie..it was complicated, intriguing, mysterious, informative and mind blowing! enjoyed it completely!
August 31, 2006
INTERESTING MOVIE
August 31, 2006
LOVED THE MOVIE
August 31, 2006
A FEW SCENES SIGHTLY CONFUSING SINCE THEY WERE PRESENTED WAY OUT OF SEQUENCE. TRADITIONAL (TOURIST) LANDMARKS OF PARIS WERE NOT ENOUGH WOVEN INTO THE SCREENPLAY.
August 30, 2006
edge-of-your-seat thriller!!!
August 30, 2006
it was a great movie with unsuspected twists
August 30, 2006
LOVED THE MOVIE
August 30, 2006
I really loved this movie !! The dialogue was interesting, I was constantly stimulated.
August 30, 2006
almost as good as the book!
August 30, 2006
I really enjoyed this movie.
August 30, 2006
marVelloUS
August 29, 2006
Fantastic movie. Pretty close to the book.
August 29, 2006
Interesting movie. Bit dissapointed in the ending , but it was definitely worth seeing.
August 29, 2006
Good movie, fast paced, I think that it included as much of the book as would fit properly in a movie. Bit dissapointed in the ending tho...
August 29, 2006
Excellent movie. Full of action, great plot, As exciting as the novel.
August 29, 2006
really enjoyed this movie..the fast paced action, the intrigue..made me really think about all that I had been told about `religion`!
August 29, 2006
I enjoyed this fictional movie. Some of the puzzles and riddles were great. This movie did have a few moments of weakness when some of the scenes dragged on for longer then they should have. Its always entertaining when the viewer does not expect how things will turn out which this movie brought.
August 29, 2006
INTERESTING PLOT
August 29, 2006
I found it quite entertaining.
August 29, 2006
I think it is an excellent film that gives an insight into the fascination with history. That this story incorporates so many real people and places is incredible.
August 28, 2006
stayed true to the book, great movie
August 28, 2006
An interesting fantasy.
August 28, 2006
a lot crammed into a short time. great screenplay, very believable.